February 1, 2017 | Day One of the Trump Presidency: Trump Says "No" to Looser FHA Mortgage Financing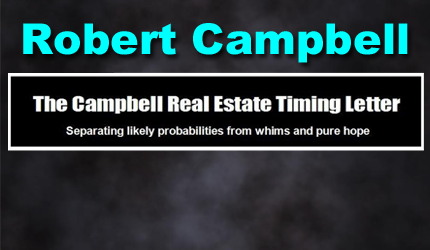 Robert Campbell is a real estate analyst and economist. He's been publishing The Campbell Real Estate Timing Letter since 2002. His book (Timing the Real Estate Market) presents a clearly defined method for predicting the peaks and valleys of real estate cycles.
In an attempt to make it easier to get FHA mortgage loans approved, a 25-basis point reduction in that premium was announced by the out-going Housing and Urban Development (HUD) Secretary Julian Castro on January 9th – and was scheduled to go into effect on January 27th.
Not any more.
Only an hour after he took the oath of
office as President, Donald Trump suspended this
scheduled reduction in the annual premium for
Federal Housing Administration (FHA) insurance
for an indefinite period of time.
Of course the National Association of Realtors (N.A.R.) said it was disappointed in the decision — and vowed to continue to make the case for a reduction.
"According to our estimates," said an N.A.R. spokesman, "roughly 750,000 to 850,000 home buyers will face higher costs and 30,000 to 40,000 home buyers will be left on the sidelines without the cut."
Compared to the private market, FHA loans are already one of the easiest mortgage programs to qualify for.  Applicants only need a credit score of 580 and down payments can be as low as 3.5%.
This may not seem like a big deal to some of you, but in a addition to his economic and financial concerns discussed below, Trump is sending a signal to America that he going to look out for the best interests of American taxpayers who guarantee
FHA mortgage risks — and not just special interest groups (such as N.A.R.) that are able to make large political contributions in order to buy influence.
Does Trump Think the Markets are "Risky" Right Now?
Economic optimism has been soaring since the election.  U.S. real estate and stock market prices have climbed to new highs and consumer confidence has risen to a 13-year high.
There is reason to believe, however, that Trump and his advisors think we are currently in a high risk economic environment and those risks should be addressed sooner rather than later.
Not only did Trump say that the stock market was in a "big, fat, ugly bubble" during his presidential campaign, but he recently named billionaire investor Carl Icahn as special advisor to his new administration.  Icahn is reportedly one of the 50 richest men in the world.
Carl Icahn's Financial Warning
In an interview on CNBC, Icahn recently
warned of "danger ahead" for the risk markets with
these comments:
"I've seen this before a number of times.  I've been around a long

              time and I saw it in '69, '74, '79, '87 and 2000 wasn't pretty either.

              A time is coming that might make some of those times look pretty

              good in comparison.  […]

              The public got screwed in '08.  I think it was Santayana that said,

              'those who do not learn from history are doomed to repeat it,' and

              I am afraid we're going down that road."
Trumps Actions Speak Louder than Words
We don't know for sure, but it could have been Icahn that convinced Trump how dangerous the current financial situation is.  Plus, with respect to real estate, Trump is a  businessman that has been operating in the real estate trenches for 50 years and knows from first-hand experience how treacherous the property market can be.
Thus, by indefinitely suspending the proposed fee cut for FHA loans — which would help to fuel housing prices to even higher levels in the future — Trump could be telling us that he (and his financial advisors) think that with today's record-high home prices, the U.S. housing market has turned into a high risk asset class.
Do Trump's market concerns worry me right now?
Not really.  Whether the next housing bust comes in 2017 or sometime later is anybody's guess.  That's why I rely on my five key Vital Sign indicators to follow the trend and give me early warning signals of the impending downturn in U.S. housing prices that we all know will eventually come.
Final Comments

After following my key real estate indicators for the last 16 years, I am frankly amazed at how well they see trends coming before they hit.
Every investor wants an "edge" in the markets, and this is mine for real estate.
In closing, I learned a long, long time ago that using some key market indicators to objectively tell me "WHAT'S happening" in the markets is way more important to my success in the markets than as compared with me trying to subjectively figure out
"WHY something is happening."
Best of luck in 2017 everybody.  I hope all of you do extremely well with your real estate investments this year and in all the years to come.
::::::::::::::::::::::::::::::::::::::::::::::::::::::::::::::::::::::::
To purchase the latest issue of The Campbell Real Estate Timing Letter — and get a current read on the state of the U.S. housing market — Click HERE.
To read a sample issue,  Click HERE.
:::::::::::::::::::::::::::::::::::::::::::::::::::::::::::::::::::::
Comments/questions are always welcome – and you can send them to [email protected] 
STAY INFORMED! Receive our Weekly Recap of thought provoking articles, podcasts, and radio delivered to your inbox for FREE! Sign up here for the HoweStreet.com Weekly Recap.