January 11, 2017 | Trump's Stock-Market Bump: Fading Fast or Growing Stronger?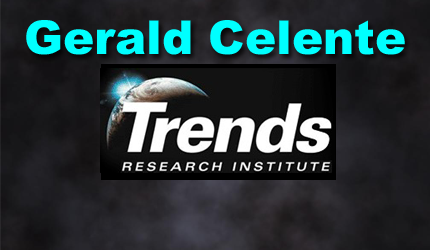 Gerald Celente, who developed the Globalnomic® methodology to identify, track, forecast and manage trends, is a political atheist. Unencumbered by political dogma, rigid ideology or conventional wisdom, Celente, whose motto is "think for yourself," observes and analyzes the current events forming future trends for what they are — not for the way he wants them to be. And while Celente holds a U.S. passport, he considers himself a citizen of the world.
KINGSTON, NY, 11 January 2017—What a difference a year makes!
2016 rang in the worst first week of a new year in Dow Jones history, plummeting more than 1,000 points. US stocks lost $1.36 trillion in value.
Last week, the Dow just missed hitting the 20,000 mark. The NASDAQ keeps hitting record highs.
It wasn't supposed to be like this.
Throughout the 2016 presidential race, Wall Street was strongly pro-Hillary Clinton. Markets moved up along with her poll numbers; they declined when they weakened.
Just prior to the election, as the race tightened, the S&P 500 posted its longest losing streak in nearly 36 years. In fact, so pro-Hillary was Wall Street, the Dow had one of its best days of the year the day before Election Day. The index spiked 371 points following the weekend announcement that the FBI had found no new evidence and would not warrant charges against Clinton, thus boosting her in the polls.
In fact, so negative was The Street on Trump that on election night, when votes moved in his favor, Dow futures tanked some 800 points and gold spiked over $50 per ounce.
However, just hours later, in a sharp reversal, a Trump election rally sent the blue-chip stock index to new highs. Just one month later, all major indexes had hit record highs: The Dow racked up 14 record closes, with gains in 20 of 24 sessions. The Dow was up 7.8 percent from the election to Dec. 31, its best Election Day-to-end-of-year performance since Dwight D. Eisenhower was elected president in 1952.
It's the economy, stupid
The Trump equity-market success formula as measured by The Street is simple: The White House is being vacated by Barack Obama, the longest wartime president in US history. He's being replaced with a Businessman in Chief who pledges to slash personal and corporate taxes, cut regulations and stimulate the economy with a trillion-dollar-plus infrastructure-improvement program.
Although the stock market increased 140 percent during the Obama years, the national debt more than doubled. Annual Gross Domestic Product growth since the recession ended recorded the worst performance since World War II.
And while corporate profits were up a 166 percent, real wages grew just 3.4 percent. Indeed, a Harvard and Princeton study concludes that 94 percent of the 10 million new jobs created during the Obama era were temporary positions.
Mind over matter
Since Trump's victory, with Hollywood in mourning and consumed with how to take him down, and the mainstream media obsessing over who hacked what, in the real world, consumer confidence surged to a 15-year high in December, according to the Conference Board. Small-business optimism spiked the most since 1980!
Trend Forecast: Yes, 1980 optimism! It was the year Ronald Reagan beat President Jimmy Carter, and the business of America returned to business following the Iran hostage crisis and stagflation. Confidence counts. While there will be sharp market adjustments, should Trump build his business platform as promised, we forecast continued economic and equity market growth for 2017.
STAY INFORMED! Receive our Weekly Recap of thought provoking articles, podcasts, and radio delivered to your inbox for FREE! Sign up here for the HoweStreet.com Weekly Recap.