January 22, 2017 | My Economic Advice to President Trump!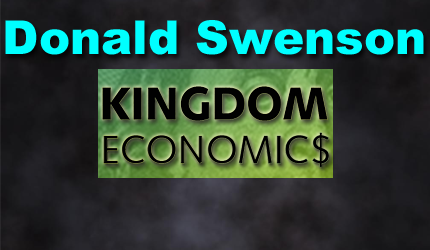 Donald B. Swenson: Born January 24, 1943, Roseau, Minnesota. Graduated H.S. 1961, Moorhead High, Minnesota. Graduated College 1968, Moorhead State University, Minnesota. Designated member of Appraisal Institute (MAI), 1974. Employed with Western Life Insurance Company, 1968 – 71; Iowa Securities Company, 1971 – 73; American Appraisal Company, 1974 – 81. Part-time teacher/valuation consultant/bartender, 1979 – 2008 (taught workshops at Waukesha County Technical Institute, Wi. and Madison Area Technical College, Wi.). Retired 2008 (part time teacher/blogger), AZ. Self educated economist/philosopher/theologian: http://kingdomecon.wordpress.com.
Congrats Donald for your achievement in reaching your goal to be President of the United States of America. Your sincere desire to win this position of authority was evident to me (as I watched your many campaign outings)…as well as your hard work to educate Americans on our serious political/economic issues. Your opponent was unable to match your motivation and desire and this was evident to me as I watched your progress during 2016. I have followed your selections to your economic team and I generally  support your choices. I think you can achieve much if you continue with your desire to understand and then SOLVE some of our serious economic problems.
I would like to provide you my input on a few issues which I think might meaningfully help you to resolve some serious financial issues. My personal desire and goal is to help you with 'understanding' some core issues and then help you to take action (your desire) so that these issues can eventually be resolved. The issue of our 'funny money' must be one issue which you need to understand and resolve. This means that you need to appoint experts to the open spots at the Federal Reserve who can actually educate the current Keynesians at this institution (who lack understanding). My choice for one competent expert is a lady who you know quite well, Ms. Judy Shelton.
Ms. Shelton would be an excellent choice for one position at the Federal Reserve as she understands that 'funny money' (our current dollar) is not a sound currency for international trade. Her book 'Money Meltdown' is excellent and her desire to restore order to the global currency system is precisely what we now need. Judy has also written another book called 'Fixing the Dollar Now' which is also excellent. Judy understands that a currency unit (like our 'dollar') needs to be 'fixed' to some THING of recognized 'value'. Today, we have a 'dollar' which is not 'fixed' to anything and it is mostly a unit of our imagination (as it now lives mostly within cyberspace).
Please consult with this lady on our economic/banking policies…as you witness our cyber markets start their descent into the 'black hole' of nothingness. Cyber money is what we now live with in this age of computer machines. Cyber money consists of the 'digits' which we witness within our computer screen. These units of nothing are what we now trade and exchange for our imports and exports. We now have some 45 electronic exchanges globally which trade our 'funny money' dollar ($1.00) and where our real-time prices are created to represent 'value in exchange'. These 'prices' are mostly a distortion of sound value as the units used for price discovery are mere units of my/your consciousness (nothing).
Ms. Judy Shelton and your new Trade Council Adviser, Mr. Peter Navarro, seem to understand that all our trading activity is now manipulated and distorted and this has led to huge balance of trade deficits with many of our trading partners. To temporarily deal with all these manipulations and distortions we need to 'fix' our currency unit (the dollar) to some THING which exists. A mere 'number' and 'name' is insufficient to serve as a THING (an object of value). In fact, a mere 'number' ($1.00) and 'name' (dollar) is a complete distortion of reality when it comes to international trade and an exchange of value. Our dollar history would reveal this reality to you.
This concept called 'value' is subjective and if our currency unit is not 'fixed' to some THING (outside one's mind) then trading activity is mostly the trading of one's imagination (subjectivity to the extreme). Price discovery is mostly a distortion of reality and we end up with 'algorithms' creating all our real-time prices. Today, high frequency trading (using algo's) makes up some 70% of all trading activity. Currency values change from millisecond to millisecond as our HFT computers manipulate and distort our prices within these electronic markets. Is this sound money or is this 'funny money' at work?
So my advice to you, Mr. President, is to consult with Ms. Judy Shelton and also your Trade adviser, Mr. Peter Navarro,  for their sound judgment and advice on creating a new dollar which is tied or fixed to a bimetallic standard such as silver and gold. This could be a 'temporary' step into a full RESET of our entire global currency system down the road. Russia, China, India and many other Asian countries are already accumulating gold and silver in contemplation of a global RESET of our international currency system. If you are to be a leader in this eventual RESET, then you need advisers who understand our dollar history and the nature of our current CYBER markets.
Funny money can not last much longer and the sooner you act to select competent economic advisers to our Central Bank and to your Trade Council team, the sooner we can start to resolve this serious issue of manipulated and distorted currencies/prices. I am sure you follow this website for updated data on our financial house of cards: http://www.usdebtclock.org. Our debt issues are now mostly beyond solving IMO but we can start the process of sound thinking by first 'fixing' our cyber currency unit ($1.00) to some THING of perceived value. Good luck with your efforts to resolve our many intractable financial problems. Keep in touch! I am: https://kingdomecon.wordpress.com.
STAY INFORMED! Receive our Weekly Recap of thought provoking articles, podcasts, and radio delivered to your inbox for FREE! Sign up here for the HoweStreet.com Weekly Recap.