January 23, 2017 | Money Meltdown – Judy Shelton!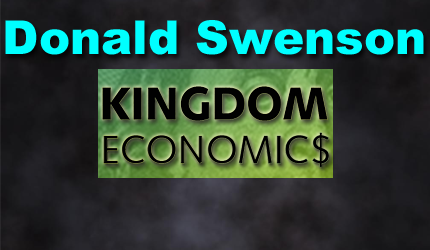 Donald B. Swenson: Born January 24, 1943, Roseau, Minnesota. Graduated H.S. 1961, Moorhead High, Minnesota. Graduated College 1968, Moorhead State University, Minnesota. Designated member of Appraisal Institute (MAI), 1974. Employed with Western Life Insurance Company, 1968 – 71; Iowa Securities Company, 1971 – 73; American Appraisal Company, 1974 – 81. Part-time teacher/valuation consultant/bartender, 1979 – 2008 (taught workshops at Waukesha County Technical Institute, Wi. and Madison Area Technical College, Wi.). Retired 2008 (part time teacher/blogger), AZ. Self educated economist/philosopher/theologian: http://kingdomecon.wordpress.com.
Everyone who desires to understand the history of finance and our International Currency  System should think about reading 'Money Meltdown' by Judy Shelton. This book is very enlightening as it provides the actual history of the Bretton Woods Monetary Agreement of 1944-46 (including all the various actors) and then covers the  breakdown of this agreement in 1971-73.
Today, we live with a 'floating currency system' which has migrated into cyberspace. This change is huge as it reveals the subjectivity of our International non-system…and why this unstable system will collapse. Our national currencies are now units of consciousness and this reality has created our 'subjective' exchange valuation system. All is subjective today and prices now change with speed of light trading transactions.
Today, our subjective monetary units live within cyberspace and the measurement of 'value' is totally subjective as no THING (like gold) is attached to any of our international currencies. Think about this major change. What we witness today is 'subjectivity' in the extreme. This makes price discovery mostly meaningless as our cyber prices change constantly and sometimes exponentially. Price stability is now impossible!
The other factor which is unique to today's markets are the computer trading strategies used by our traders and our Central Banks. Trading is now at the speed of light and high frequency computers trade products, companies, and assets within milliseconds and microseconds. This creates changes which may not reflect supply and demand transactions. All is too fast for human decision-making to be meaningful.
A commodity such as oil can change in price (instantaneously) without a simultaneous change in the supply and demand situation for this commodity. What happens is that programmed 'algorithms' can trade a commodity via HFT computers and then exit a trade prior to any settlement of the underlying commodity. This creates changes in the 'price' (on the tick chart) without any change in the underlying supply and demand for the commodity.
A tick chart can reveal real-time trading of a particular commodity and a programmed algorithm can enter/exit/cancel a trade in micro/milliseconds. Prices are changed electronically instantaneously but real human beings are not negotiating these prices. A computer program with a secret 'source' code does the trading. Is this reflective of supply and demand? I don't think so! Our markets are now electronic!
Money Meltdown, the book written by Judy Shelton, reveals the changes which occurred in our international markets back in 71-73 and after. Removal of our 'dollar' from a tie/fix to gold created this subjective currency system which we experience today. Our monetary unit is now a 'unit of consciousness' (totally subjective) and this creates the need for Central Banks to manipulate our index markets so as to keep the global system from collapsing.
Donald Trump must now deal with this subjective currency system and the distortions which have resulted these past 40+ years. My sense is that he and his team of advisers will make serious changes to this non-system later in 2017 and 2018. Trading relationships must change. Eventually, a new RESET is likely as our debt situation and the current price distortions can not be resolved without a RESET…with some tie/fix of our 'dollar' to some THING which exists (say gold).
Get prepared for a RESET of the entire international currency/trading system in the very near future (possibly this year). This must occur as a 'subjective' trading system is unsound and unworkable going forward. Go to Amazon.com and purchase the book by Judy Shelton entitled 'Money Meltdown'. Also, inform our new President that Judy needs to be selected for some meaningful consulting role within the Trump administration. Enjoy! I am: https://kingdomecon.wordpress.com.
STAY INFORMED! Receive our Weekly Recap of thought provoking articles, podcasts, and radio delivered to your inbox for FREE! Sign up here for the HoweStreet.com Weekly Recap.