January 4, 2017 | Trends Journal's Top 10 Trends for 2017 already taking shape; Cash in on the future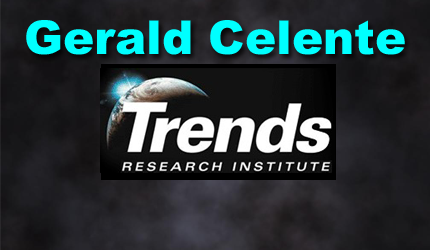 Gerald Celente, who developed the Globalnomic® methodology to identify, track, forecast and manage trends, is a political atheist. Unencumbered by political dogma, rigid ideology or conventional wisdom, Celente, whose motto is "think for yourself," observes and analyzes the current events forming future trends for what they are — not for the way he wants them to be. And while Celente holds a U.S. passport, he considers himself a citizen of the world.
KINGSTON, NY, 4 January 2017—With 2017 just days old, the Trends Journal's Top 10 Trends for the year ahead already are unfolding and promising dynamic economic, technological, cultural and geopolitical changes worldwide in just the next few months.
Developed by Gerald Celente, director of the Trends Research Institute, the World Leader in Trend Forecasting®, and publisher of the Trends Journal, here is an overview of the Top Trends for 2017. Specific forecasts can be accessed at this link.
Make It New: Sweeping the gamut from political ideologies and financial systems at the top, down to the lowest depths of pop culture, across the media spectrum and throughout entrenched institutions, the status quo is out of vogue: Making it "new" will make it profitable.
Economic Disorder: The one-month Donald Trump US equity-market rally is real. Is what's good for America's economic growth good for the world? From the Eurozone to emerging markets, who are the winners and losers of the coming Economic Disorder?
True Nostalgia: It's bigger than millennials' penchant for Edison bulbs and a grasp of the past. Across the globe, socioeconomic unrest and dim prospects for the future will generate high demand for a product/service remix of the past that entails a sense of the good old days – retrofitted to appeal to hungry-for-change consumers worldwide.
RIP: The Fourth Estate: The daily newspaper is on its death bed. Will the mainstream media at large live or die? No longer the people's protectorate, tanking public trust and shrinking financial resources have limited traditional media's influence on the public. The Fourth Estate – the unofficial fourth branch of government designed to hold powerful people and institutions accountable – is no longer the domain of the mainstream media. What will replace it?
Rust Belt 2.0: Silicon Valley, once the beacon of high-tech American innovation and entrepreneurs, will lose its status as the global center of technological transformation. Where and who will rule the next high-tech generation?
VR-Ed: Virtual reality is a mega-trend in motion that will expand far beyond the video-game world. The technology's explosive use and effectiveness in educational and training settings will begin to build a foundation that will replace today's outdated Industrial Age education model with a cost-effective, high-reward, low-risk approach to education.
The Ontrendpreneur®: On-trend creative professionals will be best positioned to identify high-potential opportunities in a rapidly shifting new-world-order economy that slow-moving multinational companies have, and will continue to, leave behind.
No More Cash: The cashless society trend is in full growth mode. It's the Golden Rule: Those that have the gold, rule. In this new cashless society, financial and governmental institutions – not We the People – have custody of digital/paperless cash.
Sell, Buy China: Although the great rush to China by manufacturers and luxury retail marketers has slowed, and many businesses chafe at high investment barriers that hinder foreign companies, the Sell, Buy China trend remains on a strong upward trajectory. Across the investment spectrum, from high-tech to Hollywood, China buys what it can't make or needs more of.
Reefer Money Madness: As marijuana legalization continues to increase, opportunities to make millions on pot will accelerate. But the financial-pot future is far greater than cashing in on recreational highs or to cure a medical malady. Those opportunities, and how pot will fill state-government coffers with more tax dollars than booze has generated, are detailed in our Top 10 Trends for 2017.
STAY INFORMED! Receive our Weekly Recap of thought provoking articles, podcasts, and radio delivered to your inbox for FREE! Sign up here for the HoweStreet.com Weekly Recap.