December 5, 2016 | Two Monetary 'Czars' for Trump to Interview!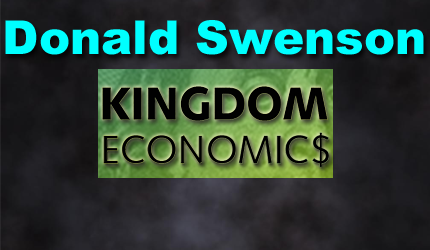 Donald B. Swenson: Born January 24, 1943, Roseau, Minnesota. Graduated H.S. 1961, Moorhead High, Minnesota. Graduated College 1968, Moorhead State University, Minnesota. Designated member of Appraisal Institute (MAI), 1974. Employed with Western Life Insurance Company, 1968 – 71; Iowa Securities Company, 1971 – 73; American Appraisal Company, 1974 – 81. Part-time teacher/valuation consultant/bartender, 1979 – 2008 (taught workshops at Waukesha County Technical Institute, Wi. and Madison Area Technical College, Wi.). Retired 2008 (part time teacher/blogger), AZ. Self educated economist/philosopher/theologian: http://kingdomecon.wordpress.com.
Our markets are now totally 'upside' down with respect to rational expectations and basic logic. As 'dire' events happen (such as over in Italy or the Middle East) the stock indices (Dow, S & P, Dax, etc.) go UP and UP even while the historical thermometer for geo-political sentiment (Gold) goes DOWN/down. The logic of our markets is 'ass backwards' now that our Central Banks have huge trading rooms in which to manipulate all these electronic indices. I have been watching this conundrum for years but the evidence is now ubiquitous for those with some discernment. Markets are RIGGED by our Central Banks!
Select trading rooms with HFT computers and sophisticated coded algorithms can monitor and control our markets (any stock index or futures index) from behind closed doors. Who is aware that our New York Fed has some 500 traders working for them at 33 Liberty Street, New York? Does this trading room get any media attention? Is there any transparency given to what our Central Bank traders are doing in real-time markets? I witness little to none! Why is this so? Who are the two key decision-makers who can act to manipulate our market indices from behind closed doors? Think on this for a few minutes!
There are TWO key appointed decision-makers who have control over these trading desks at the New York Fed building at 33 Liberty Street. Who would these Czars be? They get little attention from the media yet they have CONTROL over most of our electronic markets (the key indices). Both are prior economists who have extensive 'insider' knowledge of our markets and what is happening in real-time (24/7). Let's briefly meet these two decision-makers and see if we can discern some realities.
Executive Vice President

Markets Group

Federal Reserve Bank of New York

33 Liberty Street

New York, NY 10045

Phone (212) 720-6309
[email protected]
Fields of interest
Nonlinear Dynamics, Bayesian Methods, Time Series, Forecasting
Simon Potter is the Head of the Markets Group at the Federal Reserve Bank of New York. He received his Ph.D. from the University of Wisconsin-Madison, and has taught at UCLA, Johns Hopkins NYU and Princeton. His main research area is applied time series analysis using Bayesian methods. He has written extensively on nonlinear dynamics over the business cycles. Recent topics have included forecasting the probability of recession, large panel forecasting models modeling structural change and inflation expectations.
Comment: Mr. Potter oversees some 500 day traders at the New York Fed according to an article which I read in the Financial Times some time prior. His background is not only economics and finance but also philosophy and computer dynamics. Here is some additional info on this key decision-making at our Central Bank. Why so little media attention to this key Czar of our financial markets?
Simon Potter is the new head of the New York Federal Reserve's Market Group, which oversees the Fed's activity with Wall Street and foreign central banks. The group is also responsible for carrying out Fed actions in the open market including Operation Twist. Prior to this, Potter was the co-head of research and statistics at the New York Fed and also managed the Fed's System Open Market Account (SOMA). [1]
Background
Potter was a 14-year employee of the New York Fed, where he helped design the 2009 U.S. bank "stress tests" and sat on an international group that supported the Basel Committee's efforts to strengthen bank capital standards. From April 2011 – July 2011 he was a Senior Policy Adviser for the U.S. Treasury's Financial Stability Oversight Council, where he headed a team producing the Orst Financial Stability Oversight Council Annual Report to Congress. From 1990-2009, Potter taught at Princeton, NYU, Johns Hopkins and UCLA.[2]
Education
Potter received his B.A. in Philosophy, Politics & Economics from Oxford University in 1983, master's degree in Philosophy and Economics from Oxford in 1986 and a Ph.D. in Economics from University of Wisconsin, Madison in 1990.
Comment: The knowledge and insider control which Simon has is not basic public information (as the media gives this person almost zero attention). The other Czar of monetary affairs for the USA and the Global Markets is this person called William C. Dudley. Mr. Dudley is the CEO of the New York Fed and he also works directly with Simon Potter to monitor, control, manipulate, and rig all our electronic indices (to some extent and maybe to a huge extent). This person also gets little scrutiny by the media and this means that he operates mostly behind closed doors. Let's review this person's profile.
Dudley worked at Goldman Sachs from 1986 to 2007, holding the position of chief economist for ten years before he was hired by then-president of the New York Federal Reserve Timothy Geithner to oversee the department in charge of buying and selling government securities.[5][6] According to salary figures released in 2010, Dudley is paid "more than $410,000 per year", making him one of the two highest-paid of the twelve presidents of the Federal Reserve Banks.[7] He is a member in the Group of Thirty.
Dudley served as executive vice president of the Markets Group, where he also managed the System Open Market Account for the FOMC. As a leader of both the Markets Group and of the Reserve Bank at large, he has seen the New York Fed weather through the most devastating economic storm since the Great Depression. Mr. Dudley received his doctorate in economics from the University of California, Berkeley in 1982 and a Bachelor of Arts degree from New College, Sarasota, Florida in 1974. https://youtu.be/0D4pu50znpU
Comment: Listen to this video where a review of the Fed was the question and where the cover-up of the actions by the Fed can be discerned: https://youtu.be/1QK4bblyfsc (notice that the reviews of this Central Bank is a hoax on the public as the inspection of this entity in non-existent). Watch for some discernment: https://youtu.be/1QK4bblyfsc
We need to discern that our Central Bank is behind all the corruptions now present within our capital markets and the rigging of our electronic indices. I ask Mr. Trump as our new President elect to interview these TWO monetary Czars and bring attention to all their internal (behind the scenes) operations. Without more transparency we are all subject to gross deceptions and our logic for investing will be misplaced. There is no logic why our market indices should continue to go UP, UP, UP and gold go DOWN, down, down when dire events are happening all around our globe.
Something is obviously wrong with our system and those who control, monitor, and manipulate this system. I think that an interview of each of the above by the Donald would reveal to him what is happening in real-time. Serious questions need to be asked so these decision-makers reveal what is actually happening via their trading strategies. Along with these TWO Czars I would also suggest that the person in charge of the Exchange Stabilization Fund be interviewed and identified. Who is this person and what is he/she doing in real-time with their trading activities. Think on this! I am: https://kingdomecon.wordpress.com.
STAY INFORMED! Receive our Weekly Recap of thought provoking articles, podcasts, and radio delivered to your inbox for FREE! Sign up here for the HoweStreet.com Weekly Recap.