December 14, 2016 | Trump Equity-Market Boom: Real or Fleeting? What's Next?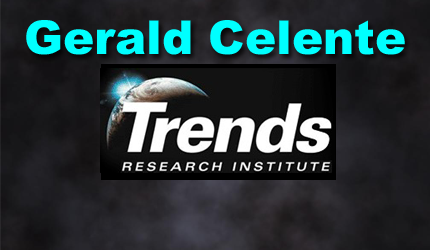 Gerald Celente, who developed the Globalnomic® methodology to identify, track, forecast and manage trends, is a political atheist. Unencumbered by political dogma, rigid ideology or conventional wisdom, Celente, whose motto is "think for yourself," observes and analyzes the current events forming future trends for what they are — not for the way he wants them to be. And while Celente holds a U.S. passport, he considers himself a citizen of the world.
KINGSTON, NY, 14 December 2016—No one alive has seen anything like this. Since Donald Trump won the race for the White House, US equity markets keep hitting new highs.
However, just prior to Election Day in the US, it was the opposite story.
On Friday, 4 November 2016, FBI Director James Comey announced that "Based on our review… we have not changed our conclusions that we expressed in July," that Hillary Clinton should not face criminal charges after a review of new emails. On that news, when the markets opened on Monday, the Dow soared:
Dow roars 371 points after FBI clears Clinton again
You know it's a wild election season when a letter from the FBI sparks a global stock market rally.
The Dow soared 371 points on Monday — the biggest burst of buying since late January — after FBI Director James Comey sent a letter to Congress on Sunday once again clearing Hillary Clinton in its email investigation.
The S&P 500 also jumped 2.2%, ending a nine-day streak of losses, the longest such slump since 1980. The Nasdaq raced 2.4% higher.
The latest FBI bombshell is clearly being interpreted on Wall Street as a boost to Clinton, the favored candidate of investors.
Investors are essentially "voting" with their money about which candidate they think would be better for the market.
"There's no doubt that the day after the election, there will be less uncertainty if Hillary Clinton wins than if Donald Trump does," said David Kelly, chief global strategist at JPMorgan Funds.
In fact, there's a new Deutsche Bank research that predicts the opposite — a 10% plunge for European stocks if Trump wins on Tuesday. (CNN, 7 November 2016.)
The exact opposite happened. CNN and their paid-for-hire "experts" got it 100 percent wrong. Was it "fake news" or "pure stupidity"? Trump's win ignited a historic equity-market record-breaker rally.
Indeed, all of America's corporate-media club got the race for the White House wrong: NBC, ABC, CBS, MSNBC, NPR, The New York Times, Washington Post, etc… and so too their economic forecasts.
Across the living/dying newspaper/mainstream-media landscape (See RIP: The 4th Estate) to Google, Facebook and the Silicon Valley Geeksters who bet their mega-millions and algorithms, along with Hollywood's $100,000-a-plate Hillary Clinton/Barack "Preserve my Legacy" Obama, rappers, Hollywood's artists, campaign fund raisers… ALL LOST TO DONALD TRUMP!
However, as evidenced in the May and July editions of the Trends Journal, we were the only print media in the world to forecast a Donald Trump victory.
TREND FORECAST: The trend is your friend. Approve or disapprove of his choices, Trump has picked a corporate cabinet of top notch business leaders. Unlike politicians, Trump will run the White House like he runs his businesses. It's about the bottom line. Therefore, we forecast a strong dollar and steady economic growth. For US exporters, however, the strong dollar will dampen profits.
STAY INFORMED! Receive our Weekly Recap of thought provoking articles, podcasts, and radio delivered to your inbox for FREE! Sign up here for the HoweStreet.com Weekly Recap.