December 21, 2016 | The End of the Trend Is Nigh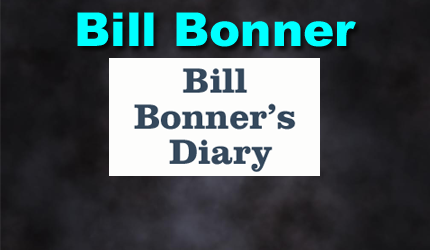 Is an American author of books and articles on economic and financial subjects. He is the founder and president of Agora Publishing, and author of the daily financial column, Diary of a Rogue Economist.
BALTIMORE – Today, we celebrate two important events.
First, and without a doubt, we will raise a glass to the victorious sun.
Second, the Dow rose within 25 points of the 20,000 mark yesterday. Most likely, it will hit the milestone today.
Both of these events are cyclical, not permanent.
Where's the Pin?
A reader writes, "Hey, you've cost me a lot of money. I could have been in the market… Instead, I've been on the sidelines, following your advice."
And yes… it is true. We have been cautious, and for a very long time. We see the whole financial system as fake, fragile, and dangerous.
As long as prices continue to rise, an investor could make money by going long stocks. But for us, it has not been worth the risk.
We choose to wait until after the pin finds its bubble.
When will that happen? Today? Tomorrow? Five years from now? The typical bull market lasts 52 months. This one is 94 months old. In other words, a bear market is already nearly four years overdue.
And stock prices are clearly near the top of their range, not the bottom…
The S&P 500 currently trades at 28 times cyclically adjusted earnings. That's nearly twice as much as the usual 17 times.
In order to get down to a more ordinary level, the stock market would have to lose more than a third of its value – or nearly $7 trillion.
Yes, stocks could go higher. The bull market could go longer. But the risk increases with every day that passes and every dollar of gain.
Since Donald Trump's election, stock owners have been rewarded.
Mr. Trump famously offered to set things right for the middle and lower classes. But so far, he has filled key posts with more billionaires than ever before. And the rich have gained more from his election than from any election in history.
But give him time.
And remember… what goes up… also goes down!
The Birth of the Unconquered Sun
We're talking about cycles, and today is the end – or the beginning – of one cycle. It is the shortest day of the year in the Northern Hemisphere. It is the end of the ancient "dark passage," when the days have grown shorter and shorter.
Our European ancestors – huddled around open fires, dressed in skins, shivering in the cold – must have learned early on that trends only continue… until they come to an end.
If the trend towards shorter and shorter days had continued indefinitely, life would have been extinguished in constant night. Trondheim, Norway, for example, only gets four hours and 31 minutes of daylight today.
But tomorrow, something amazing happens. The trend reverses. The days grow longer again. The sun is reborn.
And thus did ancient man discover cycles.
He gave thanks, celebrating the Birth of the Unconquered Sun. Bonfires were lit. There was dancing. Drinking. Gambling. Pagan Germanic and Scandinavian communities called this mid-winter festival the Yule. The Romans called it Saturnalia.
For them, it began on December 17 and ran through the 23rd. Roles were reversed. Masters waited on their slaves. Gifts were exchanged.
Broadly, these festivals celebrated cycles. Things go in one direction… then they go in another.
By the 21st of December, the days have been getting shorter and shorter for so long people begin to think they will get shorter forever. They fear the end of the world. Then the cycle reverses.
Six months later, the days have gotten so long, especially in the northernmost latitudes, people begin to think they will live in an era of endless summer, no longer troubled by chilly winds and frosty mornings.
Winter Is Coming
And now there are signs that this cycle, too, is approaching its end…
Just today, we read about a group of millionaires who got together to discuss financial matters.
It came out that the average participant held only 12% in cash. And this, they said, was because they wanted to be ready with "ammunition" to hunt for bargains when prices go down. They're ready to "buy the dip!"
After so many years of rising prices… and so many times when the Fed came to their rescue when prices turned down… the rich are convinced that a break in the stock market is nothing more than a passing cloud.
We just hope we're around to see the looks on their faces when a hard winter finally comes.
Woe to those who have not prepared.
Regards,
Bill
The original article can be read here
STAY INFORMED! Receive our Weekly Recap of thought provoking articles, podcasts, and radio delivered to your inbox for FREE! Sign up here for the HoweStreet.com Weekly Recap.