December 25, 2016 | Some Suggested 'Wisdom' for 2017 and After!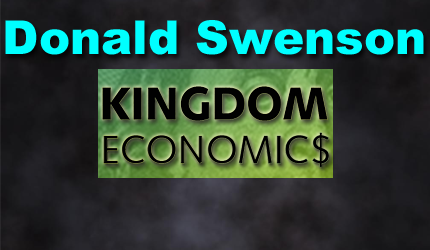 Donald B. Swenson: Born January 24, 1943, Roseau, Minnesota. Graduated H.S. 1961, Moorhead High, Minnesota. Graduated College 1968, Moorhead State University, Minnesota. Designated member of Appraisal Institute (MAI), 1974. Employed with Western Life Insurance Company, 1968 – 71; Iowa Securities Company, 1971 – 73; American Appraisal Company, 1974 – 81. Part-time teacher/valuation consultant/bartender, 1979 – 2008 (taught workshops at Waukesha County Technical Institute, Wi. and Madison Area Technical College, Wi.). Retired 2008 (part time teacher/blogger), AZ. Self educated economist/philosopher/theologian: http://kingdomecon.wordpress.com.
I would like to share some points of 'wisdom' which I have recognized as reality for some time. These bullet points will be presented in brief so each of us can ponder their meaning. Wisdom IMO is needed going forward as the world is becoming more confused and diverse each day. This is meant to be. Our global internet society is allowing billions of subjective opinions to be expressed. These opinions cover all the various beliefs which people hold as their core views of reality. Our world is now global as communication is now global. I can now talk and converse with nearly anyone on this planet via a smart phone or via all the social media websites. This is NEW and it is changing everything. Religion, Politics, Education, Science, and Philosophy are all changing daily as new points-of-view get exposed. There are NO absolute beliefs (exclusive to any culture/religion/system) which prevail over the WHOLE.  All is now 'subjective' and 'changing' with our new global situation. What does all this mean going forward? Let's think on this for today!
Following are some of the bullet points of reality which I think are relevant for today's world. Review and see if you agree or disagree:
As human beings we ALL live in the NOW moment…and successive moments of NOW. This is fundamental to ALL reality!
The PAST (this concept) is currently viewed as a NOW memory (a present moment of reflection on prior moments of NOW).
The FUTURE (this concept) is viewed as a NOW expectation (an uncertain event which is mostly speculation).
The TRUTH (this concept) is revealed as a 'point-of-view' or opinion which is uncertain at the core.
Each UNIQUE person enunciates a 'point-of-view' and espouses a belief about what is real and what is happening.
Final or absolute TRUTH, however, is impossible to express as ALL human beings are 'subjective' at the core with their beliefs.
What is real and relevant CHANGES with perspective, understanding, knowledge, comprehension, and wisdom.
Our global community now consists of some 7.4 billion points-of-view/opinions and NONE is final or absolute (in real-time).
Ultimate TRUTH is beyond the ken of any human being or belief system…revealing 'relative' perspectives everywhere.
Each life 'situation' reveals a 'problem' which then creates one's POINT-OF-VIEW (on this 'now' situation).
SUBJECTIVITY is our reality in 2017 as NONE can produce absolute 'objectivity' with their thinking or beliefs.
DIFFERENT perspectives, beliefs, opinions, and points-of-view create division, confusion, and separation within society.
Ultimately, human beings are 'at effect' on this planet as we all 'DISCOVER' reality as we live life in the NOW.
Discoveries are continual and unique revealing a need for decision-makers to THINK in the NOW continually.
All decisions must CHANGE depending on the NOW situation and the NOW problem which emerges.
Being 'at effect' means that a HIGHER SOURCE is 'at cause'. This Higher Source transcends our planet and senses.
This means that human beings are not in 'ultimate' CONTROL over events. Every person is an 'agent' or 'servant'.
To assert a self-righteous attitude of absolute correctness in one's BELIEFS is now foolish and unwise.
Our planet is occupied with people (7.4 billion as of today)…none of which can assert an EXCLUSIVE view of reality!
Our current global SYSTEM is collapsing due to the above realities and this will continue into 2017 and after.
An attempt to impose one's POLITICAL beliefs upon the marketplace can not work going forward…due to above.
Political leaders (who lack the above wisdom) will create total FOLLY with their decisions and actions going forward.
Making America FIRST is not a realistic policy going forward as exclusivity can not be mandated in a subjective marketplace.
Making America GREAT again is also foolish as America is a mere PART of a global interconnected society.
The philosophy of MIGHT makes RIGHT is another foolish policy in today's subjective (global) world of change.
Promoting a WORLD of diversity (individuality) is a WISE policy as all reality is 'subjective' at the core.
Extending the American dream of global 'equality' and 'individuality' (at the person level) is also wise in today's world.
Promoting the Kingdom of God (this transcendent source) is also wise as this works given the above realities.
Recognizing that each person is a created being, unique and different, with a transcendent mission/destiny is also wise.
Creating a NEW GLOBAL SYSTEM which reflects the above realities is my WISDOM for those with 'ears' to hear.
Our world is now much different from any prior period in our history. Everyone is now connected globally via a web of communications and social media websites. Solving global problems must now change so that each unique person has input into this global communication network of change. Old ways of imposing mandates on others can not work going forward. Transparency is now necessary as keeping political secrets over a nation or global society is unrealistic. Political leaders need to gradually step down from power and recognize that their mission of CONTROL and MANIPULATION is mostly over (the policy of controlling events so a select vision of politicians can be implemented is total FOLLY going forward). The idea of MAN ruling this planet is FOLLY and will only lead to chaos, war, killing, and death for everyone. Think on the above principles and points of wisdom for 2017. Change is now the operative concept for 2017 and after! Enjoy! I am: https://kingdomecon.wordpress.com.
STAY INFORMED! Receive our Weekly Recap of thought provoking articles, podcasts, and radio delivered to your inbox for FREE! Sign up here for the HoweStreet.com Weekly Recap.