December 4, 2016 | Money ($$$$$): Subjective vs. Objective!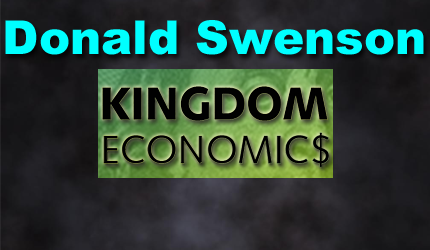 Donald B. Swenson: Born January 24, 1943, Roseau, Minnesota. Graduated H.S. 1961, Moorhead High, Minnesota. Graduated College 1968, Moorhead State University, Minnesota. Designated member of Appraisal Institute (MAI), 1974. Employed with Western Life Insurance Company, 1968 – 71; Iowa Securities Company, 1971 – 73; American Appraisal Company, 1974 – 81. Part-time teacher/valuation consultant/bartender, 1979 – 2008 (taught workshops at Waukesha County Technical Institute, Wi. and Madison Area Technical College, Wi.). Retired 2008 (part time teacher/blogger), AZ. Self educated economist/philosopher/theologian: http://kingdomecon.wordpress.com.
Today I went hiking and I was looking for some 'money' while on the trail.  Where-ever I looked, however, I only observed objects and people…but I did not observe any such thing as 'money'. I looked in my pockets and I had no metal coins or paper notes. I did not have any silver or gold coins either. I did have my smart phone, however, so I looked into my Fidelity Account (www.fidelity.com) to 'perceive' if my IRA still had some digits under the label of 'investments'. I thought about possessing these 'digits' and putting some of these 'virtual' units into my pocket, but I was disappointed when I tried to reach into my computer screen. I could not access my 'money'.
What is my message with the above parable? My message is that 'money' today is not an Objective 'thing' or 'object'. What we use for 'money' today are mostly 'digits' within our computer screen (now located in 'cyberspace'). Are these units or digits 'objective' phenomena? Do they 'exist' within our greater material universe? Are they actually anything 'material'? This is my question. My answer is that today's so-called 'money' is NOT 'material' or 'objective'. So what is it? I would suggest that most of today's 'money'…some 95% within the USA…consists of 'units of subjective information' (mere 'imaginary numbers'). There is no objective 'thingness' to any of these units of human consciousness. This means that I can not possess these units!
What has emerged in recent years is a money system which resides within the 'inner' consciousness of our banksters (as mere 'imaginary' numbers/symbols) and then these units of the mind get 'typed' into our computer screens and called 'money' (legal tender). Central bankers and also commercial bankers can now create these subjective units ($$$$$$) from their thinking and then record a loan transactions (on their computer) as an Asset and a Liability. This accounting gimmickry is now the process which creates our money ($$$$$$). The entire process and the operations are 'subjective' at the core. Money, in reality, does not 'exist' as a 'thing' or 'object'. What a change from yesteryear!
Objective money is some 'thing' which exists in real-time reality (an item to hold in one's hand). Silver coins would be an example of 'objective' money. Gold coins would be another example of 'objective' money. Even legal tender paper notes should be viewed as 'objective' money IMO. Today, however, our banksters desire to promote a society which they can monitor, control, and manipulate. Our subjective money ($$$$$$) is perfect for this process. Banksters can use their robots, automated trading algorithms, HFT computers, and their privileged position of authority to accomplish their basic desires without the need to any 'objective' money. Did you vote for this system?
If you read my prior two missives you will discern that I view our current money system as 'metaphysical' or 'non-physical'. Why is this so? My answer is that we now live with computer generated money (mere 'digits') which derives directly from the inner 'consciousness' of select banking administrators who create the 'input'. Bankers 'input' their numerical thinking as they create their loans and QE stimulations for the marketplace. Bankers are allowed to officially 'counterfeit' our currency units…as all these units are now units of 'nothing'. These units circulate mostly within the computer screens of traders, investors, borrowers, and speculators. My lesson from today's marketplace is that all is now 'subjective' and 'relative' within our corrupt marketplace.
Objective money is being replaced with a Cashless Global Society where our mobile devices serve as our 'tool' for all our financial transactions. Digits and declared 'legal tender' from our Central Banks is all that matters. Central Banks control and monitor us daily and 24/7 via their algorithms and special financial software. They then implement their money strategies so as to accomplish their selfish goals and objectives. Eliminating silver, gold, and paper notes from circulation is part of their sinister goal going forward. The ultimate goal is for everyone to use and accept 'subjective' money so that our Central Banks can create their vision of economic reality. The end result is likely the 'Mark of the Beast' monetary system. Who has voted for this result?
Do you desire to be 'enslaved' by this vision of reality? I certainly do not! If we desire to counter this sinister scheme of a select few Communists (central planning is a form of Communism), then we need to reject this SYSTEM. I have already rejected this SYSTEM and I am now promoting a NEW system for our planet. I call this system Kingdom Economics. Give my alternative some consideration as you think about events going forward. Freedom demands that we eliminate this 'Mark of the Beast' monetary system now in the making. Subjective money is a corrupt system for everyone. Reject this trend! I will do likewise! I am: https://kingdomecon.wordpress.com.
Some additional images which may help with your understanding:
Today, our monetary system is being changed from 'objective' to 'subjective'. This is occurring as our bankster leaders are eliminating paper notes, silver coins, gold coins, and any other tangible item as our 'currency'. Our money is now ($$$$$$) a mere number and symbol within the computer screen (created from 'nothing'…except consciousness of bankster thinking). This makes all consumers and investors 'slaves' of these unelected bankster administrators. Is this leading to a meaningfull marketplace for the many? We need to think seriously about our current non-system and develop a NEW MODEL!
STAY INFORMED! Receive our Weekly Recap of thought provoking articles, podcasts, and radio delivered to your inbox for FREE! Sign up here for the HoweStreet.com Weekly Recap.