December 27, 2016 | Maple Alert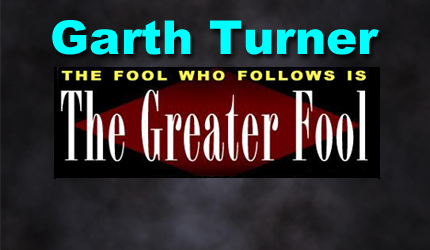 A best-selling Canadian author of 14 books on economic trends, real estate, the financial crisis, personal finance strategies, taxation and politics. Nationally-known speaker and lecturer on macroeconomics, the housing market and investment techniques. He is a licensed Investment Advisor with a fee-based, no-commission Toronto-based practice serving clients across Canada.
The Dow's getting all the girls this week, but the story of 2016 was the comeback on Bay Street. Don't expect the same next year.
The Dow at 20,000 is just a number, but there's no denying it's a sexy one. The index is up 14% this year, and the S&P 500 is ahead more than 11%. A massive whack of that came in the last six weeks, since America got Great Again. The US dollar's been rocketing ahead. The yield on US Treasuries is at the highest level in more than two years and the Fed's pulled the trigger on rates. So much for all those pantywaists around here who forecast a stock crash if the central ever bank found spine.
For every one of the last seven weeks (since the US election), the market's swelled. This is going to be the best three-month period for the Dow since 2013. Ironically, Barack Obama is leaving office when the economy's hot, markets are pumped, unemployment's crashed, real estate has recovered and consumer confidence is higher than a vaping Liberal.
Investors are pumped. Trump may be goofy and unpredictable with robotic, scary kids, but the betting is he'll do crazy things that will throw gas on the US economy. Like slashing decades of regulations harnessing business activity. Or greenlighting fracking, even if Oklahoma falls into a man-made crevice. Or slashing business taxes in an economy that needs more revenue, not less. Or picking a trade war with China, or building a godawful, expensive border wall, or going coal.
Normally markets move in advance of news, then retrace. Maybe not this time. Analysts think the Trump Bump can extend for months or longer, with his policies  actually plumping the national GDP. We'll see. But I wouldn't be reducing the US weighting in my portfolio right now.
Canada? Different story. Fading glory.
The TSX was a global superstar in 2016, rising almost 18%. But don't confuse the market with the economy. The big gains here came from oil and nat gas on an almost-doubling in the price of crude from last February ($27) to now ($53). Good money was also made on financials (up 25%) – which, along with energy, make up a large part of the Bay Street index. Of course the banks did well because Canadians borrowed more money than anyone ever thought possible to buy houses at insane levels.
But unlike the US, where excitement and momentum are building for the wild, unpredictable, shoot-'em-up days ahead, there's not so much optimism in the frosty north. Oil's been range-bound for months now, and even the decision by OPECers to curtail production has done little to propel crude higher. Meanwhile US producers have been fracking and horizontal-drilling their way to steadily more output, and the Trump administration is expected to encourage energy self-sufficiency and sacrifice environmental controls to get it. US oil producers, by the way, have raised $40 billion in new equity financing, almost a record. Investors smell money.
So, more oil coming. No price doubling in 2017 like last year. Maybe even down.
As for the other big driver of Canadian stocks, real estate and financing, you know the story. Mortgage rates are headed higher. We're down to a single bubble market from three a few years ago. The Moister Stress Test is removing about 20% of first-time buyers. Soon lenders will have to shoulder borrower risk now carried only by the government, making loans more costly. The Chinese dudes have left town. Sellers are greedy. Debt is epic. The economy blows.
So, don't overweight Canada in your portfolio this year. Probably a bad idea. But not so with Trump. And 2017 will not be the year to give up on bonds or a balanced portfolio with a good weighting in preferreds and a smattering of bonds. Odds are there's some raucous volatility ahead, plus rate-reset prefs will be starting on a long voyage of appreciation.
By the way, Monday January 23rd will be interesting. Wear a helmet.
< < <      > > >
On Tuesday I sent a link to yesterday's blog about Boom to his family, and suggested they might enjoy reading comments about the impact Roy Stacey had on others he'd never met.
His son, Paul, replied:
My mother and I would like to say Thank you from the bottom of our hearts for making a blog all about Roy.  What a tribute!!  And Thank you for being such a kind-hearted soul that would want to do something like this for one of your followers.  That is a class act, guy.  Thanks also go out to all who have posted and shared their thoughts and memories of him.  It truly means a lot to both of us.  Thank you.
STAY INFORMED! Receive our Weekly Recap of thought provoking articles, podcasts, and radio delivered to your inbox for FREE! Sign up here for the HoweStreet.com Weekly Recap.