November 7, 2016 | Truth – Now 'Subjective' (says Associated Press Article)!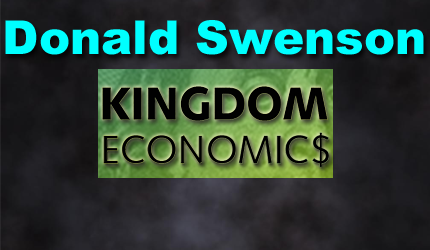 Donald B. Swenson: Born January 24, 1943, Roseau, Minnesota. Graduated H.S. 1961, Moorhead High, Minnesota. Graduated College 1968, Moorhead State University, Minnesota. Designated member of Appraisal Institute (MAI), 1974. Employed with Western Life Insurance Company, 1968 – 71; Iowa Securities Company, 1971 – 73; American Appraisal Company, 1974 – 81. Part-time teacher/valuation consultant/bartender, 1979 – 2008 (taught workshops at Waukesha County Technical Institute, Wi. and Madison Area Technical College, Wi.). Retired 2008 (part time teacher/blogger), AZ. Self educated economist/philosopher/theologian: http://kingdomecon.wordpress.com.
The Arizona Daily Star had a comprehensive article entitled "Truth takes a beating as facts become open to interpretation", Sunday, November 6, 2016. The blame for a realization that 'truth' has become subjective (to the masses and most intellectuals) is our political/media revelations (says the article). The soap opera between our two candidates reveals this subjectivity. Trump and Hillary have revealed to the public that all prior experiences can be 'interpreted' subjectively and personally (and then reported as 'objective' truth). This realization has been obvious to me for some 40 years. I have been saying that human beings are subjective at the core.
Subjectivity is so obvious in activities (like sports) and social media (Facebook)…and it is also obvious to a teacher of economics and philosophy (as I have been experiencing for all these years). Personally, I 'seek' truth daily but I also recognize that 'objective' truth which can be imposed on the marketplace of ideas is impossible. Why is this so? My view is that we all have 'beliefs' which we view as objective (to us as individuals) but these 'beliefs' reveal themselves as 'subjective' when challenged in the marketplace. Everyone assumes that 'their' beliefs are objective and representative of reality until challenged publicly by others.
A challenge system reveals to everyone that ALL beliefs (including my own) are subjective at the core. My attempt to be 'objective' is a good trait and I will continue with this endeavor…but I still must admit that my perspective on reality is always 'subjective' to a degree. I am NOT God or the Almighty LOGOS. Only the Almighty LOGOS should be viewed as 'objective' (my view). This objectivity (real-time reality) is revealed gradually and relentlessly in my/your now experiences. After many 'now' experiences I can discern some 'objectivity' in the marketplace but this 'objectivity' is LESS than absolute (for us human beings). God is Truth (capital 'T') and I/you are LESS than Truth (my subjective view)! Think on this idea that I/You are subjective human beings!
Can I predict who will WIN the election this Tuesday, November 8? I don't think I can (objectively). I don't think you can 'objectively'. My sense, as of this moment in time, is that Hillary will win in some manner (fair or foul). The current corrupt political system will demand that SHE win and become the FIRST woman President for America. Her criminal behavior over the years (obvious to me) will be ignored by the many in favor of her history to become the first female President and Commander-in-chief. Trump, unfortunately, is also seriously flawed and since ALL is relative and subjective HE will likely lose. But this is merely my 'subjective' opinion (as of this now moment).
Yes, TRUTH (capital 'T') is not relevant for today's world and the best we can do is promote our own personal 'subjective' BELIEFS. My blog is my attempt to promote MY 'subjective' BELIEFS. I am sure everyone will agree and disagree with my enunciations. This is reality and I view this as leading to individual FREEDOM eventually. Everyone will eventually realize that there is NO 'objective' TRUTH and we will create a world where ALL subjective perspectives can flourish. This is down the road, however, IMO. An attempt to play GOD (especially politically and religiously) will continue for the time being. The ultimate God player will be the political ANTI-CHRIST!
Some within the FBI already claim that Hillary is 'a' Anti-Christ. I am sure others view the Donald as another 'Anti-Christ'. Many over in Russia (among the elite leaders) view Obama as The 'Anti-Christ'. Others on YouTube view Obama as 'a' Anti-Christ. Aleksander Dugin (Putin's advisor on political issues) claims that Barack Hussein Obama is The Anti-Christ. Read the book "The American Empire Should Be Destroyed" by James Heiser. Dugin has become the philosopher/advisor to Vladimir Putin who now desires that Trump be elected our next President. The policies of a Hillary Clinton administration (according to many Russian elites) will lead directly to WWIII).
You can read more about why 'truth' is becoming subjective in the marketplace at: http://tucson.com/news/national/govt-and-politics/honesty-rip-facts-take-a-beating-across-us/article_b2cc0aff-2cb7-5ac7-ba2e-895d542183e3.html. We now live in a global society where everyone participates in expressing their views on all issues. Facebook is a good example of this reality. Billions of people can now enunciate their 'beliefs' within our globally interconnected world. The result is global 'subjectivity' where everyone thinks that 'their' beliefs are the right ones. What a WORLD! Where does this lead?
This all leads to chaos initially. Politics and economics (including religion and social relationships) can not survive (ultimately) in a world of 'subjectivity'. This world must change dramatically and relentlessly going forward if global 'subjectivity' is to survive. If my perspective is realistic, however, this CHANGE will happen over the next decade. A NEW model for the planet needs to emerge. Subjectivity is real and soon more of the masses will embrace this reality. My solution for all this is Kingdom Economics (as presented in my blog). Let's witness some dramatic change after this coming election this Tuesday! Enjoy! I am: https://kingdomecon.wordpress.com.
Some additional images to consider as you think about this concept called 'Subjectivity':
Some 100 million Americans could watch the election returns this Tuesday, November 8. Globally, some one billion may watch this election. It must be 'important' with this attention???
STAY INFORMED! Receive our Weekly Recap of thought provoking articles, podcasts, and radio delivered to your inbox for FREE! Sign up here for the HoweStreet.com Weekly Recap.