November 10, 2016 | Trump, The Fed, Psychology, Trends, Volatility, Change!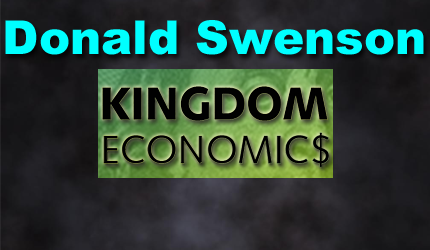 Donald B. Swenson: Born January 24, 1943, Roseau, Minnesota. Graduated H.S. 1961, Moorhead High, Minnesota. Graduated College 1968, Moorhead State University, Minnesota. Designated member of Appraisal Institute (MAI), 1974. Employed with Western Life Insurance Company, 1968 – 71; Iowa Securities Company, 1971 – 73; American Appraisal Company, 1974 – 81. Part-time teacher/valuation consultant/bartender, 1979 – 2008 (taught workshops at Waukesha County Technical Institute, Wi. and Madison Area Technical College, Wi.). Retired 2008 (part time teacher/blogger), AZ. Self educated economist/philosopher/theologian: http://kingdomecon.wordpress.com.
Congrats to Donald J. Trump and his team for the great victory over the corruption of the Clinton machine. I am relieved to a degree! Now begins a new regime with new dramatic changes in all areas of policymaking. The biggest change to date is in the area of 'psychology'. Our markets are already changing to higher interest rates, increased volatility, some fear among traders, uncertainty for the Fed, uncertainty as to new policy implications, international angst about policy change, Trump protests (revealing a lack of unity), and a host of other emotions to monitor. My sense is that these emotions will continue and grow in the coming weeks and months. Change is in the 'air'!
I just ordered two New books from Amazon written by Dr. Judy Shelton of the Atlas Network. Judy is an expert on our monetary history, the Russian markets, exchange rates, international trade, and the gold standard. The books are called "Money Meltdown" and "Fixing the Dollar Now". Judy is also an advisor to Donald Trump and it appears that Donald is favorable to some type of gold anchor to the 'dollar'. Issuing gold bonds is one option advocated by Judy and other advisors to the Donald. It appears that these additional advisors will play a role in forming the new economic policies of the Donald: David Malpass, William Walter, Larry Kudlow, Steven Mnuchin, Steve Feinberg, Stephen Moore, John Paulson, Tom Barrack, and a host of others.
The Fed Chairman, Janet Yellen, is unlikely to be an advisor and her role may be reduced come 2018 (when her term expires). The Donald will also play a huge role in selecting some five (5) new members to the Federal Reserve Board within the next two years. All this will affect monetary policy, interest rate policy, international currency policy, and especially 'psychology'. My sense is that some type of monetary meltdown is on the horizon soon, as Judy Shelton expects, and that this meltdown will elevate her to a major advisor role within the Trump economic team. So reading up on her thinking could be beneficial now. The above two books appear to be sound thinking from a knowledgeable expert on these issues.
The Donald will be formally elected by the Electoral College in December 2016. The results will be certified by a joint session of Congress in January 2017, and the transition will end when he is inaugurated at noon on January 20, 2017. The first 100 days will result in BOLD changes to the Obama polices and likely this is when our currency markets will experience the most volatility. Our index markets, which are now totally 'psychological' and 'metaphysical' will likely increase/decrease and move UP/DOWN and sideways for weeks. Algorithms will be given new Source Codes so as to create all this volatility. Algorithms now are the tool for creating investor strategies which MOVE all our electronic markets globally.
Few pundits seem to understand that our markets are now mostly 'psychological' and 'metaphysical'. This lack of understanding seems to penetrate even all the advisors to the Donald. The philosophy within economics is that our 'dollar' is a THING which exists in space/time. This unit (it is assumed) is physical and objective and that no tie to gold is necessary. This lack of understanding is what I now witness in all our policymaking and among all pundits. Yesterday, the Nikkei index crashed some 900+ points with the awareness that the Donald had won our election and then it reversed some 1,092 points yesterday. This type of volatility is unheard of historically. Who is creating this volatility?
What happens today is the Source Codes (programmed with algorithmic instructions) can change our markets instantaneously. Our markets are now electronic and operate at near the 'speed of light'. There are some 45 electronic exchanges globally today which are all interconnected via a electro-magnetic frequency network. Traders within our Central Bank trading rooms (who can access unlimited currency 'digits' from their System Computer) are the likely culprits…and who can use these algorithmic Source Codes to influence prices and trends within our markets.  Source Codes are viewed as 'intellectual' property and only the original owner can reveal this information. This allows for mass market manipulations by select rogue traders (such as those under the direction of our corrupt official policymakers at our Central Banks).
We all need to wake-up to this new technology world which has emerged globally in just the last few years. Algorithms, Source Codes, Programmed Instructions, Special Software, Automated Trading, Robots, Futures Trading, Options, No Settlement Contracts, Naked Shorts, and the like move all our electronic markets today. Take a look at the Globex Electronic Exchange for an example: http://www.cmegroup.com/globex/. This exchange is where much of the rigging of our silver/gold markets occurs IMO. Futures contracts are purchased (where no 'settlement' occurs) and all this trading (of 'naked' shorts and such) is done 24/7 via these electronic markets. Prices (now within cyberspace) get controlled, monitored, bracketed, and rigged.
The culprits used to be rogue proprietary traders who desired profits for their personal prosperity. Today, our rogue traders are official traders working 'behind closed doors' within our Central Banking Facilities. The Fed (operating at 33 Liberty Street, New York) is certainly part of this electronic rigging/manipulation…as is the Bank for International Settlements in Basel, Switzerland. The Central Bank of China, the Central Bank of England, the Riksbank in Sweden, and the Central Bank of Japan are huge manipulators of our markets…as they use QE operations (digital money creations) to effect market changes in real-time continually. These rogue traders cause most of the electronic manipulations within our markets IMO. See:  http://www.jpx.co.jp/english
Will the Donald and his team of economic advisors change any of this manipulation and rigging within our electronic markets? My sense is NO. The Donald now wants to pump up our markets with huge tax cuts and trading policies which change our international trading system. Will he also desire to restrict government borrowing so that our National DEBT can be dealt with? Will he create some 'fear' within our Central Bank, the Fed, so that Yellen and Company will change their current corrupt policies (NIRP, ZIRP, and QE)? This will be interesting to follow going forward. Change is in the air and our markets should continue with extreme 'volatility' for some time. Watch and learn. I am: https://kingdomecon.wordpress.com.
Some images to ponder about going forward (click on the image for additional info):
Change is in the 'air'. Monetary policy will likely change dramatically going forward. If we experience a monetary meltdown then advisors like Judy Shelton might emerge. Interest rates will change and currency volatility will increase. A gold standard (starting with issuance of gold bonds) could happen. Our current Fed Board will change by 2018. Yellen could be out. All our 'metaphysical' currency operations could become important concepts for those with understanding and wisdom. Algorithms and Source Codes might emerge as rogue tools to comprehend. Draining the Swamp might happen if a monetary Meltdown occurs. Electronic trading will be understood. Cyberspace money and the concept of Imaginary Money ($$$$$$$$$$$$$) might emerge within the Consciousness of our markets and our traders. Watch and Learn! Congrats again to the TRUMP team! https://kingdomecon.wordpress.com.
P.S. My vote this election: https://youtu.be/7qjRgSRyfnw or https://youtu.be/7qjRgSRyfnw
STAY INFORMED! Receive our Weekly Recap of thought provoking articles, podcasts, and radio delivered to your inbox for FREE! Sign up here for the HoweStreet.com Weekly Recap.