November 11, 2016 | Hodgepodge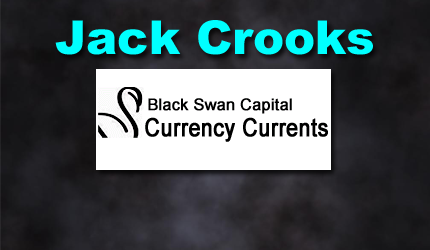 Jack has over 20 years experience in the currency, equity, and futures arena. He is an investment advisor who has held key positions in brokerage, money management, trading, and research. Jack is founder and president of Black Swan Capital LLC. He was also founder of Ross International Asset Management (specializing in global stock, bond, and currency asset management for retail clients) and General Manager of Plexus Trading (specializing in currency futures and commodities trading).
Quotable
"You are welcome, most noble Sorceress, to the land of the Munchkins. We are so grateful to you for having killed the Wicked Witch of the East, and for setting our people free from bondage."
― L. Frank Baum, The Wonderful Wizard of Oz
Commentary & Analysis
Ut Oh! It's the Rickshaw Man (doji).
A gap open on Thursday morning, ending in a doji candlestick.  With the long wicks on both sides, this is known as a Rickshaw Man…indicates major indecision.  Bulls and bears buying/selling power equalized.  A doji is often seen as a single bar reversal pattern.  A sell-off here wouldn't surprise as it seems lots of profits to grab since Donald Trump's victory last Tuesday evening.
Emerging Markets diverging from developed markets…hmmm…
Maybe the crushing of EM bonds and background concern about the continue depreciation of the Chinese currency could be the drivers (chart next page)…and this news this morning likely doesn't help…
BEIJING, Nov 11 (Reuters) – Chinese banks extended 651.3 billion yuan ($95.56 billion) in net new yuan loans in October, below expectations and falling sharply from September, as policymakers pledged to prevent asset bubbles in the increasingly debt-fueled economy.
The People's Bank of China has been keeping policy accommodative to spur growth – as evident by record bank lending so far this year – but it faces an uphill battle to divert money from the red-hot property market into the weak real economy.
Emerging Market Bonds (EMB in red) versus EM stocks (EEM black) versus Chinese yuan-US$ (Blue)….Notice the red line going straight down (slam); those are EM bonds.  Contagion risk abounds given the amount of debt build in EM markets as discussed here before.
Big CAD versus Copper Divergence Setup: Buy CAD?
MELBOURNE, Nov 11 (Reuters) – London copper was on track for its biggest weekly rally in over 35 years on Friday as hopes of U.S. infrastructure spending on Donald Trump's election win and firming demand from China drag metals out of a years-long bear market.
Copper CMCU3 was trading up 3 percent in late Asian trade, rising for a seventh straight session and up more than 15 percent for the week, on track for its biggest weekly rise since 1980, according to Reuters data.
Copper (black line) versus CAD/USD (green line) Daily:  A big divergence has opened here.  Maybe time to consider buying CAD…it has been hit.
The problem is CAD seems more captive to oil prices at the moment (oil down 3.3% at the moment), then copper obviously…below a chart of CAD/USD versus Oil Futures (WTI):
So, if oil bounces, CAD is likely a buy.  But my confidence still not high, as the Donald has propelled the US dollar.  Wasn't what I was expecting (and getting whacked now pecking against it)…
What is good for a currency?
Foreign Direct Investment
Hot Money Flow
What drives these two?
Rising capital gains opportunities (President Trump cutting taxes and regulation would do that)
Rising interest rates (Seems a given; and an exclamation point will be added when Janet the Dove exits the building; most likely soon after Donald checks into the Oval Office.)
It appears the intelligentsia has done a major re-think despite all the money they threw into Hillary's campaign and their howls of doom and gloom.
To that point of intellectuals being so wrong consistently, I turn to the classic: Propaganda- The formation of men's attitudes by Jacques Ellul (written in 1965):
"Ellul follows through by designating intellectuals as virtually the most vulnerable of all to modern propaganda, for three reasons:
1)      They absorb the largest amount of secondhand, unverifiable information;
2)      They feel a compelling need to have an opinion on every important question of our time, and thus easily succumb to opinions offered to them by propaganda on all such digestible pieces of information:
3)      They consider themselves capable of 'judging for themselves.'  They literally need propaganda.
Well, an exciting week.  Have a great weekend and enjoy "morning in America."  J
If you wish to consider Black Swan subscription-based services, you can do so at our website.  Please don't hesitate to request samples or a free trial.
Jack Crooks
President, Black Swan Capital
STAY INFORMED! Receive our Weekly Recap of thought provoking articles, podcasts, and radio delivered to your inbox for FREE! Sign up here for the HoweStreet.com Weekly Recap.