November 20, 2016 | Central Banking – a 'Criminal' Operation! Why?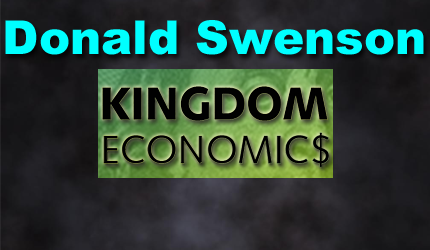 Donald B. Swenson: Born January 24, 1943, Roseau, Minnesota. Graduated H.S. 1961, Moorhead High, Minnesota. Graduated College 1968, Moorhead State University, Minnesota. Designated member of Appraisal Institute (MAI), 1974. Employed with Western Life Insurance Company, 1968 – 71; Iowa Securities Company, 1971 – 73; American Appraisal Company, 1974 – 81. Part-time teacher/valuation consultant/bartender, 1979 – 2008 (taught workshops at Waukesha County Technical Institute, Wi. and Madison Area Technical College, Wi.). Retired 2008 (part time teacher/blogger), AZ. Self educated economist/philosopher/theologian: http://kingdomecon.wordpress.com.
I am not the only economist/philosopher who views our Central Banking system as CRIMINAL. The great Austrian economist, Hans-Herman Hoppe, of the Von Mises Institute, also views Central Bankers as 'gangsters' and 'criminals'. Hans views all Central Banks are part of a criminal organization. I agree! Is this situation a trend that we humans desire to perpetuate going forward? I don't think so! We need to recognize that our entire criminal monetary system is run by select criminals who operate 'BEHIND' closed doors. Watch this video: https://youtu.be/08AA0KJFka0 for additional evidence via the words of Mr. Hoppe.
Today, our Central Banks have turned into centralized operations which favor select millionaires and billionaires (the 1%) who have private connections with these select operators. As Mr. Trump has said, he has no problem getting all the loans he desires but the private entrepreneur often must suffer rejection from these same elite operators. The core problem in all this is our criminal 'money unit'. What is our 'money' unit? I just finished reading a book by Judy Shelton, co-director of the 'Sound Money Project' and part of the Atlas Economic Research Foundation. Judy outlines the history of our 'money unit' and why it needs to be 'fixed' and 'defined' to a 'thing' of value (silver or gold).
Today, we live with money units created from the 'imagination' of our criminal banking administrators (within all the Central Banks on this planet). We live with a 'dollar' ($$$$$$$)…now a mere mental abstraction. Globally there are some 150+ additional 'imaginary' mental abstractions (such as: RRRRRRR, or yyyyyyyy or PPPPPPP, or kkkkkkk or $$$$$$$) which are now circulating as MONEY. These 'money units' are created behind closed-doors of our global banks via select 'lending programs' and other 'computer' operations. The money units being created derive from the 'imagination' of these administrators who operate behind closed doors. These 'virtual' units have not been adjudicated as real units of 'legal tender' for our global marketplace (by our courts).
Is this criminal or what? Think on what has evolved these past 20+ years! What is the morality of creating trillions of 'money units' ($$$$$$$) which technically 'do not exist' within our space/time universe…merely for select persons (mostly the 1%) which only the bankster/operators can approve? Think about what we now have for a monetary system on this planet. In reality, our MONEY ($$$$$$$) does not exist (as a 'thing') as it derives from the MIND'S of these criminals…operating behind closed doors. Mental symbols are created from the MIND'S of these administrators and then 'given' to select millionaires and billionaires (mostly the 1%) who can reward these criminals (financially and socially) for their favors. Is this Capitalism? What is it? Think on this!
What has evolved these past 20+ years is a fraudulent/criminal/imaginary monetary system which favors the few and impoverishes the many. The recent TRUMP election (this new administration now being formed) is likely to continue this criminality and possibly further the corruption which is now ubiquitous. The Donald's announced policies will increase our unpayable DEBT (now $66.8 Trillion and counting) – see this website: http://www.usdebtclock.org. Our unpayable debt (deficits) will further alienate the masses of indebted persons who live from payday to payday and have only some $1000 in their savings account. We could witness trillions ($$$$$$$$$) of new 'imaginary' money units being created by our corrupt Central Banks to further this criminality going forward. Does anyone comprehend what I now witness for our economic model on this planet?
Our entire monetary system needs to collapse and disappear as the entire edifice is a 'fantasy' within our MIND'S. It's a modern-day TOWER OF BABEL! All our 'money units' are now digits (virtual units of nothing) which are created from the IMAGINATION of select banking criminals (operating behind closed doors). Who is AWARE? Who understands cyberspace? How can mere 'symbols' ($$$$$$S) serve the greater marketplace and enhance our global prosperity? The SYSTEM is totally corrupt and criminal IMO. Hans-Herman Hoppe seems to agree: https://mises.org/library/institute-publications and https://youtu.be/08AA0KJFka0. Our problem is the current criminal SYSTEM! Think on this for additional enlightenment!
What should be 'legal tender' until a new model is accepted by the people? I would suggest that Judy Shelton's view is sound for the transition period. Our 'dollar' (now imaginary) needs to be 'defined or fixed' in terms of our Constitutional money (silver and/or gold). We need to inform our new political administration that our Central Banking System is criminal and corrupt at the core. Read my prior missive for additional evidence. Notice who these operators are and ask yourself WHY do they operate BEHIND CLOSED DOORS (what are they doing behind these closed doors)? Why all the secrecy and opaqueness? Why all the favoritism to the 1%? Why all the computer rigging to deceive the marketplace on issues like 'price discovery'? Why all the 'price suppression' of our historical monies (silver/gold)? Why all the 'digital' currencies which get 'typed' into a computer screen?
Take the time to read up on what is now happening within our so-called global economic system. There are countless websites to visit to get informed on the issues. Wake-up to all the corruption and criminality which is occurring within our political systems on this planet. Who will Mr. Trump select as his Treasury Secretary (a key position for determining monetary policy) and what is his view (of Mr. Trump) on our Fed Chairperson, Janet Yellen? Who will Mr. Trump select as our new Secretary of State (also a person with influence on economic/financial issues). Are we heading for a global financial collapse or what? I don't think we will need to wait much longer for some hard evidence. Watch and think for yourself! I am: https://kingdomecon.wordpress.com.
Some additional images to contemplate: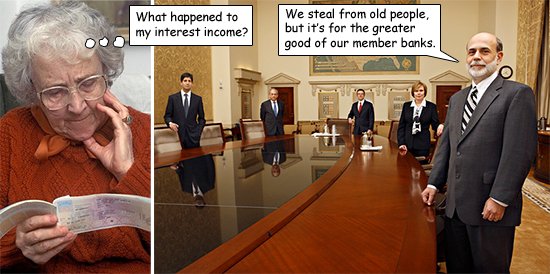 http://theeconomiccollapseblog.com/
http://pro.globalfinancialnewstoday.com/AWN_caseforgoldrgs_0516/PAWNSB01?gclid=CjwKEAiAsMXBBRD71KWOh6fcjRwSJAC5CNE1LptWop6DWK8aMBuSp_y6iX5TdUZRTY5J0nWe8ZotCxoCFibw_wcB&h=true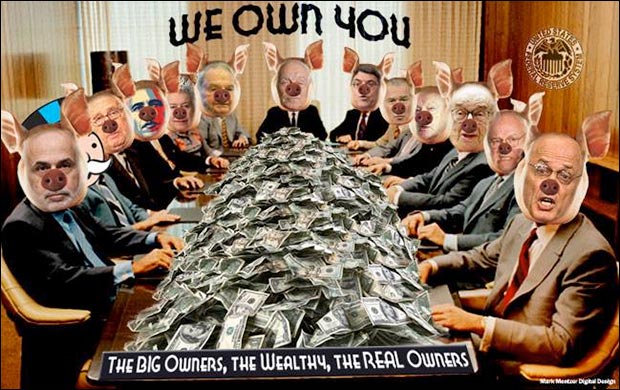 Yes, we are all 'enslaved' but unaware of our enslavement! Today, our 'imaginary' money units enslave the masses at the expense of real prosperity and freedom. The SYSTEM is the problem and nothing will CHANGE until this false/corrupt/criminal SYSTEM collapses. The wise will prepare for this coming event! Stay tuned for more updates at: https://kingdomecon.wordpress.com.
STAY INFORMED! Receive our Weekly Recap of thought provoking articles, podcasts, and radio delivered to your inbox for FREE! Sign up here for the HoweStreet.com Weekly Recap.