November 28, 2016 | Cash is for Criminals – Taxing Cash Withdrawals from ATMs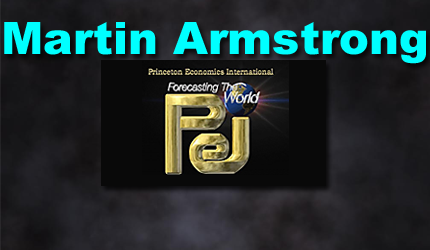 Martin Arthur Armstrong is the former chairman of Princeton Economics International Ltd. He is best known for his economic predictions based on the Economic Confidence Model, which he developed.
We are entering a very dark phase in this battle to retain our liberty. A proposal now being whispered behind the curtain in Europe is to impose a tax on withdrawing your own money from an ATM. The banks support this measure as a whole because they see this as preventing bank runs.
Nobody will look at the direction we are headed. I am deeply concerned that these type of proposals will send the West in a real revolution not much different from that of Russia in 1917. The divide between left and right is getting much deeper and the left is hell bent on stripping those who produce of their liberty and assets. This type of confrontation is in line with our War Cycle, which we will update in 2017.
This is the most dangerous period we are heading into for governments will respond only in their own self-interest to survive. The socialists hate those who produce. That is just the bottom line. Nobody should have wealth more than they and this is the same human emotion that has cost tens of millions of lives in civil conflicts through out the centuries. Proof this is a persistyent problem is the fact taht even the Ten Commandments state clearly that socialism is wrong: "You shall not covet your neighbor's house … or anything that belongs to your neighbor" (Exodus 20:17).  Nevertheless, this is repuidiated by socialists who say it's not fair that anyone has something more than they do. This material jealousy has been the source of so much death throughout the centuries because it has been exploited by the ruling class to justify their theivery.
We will review all our models and update this after the U.S. inauguration since the socialists are trying to figure out how to steal the election from Trump. There is no way to overturn Michigan, Wisconsin, and Pennsylvania without fraud and they need all three overturned to claim victory. This will not end nicely. The divide will only get bigger. The future is anything but stable and safe.
The war on cash is in full swing. The whispers behind the curtain are starting to get louder. The headlines in Australia demonstrate how the press is already conspiring against the people. The new slogan rising is Cash is for Criminals. ABC of Australia ran the story:
STAY INFORMED! Receive our Weekly Recap of thought provoking articles, podcasts, and radio delivered to your inbox for FREE! Sign up here for the HoweStreet.com Weekly Recap.