November 15, 2016 | Bad News From Appalachia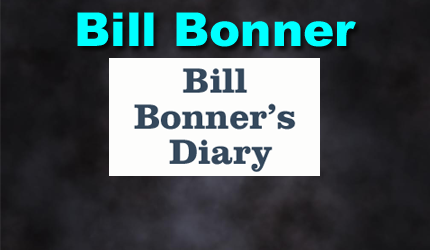 Is an American author of books and articles on economic and financial subjects. He is the founder and president of Agora Publishing, and author of the daily financial column, Diary of a Rogue Economist.
BALTIMORE – What we can expect from the Trump administration is coming into clearer focus.
Mr. Trump may be impetuous and unpredictable. But the economic policies of his administration are not.
In fact, he has little choice…
The system depends on more and more credit (debt).
Households are tapped out. Businesses are near their limit. Only the feds can add more credit into the system.
As we warned here, no matter who won the election, the Deep State would be forced to move toward fiscal stimulus.
"The Donald"… with support from a Republican Congress… will move aggressively.
But we'll take a hard look at the dots tomorrow. Today, we look at death.
Death on the March
We drove down to southern Virginia on Sunday.
Word had come up from the Appalachians that our mother was about to bring down the curtain. At 95, she is having a hard time breathing, eating, or just sitting up.
"We thought we lost her last night," reported a sister. "You better come right away."
Death seems to be on the march. Friends, relatives… and people we admired…
Last week, Leonard Cohen died. So did Janet Reno and our old friend Howard Ruff, a pioneer in the newsletter business.
On the way down to Virginia, we listened to Shelby Foote's history of the War Between the States.
Mr. Foote is not one to pass up a colorful detail. His history takes about as long to get through as the war itself.
We passed many of the familiar battlegrounds – Fredericksburg… Ball's Bluff… and Spotsylvania County, where Ulysses S. Grant and Robert E. Lee squared off against each other for the first time at the Battle of the Wilderness…
…thinking about those thousands and thousands of deaths…
It was America's most catastrophic war… with 600,000 dead.
"It's easy to die. And there are a lot of ways to do it," wrote a soldier in a letter to his family.
The state of Virginia alone suffered 30,000 military casualties at the hands of the Yankees. Virginia had a population of only 1.2 million at the time. That would be the same as about 8 million deaths in America today.
No one has ever convincingly explained why it happened. Not for lack of trying. Slavery, states' rights, Lincoln – you can throw up lots of "reasons." But imagine the poor soldier.
Did he care about states' rights?
Probably not. And if he cared about slavery at all, it is unlikely that he was ready to die for it… one way or another.
Lincoln bears an overmeasure of responsibility; he almost seemed to want war. But why did so many go along… all the way to the grave?
Disaster Connoisseur
Here at the Diary, we are connoisseurs of disaster. We study it the way some people study ancient Sumerian texts or Chinese porcelain.
Not natural disasters; what interests us is the man-made kind. And what most intrigues us about them is that people are so eager to get involved.
In Gone with the Wind, for example, Rhett Butler sees the war with a cynic's eye. He takes advantage of the situation, running the Union blockade and earning a fortune.
But even he cannot resist. Before the war is over, he puts on a gray uniform and signs up for the Great Cause.
Some go to war for glory. Some go to avoid shame. Some joined the Union Army in the 1860s because they had to – like the thousands of Irishmen who survived the Great Famine by emigrating to America, only to be conscripted and killed at Shiloh or Antietam or Gettysburg.
And many went as a matter of principle – like those who fought for the New York Volunteers or the Charleston Irish Volunteers – though it is hard for us to understand exactly what principle was involved or why it was worth dying for.
Slavery was a serious issue; but the rest of the world managed to abolish it without bloodshed.
We drove on… battle after battle… skirmish after skirmish… surly soldiers, vainglorious, incompetent officers… introductions to "Bobby" Lee and U.S. Grant… along twisty Virginia roads, until we finally arrived near Lynchburg.
"Hey, Mom," we said in a loud voice. "Glad to see you still among the quick."
"I'm still here," said a weak, gasping voice. "And I'm fine."
"Well, you don't look all that great."
"I guess I should dress up. I'm going to a funeral. I'm going to be the guest of honor."
Regards,
Bill
The original article can be read here
STAY INFORMED! Receive our Weekly Recap of thought provoking articles, podcasts, and radio delivered to your inbox for FREE! Sign up here for the HoweStreet.com Weekly Recap.