Today, my Son and I worked on the definition of words like 'cyberspace', 'notional environment', and 'virtual' reality. All these words deal directly with today's monetary/financial system as well as communication within our global internet society. Today, we all live mostly within 'cyberspace' (via smart phones and similar mobile devices) and we give meaning to financial 'symbols' (called digital Money). But most of us do not understand this new realm called 'cyberspace' or the nature of  'virtual' reality. Today we witness concepts like cyber crimes, cyber security, cyber warfare, cyber hacking, and cyber money units. All these concepts and activities are part of this new virtual world that governs our financial and social lives. But what does all this mean?
How do we define and describe all these new words which are changing our daily activity and our understanding? What would be a proper definition of this 'invisible'/ 'intangible' space or realm which creates all these activities for our economic and social survival? Is this 'space' equal and similar to our 'observable' space (which we experience within space/time)? This understanding (and differentiation) is now extremely important as all our historical 'money' units are being replaced. The new units ($$$$$$$$) are being circulated within this new 'notional' environment called 'cyberspace. Money has always been some 'thing' which lived within our observable/space/time reality (for over 5,000 years). Examples are: paper notes, metal coins, wampum, cowrie shells, silver coins, gold coins, and many similar items.
Today, however, our elite leaders have created a new notional (hypothetical/simulated) environment for us…called 'cyberspace'. This space is 'virtual' and without any tangible substance or physical existence. We now circulate our 'digital' money units (within this 'space') from computer screen to computer screen. Our elite leaders now desire to create a new financial world for all of us within this controlled and monitored 'space'. We are now victims of this new environment (like it or not) which emerges from the consciousness of a select few elite banksters. Our money units are now derived from the mindset (thinking) of select elites who operate behind closed doors…mostly within our Central Bank facilities on this planet. These elites create money units (out of nothing) and control us with this new money from their inner being.
Our old (historical) money units of paper, metal, and precious stones are being rapidly eliminated so this new notional environment of 'symbols' can emerge for the entire planet. Cyber money ($$$$$$$$) is what I call these new money units. Some call these units digital money. The 'name' is unimportant as long as we understand the concept and the implications underlying this new global money system. Money is the life blood of commerce and also the tool which allows those in control to monitor, control, and enslave each of us. Enslavement is what I now witness as emerging as we welcome this new technology called the computer/smart phone/laptop/tablet for all our financial transactions. All seems well (pleasant) at the moment as few comprehend what is happening…behind closed doors.
Gradually and relentlessly our financial system is changing (evolving) so that a hierarchy of elites can control, monitor, and manipulate this new cyber financial system. Virtual reality has arrived and few comprehend what this all means going forward. It is now time for everyone reading this missive to do some homework on understanding these new concepts called 'cyberspace', 'virtual' reality, 'notional environment', and the "ordered sequence of 'symbols' which convey meaning". Our lives are now lived within this new global environment called the World Wide Web and/or the Internet. This is a communication network, a notional environment, a social environment, a virtual realm of symbols and images, and a realm where select elites can control, monitor, manipulate and enslave all of us.
Few seem aware of how all this has evolved and grown. It all started when our leaders chose to 'unfix' our monetary unit from gold. This happened mostly from 1971 to 1974 (with the closing of the gold window). Later our monetary unit evolved into the digital environment of the computer in the early 1980's and mostly in the 1990's. All this evolution was accomplished by our elite Central Banksters (and their proxies) without any approval from the voting public citizen. This is why few understand what has evolved these past 20 – 30 years. Take the time to think about the concepts described in this missive. I think your intellect will appreciate this growth in understanding. Enjoy and let's pass this information on to others who desire an understanding! https://kingdomecon.wordpress.com.
Some additional images to consider as you think upon the above issues: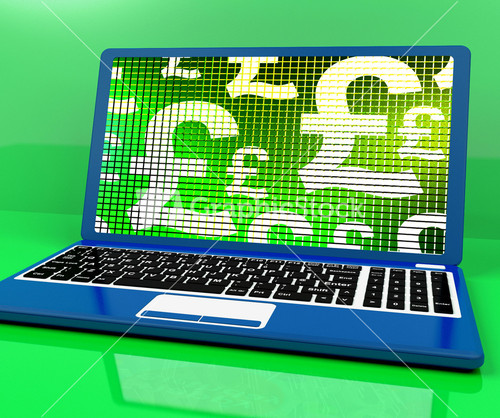 Americans especially need to get educated on our monetary history. Lack of knowledge by the public is what leads to our eventual enslavement!