November 11, 2016 | A New Reality – 'Central Banks' can Prevent a Market Collapse!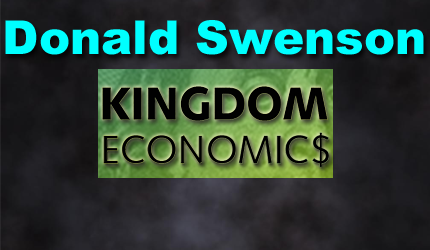 Donald B. Swenson: Born January 24, 1943, Roseau, Minnesota. Graduated H.S. 1961, Moorhead High, Minnesota. Graduated College 1968, Moorhead State University, Minnesota. Designated member of Appraisal Institute (MAI), 1974. Employed with Western Life Insurance Company, 1968 – 71; Iowa Securities Company, 1971 – 73; American Appraisal Company, 1974 – 81. Part-time teacher/valuation consultant/bartender, 1979 – 2008 (taught workshops at Waukesha County Technical Institute, Wi. and Madison Area Technical College, Wi.). Retired 2008 (part time teacher/blogger), AZ. Self educated economist/philosopher/theologian: http://kingdomecon.wordpress.com.
Many ask how our stock markets can continue to go UP even with dire events happening. Logic says that markets should correct when negative events happen. This correcting nature is now preventable. Why? Immediately after the BREXIT event the stock markets recovered quickly and continued going UP. After the Trump win many thought a correction of 10% or more would occur. This did not happen. The markets continued UP the next day. What is happening to cause this conundrum in logic? What we need to understand is that our Central Banks now have huge trading facilities (computer trading desks) which can 'prevent' any downturn indefinitely.
Central banks now trade equities, bonds, mortgages, corporate bonds, and whatever they like (with a few exceptions). Our Fed is not supposed to trade stocks but they have a huge trading room in New York at 33 Liberty Street. What is being traded? Funds from the System Open Market Account should not be used for trading equities but it is now easy to get around this issue. A proxy trading desk (say at J. P. Morgan…across the street from the N.Y. Fed) could act as the agent of the Fed. This type of situation is not necessary for most of the other Central Banks. These banks can directly trade whatever they please to assure that their markets continue UPWARD. Is this Capitalism?
Here are some details from this website to ponder: http://www.thewomensfinancialalliance.com/mystery-solved-central-banks-buying-equities/.
"So why now all of a sudden are the markets roaring back to life in most markets everywhere? One Citigroup analyst may have the answer: It appears that, as regular investors flee, central banks have stepped into the breach. Asset purchases by central banks have risen to their highest levels since 2013, suggesting that the rallies in equity and credit markets—which some say already appear stretched—could continue picking up steam, according to Matt King, a credit analyst at Citigroup.
This central bank "sponsored" strategy of buying any and all dips in the market has been a profitable trade since the financial crisis, and old habits are hard to break.
Central Banks Buying Equities … But Wait There's More
Matt King also says the data suggest the equity rally could continue regardless of the underlying economic fundamentals if central banks keep gobbling up stocks. For example, the central bank of Switzerland, the Swiss National Bank, purchased 3,800,000 shares of Apple stock last year.
It turns out that the Swiss central bank, in addition to its Apple stock, holds very large equity positions, ranging from $250,000,000 to $637,000,000, in numerous US corporations — Exxon Mobil, Microsoft, Google, Johnson & Johnson, General Electric, Procter & Gamble, Verizon, AT&T, Pfizer, Chevron, Merck, Facebook, PepsiCo, Coca Cola, Disney, Valiant, IBM, Gilead, Amazon.
It doesn't stop with the Swiss bank. China's State Administration of Foreign Exchange has become "the world's largest public sector holder of equities. And the Bank of Japan is a top 10 shareholder in more than 200 of the Nikkei 225 companies. How about here in the U.S.? The Federal Reserve Act prohibits the Federal Reserve from buying equities. But an amendment in 2010 – Section 13(3) – was enacted to permit the Fed to buy AIG's insolvent Maiden Lane assets.
However, this amendment also created a loophole, which enables the Fed to lend money to entities that can use the funds to buy stocks. Thus, other central banks, such as the Swiss central bank could be operating as an agent of the Federal Reserve.
The buildup of central-banking interest in equities is one of the unexpected consequences of the last few years' fall in interest rates, which has depressed the returns on central banks' foreign exchange reserves and driven them to find alternative investment targets.
In the years since the financial crisis, central banks have leapt to the forefront of public policy making. They have taken responsibility for lowering interest rates, for maintaining stability of financial institutions, and for buying up government debt to help economies recover from recession.
Now it seems that they have become important in another area, too, in starting to build up holdings of equities. For those who want shares to go up, it's great news. But it also comes at a consequence. This is clearly distorting the sanity of the markets and eventually the charade has to end."
Conclusion: Central Banks (which were not allowed to trade our markets directly prior to 2008) now act in collusion to 'prevent' any type of global market collapse or serious market correction. These same Central Banks are promoting digital currencies (called cyber money) for the entire planet while simultaneously suppressing any demand for our historical money (silver and gold). Is this Capitalism?
It is shocking that the 'gold' price no longer reflects the concerns of private traders so that our markets can correct when needed. In all past markets (prior to 2008) gold prices reflected the 'greed' and 'fear' within our private trading markets. Gold was the historical thermometer which signaled when a correction should occur. Today, however, all this has changed with the NEW technology called the computer (and electronic trading).
Our Central Banks now have their own trading computers (and digital currencies which they create from their thinking) to 'prevent' any outcome which THEY deem unfavorable to their interests. This is pure criminal behavior and few comprehend that this has occurred since the crisis of 2008. We need to WAKE-UP to the NEW strategies now being employed to rig and manipulate all our electronic markets. What happened to Capitalism?
The logic of a TRUMP win revealed to most private traders that the stock markets should correct significantly. After-all, his perceptions about economic events were that our markets were in dire condition with bubbles everywhere. He rightly criticized the Fed, China, Mexico, Saudi Arabia, the Eurozone policies, and almost all the prior traditions of the Hillary/Obama LEFT agenda. His election should have resulted in a serious market correction or even a market crash.
What happened, however, is that our Central Bank trading desks off-set any private market trading with their own manipulative trading strategies (now algorithms sourced for this objective). After-all, these Central Banks have 'unlimited' digits (which they can create for a proxy trader or which they can directly inject to off-set any dire consequences. All this is obvious RIGGING and criminality. Our Central Banks are now CRIMINAL operations IMO!
WAKE-UP and think about what has happened these past 8 years! Corruption at the TOP has allowed illogic to prevail everywhere. It is time to STOP this corruption. Let's get a media outlet started which will put some 'light' on this criminality. We do not have Capitalism today! We now live with a PONZI criminal gang of Communists (a command economy operating 'behind closed doors')! This is obvious to anyone who does some thinking and research on their own. Pass this missive on to others who might desire to discern this criminality. I am: https://kingdomecon.wordpress.com.
Click on the image below if you desire additional information:
WAKE-UP readers! The System is RIGGED! We are ENSLAVED right NOW! We must revolt and act to rid our planet of these CRIMINALS! When? NOW!
STAY INFORMED! Receive our Weekly Recap of thought provoking articles, podcasts, and radio delivered to your inbox for FREE! Sign up here for the HoweStreet.com Weekly Recap.