October 31, 2016 | The New 'Word' in Economics/Finance is 'ALGORITHM'!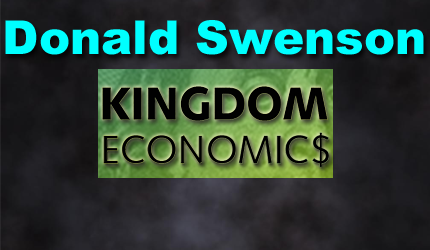 Donald B. Swenson: Born January 24, 1943, Roseau, Minnesota. Graduated H.S. 1961, Moorhead High, Minnesota. Graduated College 1968, Moorhead State University, Minnesota. Designated member of Appraisal Institute (MAI), 1974. Employed with Western Life Insurance Company, 1968 – 71; Iowa Securities Company, 1971 – 73; American Appraisal Company, 1974 – 81. Part-time teacher/valuation consultant/bartender, 1979 – 2008 (taught workshops at Waukesha County Technical Institute, Wi. and Madison Area Technical College, Wi.). Retired 2008 (part time teacher/blogger), AZ. Self educated economist/philosopher/theologian: http://kingdomecon.wordpress.com.
It is over. The trading that existed down the centuries has died. We have an electronic market today. It is the present. It is the future. Robert Greifeld, NASDAQ CEO, April 2011[37]
What traders now need to study and comprehend are all the changes which have recently occurred (mostly in the last 10 years) due to our electronic markets. This video is a MUST watch for all silver/gold traders as these folks seem mostly unaware of all the recent changes in our markets. I listen to all the silver/gold pundits and media commentators (regularly) but rarely do any focus upon our digital/cyber/virtual markets as being relevant for their clients. Watch prior to reading further: https://youtu.be/z4nCTdQlH8w.
This video (https://youtu.be/z4nCTdQlH8w) is recent and has been updated to inform the viewer of details concerning HFT computers and their effect on our markets. To understand why silver/gold prices are continually rigged and manipulated by 'algorithms' and via HFT strategies this video is a MUST watch IMO. Some key words to focus upon are phantom trades, quote stuffing, spoofing, rapid cancellations of a trade, and why prices can be manipulated via trading algorithms, coded instructions, and phantom trades (where no delivery of the traded commodity occurs).
We now live in a global electronic marketplace where computers and algo's rule over trading activity. Some 70% of trading transactions daily are now accomplished via trading algorithms. High Frequency Trading and all the gimmicks used to influence price discovery via options, futures, phantom trades, and no delivery trades is a recent phenomena (which our silver/gold traders seem unaware of). All this change has occurred as a result of our money system (which is now digital/cyber/virtual).
Our money system and our currencies are now units of consciousness (numbers within our computer screens) and trading is now living within this Netherworld called cyberspace. Few comprehend or understand this new trading environment or its implications for our markets and for price discovery. Also, our Central Banks, can now trade all our global markets to influence prices and the psychology within our markets. This was illegal when our money was physical and a commodity such as silver/gold/paper.
Today, our money is within our consciousness and we access our money via the computer. We then visualize our 'digits' within our computer accounts as we look at the computer screen. This is a new phenomena within economics which few seem to comprehend. Paper money is no longer relevant within today's markets and silver/gold coins are now collector items and not used for 99% of all trading. Barter is more prevalent than silver/gold exchanges to effect a trade. We now live in cyberspace and we trade using cyber money (digits).
What is an 'algorithm'? This word is the key to trading and communication today. We all use our Smart phones and computers for nearly all our trading activity today. Everyone needs to get informed on the nature of algorithms and their impact on our markets and on price discovery. Today, we have Las Vegas Algorithms, Monte Carlo Algorithms, Atlantic City Algorithms and a host of unique programmers who enter coded instructions into our computers for trading activities. Speed of light transactions occur and no human being is involved in most trades today.
Take the time to watch this video on High Frequency Trading. I would suggest that your watch it many times to internalize the details of what has occurred in just the past few years. Silver and gold prices are rigged and manipulated because of these new concepts which have entered our markets. Also, we need to recognize that our Central Banks (such as our American Federal Reserve) now trade our markets using HFT and these administrators now desire that all our markets become digital/cyber markets. Silver and gold must be eliminated if this trend continues. Wake up to the reality of CYBERSPACE, algorithms, computer trading, phantom trading strategies, and spoofing (along with a host of new computer concepts). Enjoy! I am: https://kingdomecon.wordpress.com.
The best video to date on the issues above.
STAY INFORMED! Receive our Weekly Recap of thought provoking articles, podcasts, and radio delivered to your inbox for FREE! Sign up here for the HoweStreet.com Weekly Recap.