October 17, 2016 | Price Manipulation via an Algorithmic 'Source Code'!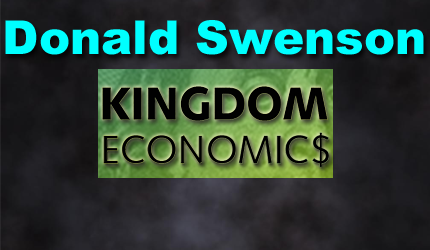 Donald B. Swenson: Born January 24, 1943, Roseau, Minnesota. Graduated H.S. 1961, Moorhead High, Minnesota. Graduated College 1968, Moorhead State University, Minnesota. Designated member of Appraisal Institute (MAI), 1974. Employed with Western Life Insurance Company, 1968 – 71; Iowa Securities Company, 1971 – 73; American Appraisal Company, 1974 – 81. Part-time teacher/valuation consultant/bartender, 1979 – 2008 (taught workshops at Waukesha County Technical Institute, Wi. and Madison Area Technical College, Wi.). Retired 2008 (part time teacher/blogger), AZ. Self educated economist/philosopher/theologian: http://kingdomecon.wordpress.com.
Today's Wall Street Journal had an interesting article entitled "CFTC poised to Alter Its Source-Code Plan". What is happening in our electronic markets is that nearly every substantial trader (with ample funds) is using automated trading to enter and exit trades. Automated Robots are the current tool which sophisticated traders use to monitor, trade, and manipulate all our cyber prices today. Computers and a Source Code can accomplish price manipulations without any oversight or CFTC knowledge of what is happening. Some (within the CFTC) now what to access a traders Source-Code (the trading code which is protected as 'intellectual property'). Access to this Code could identify a price manipulator operating in real-time!
I have been following the price manipulations within the gold/silver markets for some 8 years. What I have discovered is that these markets are totally manipulated, monitored, and controlled by computer traders (most likely within our corrupt Treasury/Federal Reserve trading system). This is now being done via robots and algorithms which are coded to trade (at the speed of light) so that the cyber 'prices' are influenced Up and Down. There is no free market within the silver/gold environment today. Robots, algorithms, trading codes, and corrupt traders now manipulate all our markets and especially the silver/gold markets. All this is done via algorithms and computers in real-time and 24/7. The real culprits are our Central Bankers and their trading operations (behind closed doors).
Few silver/gold pundits, however, understand what is happening in our HFT markets and why algorithms and robots can affect these prices. I listen to all the experts within these markets and none seem to comprehend what is happening.  Most seem totally unaware of this new reality which is determining our prices. A few recognize that the markets are 'rigged' and 'controlled' but they lack an understanding of the details. Our markets today are nearly 100% electronic and computer algorithms (coded with trading strategies) make trades in milliseconds (entering and exiting trades) to influence and manipulate 'prices'. Price is key to trading (none care about company fundamentals) and these traders earn cyber profits if the markets go UP and/or DOWN. It's all done within cyberspace and 24/7!
What is algorithmic trading?
Algorithmic trading, also called algo trading and blackbox trading, encompasses trading systems that are heavily reliant on complex mathematical formulas and high-speed, computer programs to determine trading strategies. At the most basic level, an algorithmic trading robot is a computer code that has the ability to generate and execute buy and sell signals in financial markets. The main components of such a robot include entry rules that signal when to buy or sell, exit rules indicating when to close the current position, and position sizing rules defining the quantities to buy or sell. These electronic robots now influence and manipulate all prices.

Read the above description a few times for full understanding. Today, if I am the U.S. Treasury Secretary, the Chairman of our Fed, or a policy expert working with our Treasury and Fed, I can trade stocks, bonds, futures, currencies (via my proxies) to control, monitor, and prevent our electronic markets from crashing (to a degree). This is now done via computers and on our electronic exchanges which operate 24/7. Central Banks now have trading rooms where daily price manipulations occur and all this is accomplished 'behind closed doors' to our public. If I desire that silver/gold prices be monitored, controlled, rigged (within specific parameters) I can accomplish this objective with a trading computer, trading robot, and a source-coded algorithm (which does the buying/selling).
Some of those in the know at the CFTC (the Commodity Futures Trading Commission) would like to access these computer Source-Codes (now private intellectual property) via a 'special call' so that these codes can be inspected and checked. This might allow them to locate a trader(s) who are manipulating prices within a particular market. This, however, is being resisted by the Hedge Funds and the other electronic traders who desire privacy when it comes to trading our electronic markets. The high level Central Bank trading rooms, however, will never be inspected as these firms are essentially 'above the law'. They operate as protected entities as they determine what is policy and what is not! If I desire that silver/gold prices be rigged for policy reasons, then no one in government will interfere.
The Hillary Clinton affair with her private email server and her collection of speaker fees from our high level banksters (millions) as well as her collection of money via the Clinton Foundation is all essentially 'above the law' activity IMO. This Hillary Affair reveals, to me, that select entities can operate 'above the law' and do as they will. All our electronic markets can be rigged today as we have no Open Market System for setting our prices. Price discovery is now a computer determined situation and robots and algorithms (programmed with a source-code) can manipulate any price within our electronic global markets. Supply/Demand is not functioning today! Central Banks are the biggest culprit and they operate ABOVE THE LAW and do as they will!
Read the WSJ article in today's paper (page C-6) for some understanding on what has happened to all our markets. They are all electronic, rigged, and controlled by our Central Banks and select proxies of our Central Banks. We have NO free markets and the system is now so corrupt that everyone is part of the corruption. No one desires to report the issues as every trader via their self-interest just wants to make cyber money for their own protection. This goes for all the silver/gold traders as it does for nearly ALL traders! The 'system' is the problem and few desire to report on the details of how our non-system works. Corruption is everywhere and the administrators at the HIGHEST levels are mostly responsible! Who cares? Few! I am:
https://kingdomecon.wordpress.com
.
 Some additional images for understanding our trading problems and our corrupt System!
STAY INFORMED! Receive our Weekly Recap of thought provoking articles, podcasts, and radio delivered to your inbox for FREE! Sign up here for the HoweStreet.com Weekly Recap.