October 18, 2016 | Let's Assume Hillary Wins, 11/08/2016: Can She Govern?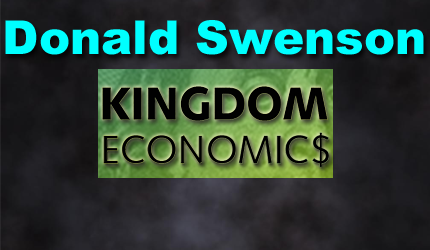 Donald B. Swenson: Born January 24, 1943, Roseau, Minnesota. Graduated H.S. 1961, Moorhead High, Minnesota. Graduated College 1968, Moorhead State University, Minnesota. Designated member of Appraisal Institute (MAI), 1974. Employed with Western Life Insurance Company, 1968 – 71; Iowa Securities Company, 1971 – 73; American Appraisal Company, 1974 – 81. Part-time teacher/valuation consultant/bartender, 1979 – 2008 (taught workshops at Waukesha County Technical Institute, Wi. and Madison Area Technical College, Wi.). Retired 2008 (part time teacher/blogger), AZ. Self educated economist/philosopher/theologian: http://kingdomecon.wordpress.com.
As of today, our media claims that Hillary leads Trump by some 4 – 11% in the polls. At this late date, this must mean that Hillary will win the election on November 8. So let's assume that Hillary wins and that she now must govern over 320 million Americans. Can she GOVERN (with the support of her advisors – the 1%)? My sense is absolutely NO. Hillary has polarized the country with her prior behavior (now global via our internet) and her vision for America is dubious…at best! Let's think about a Hillary Win for this missive! What are the issues that make governing nearly impossible for this lady (the first female President in America)? My assumptions!
Hillary desires more of Obamacare for the public and she will probably call her program Hillarycare. This government program is already bankrupt as most insurance companies and some 50% of the uninsured can not benefit from her continuation of this healthcare program. The deductibles and the cost of the care is not affordable for most. More anguish for many Americans when it comes to healthcare!
Hillary's foreign policy consists of more drones and killing of perceived enemies over in the Middle East. She will likely impose a 'no-fly zone' over Syria which will cause WWIII with Russia. She desires that Assad be eliminated from Power and this further aggravates Russia and their need for hegemony in this area (for their survival). Her Middle East policy will likely create war and more destruction in this area of the world.
Hillary will increase sanctions (finance and banking sanctions) on Russia and her allies. This will further antagonize the Russian people and increase the trend towards WWIII. Hillary is a student and pupil of Obama's agenda and it is unlikely that any creative solutions (other than more of the same) will emerge among her advisors. Expect war and anguish to continue under this lady of politics!
Hillary will advance the Agenda 2030 program which Obama started with Pope Francis in 2015. This Agenda became official on January 1, 2016, and will advance her vision of a New World Order (a trends towards global communism). Americans will become more polarized and angry as her Agenda advances. But her advisors will desire to advance Agenda 2030 for all Americans!
Hillary will promote the concept of 'open borders' with Mexico and the drug cartels will approve of this decision and act accordingly. This means more drugs and killing between those who live near the border. She may increase surveillance via drones and high tech gimmicks but the situation will be more of the same (as under her mentor Obama). All the existing refugee programs will be expanded as now planned under Obama!
Hillary will promote her mentor, Barack Hussein Obama, to some role within her government. She will desire his advice on all the existing policies which he started these past eight years. This will further polarize the American people and cause riots and shut-downs. The economy will tank as public confidence disappears! The 1% who benefited under Obama will attempt to support her agenda!
Hillary will promote her husband, William Jefferson Clinton, to some high level consultancy position and Bill will work to advance his global agenda as he has been doing under the Clinton Foundation agenda. The idea is to advance Kissinger's New World Order, now called Agenda 2030, so that Global Communism emerges rapidly! The United Nations agenda 2030 will become official policy! Read it now for understanding!
Finally, Bill, Barack, Hillary, and a host of Leftist advisors will pump up the corrupt media with propaganda that we all need to 'unite' and 'make America stronger' by agreeing with her New Agenda for America and the World. She will bring in agreement from media, entertainment, and political elites who view her vision as the ONLY solution for creating a better and more sustainable world community. Her Global Village concept will be advanced and the controlled media will attempt to silence dissenters. Political correctness will reach a new level of official approval! The Trump deplorables will continue with their street riots and protests!
Basically, the Donald and his deplorables (the 49%) will riot in the streets after the results are published and everyone becomes  AWARE of Hillary's win (51%) and her desires for America going forward. Governing over the 320 million will become nearly impossible as mob rule develops within the country in 2017.  Our founding Fathers predicted that democracy leads to Mob Rule and we will witness this in spades after the Hillary Win in November (my assumption). Governing will become nearly impossible as Hillary's concepts (above) permeate through the nation via alternative internet websites. The issue is Governance and I don't think a Hillary Win will change this serious issue to an issue where the 99% comply with her vision! This means Mob Rule in America (as predicted by Thomas Jefferson and others). Think on this as you listen to the coming debate on Wednesday! Who can GOVERN come November 9, 2016, and after? I will cover the Donald later! https://kingdomecon.wordpress.com.
Some additional images to consider assuming a Hillary win on November 8, 2016!
I am the FIRST woman to become President of the United States of America! Can I GOVERN?
STAY INFORMED! Receive our Weekly Recap of thought provoking articles, podcasts, and radio delivered to your inbox for FREE! Sign up here for the HoweStreet.com Weekly Recap.