October 3, 2016 | Late-Night Festivities in Ireland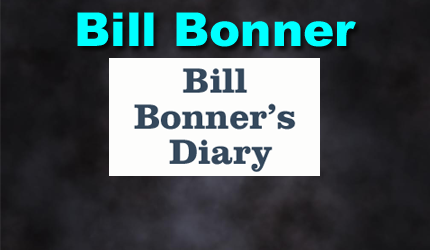 Is an American author of books and articles on economic and financial subjects. He is the founder and president of Agora Publishing, and author of the daily financial column, Diary of a Rogue Economist.
DELRAY BEACH, Florida – We left you on Friday threatening to continue our analysis of our "wars" – the War on Poverty, the War on Drugs, the War on Terror – as public-private partnerships designed to create corrupt new industries.
We'll make good on that promise tomorrow…
In today's issue, a look at the Grand Opening of our new overseas headquarters in Ireland.
To bring new readers up to speed, the new office is in a renovated 19th-century mansion called Woodlock House in the town of Portlaw.
Woodlock House in Portlaw
If you haven't heard of Portlaw, you're not alone.
It's a small, almost forgotten place about 11 miles west of Waterford City, at the confluence of the Clodiagh (pronounced "Clowe-dia") and Suir (pronounced "Sure") rivers.
Big Deal
To be perfectly frank, the late-night festivities at the local pub after the opening crashed much of our memory of the event.
The best we can do is to try to pick up shards from the various speeches and match them with the correct orator.
"This is a big deal for us in Portlaw. We haven't had any new industry here since the mill closed decades ago."
Speaking was Irish senator Paudie (pronounced "Paw-dee") Coffey. A solid man, with a fighter's face and a farmer's handshake… the red-haired politician was likable and bright. He reached back into his childhood:
"I know this place well. I live only a mile from here. I remember standing on this very spot every Sunday for many years. I was an altar boy here at the church. It brings back so many memories I may get tears in my eyes. I do that sometimes.
"As you know, this fine house was built by the Malcomson family. They were hardworking Quakers. And they had a number of houses and a number of businesses. They owned the textile mills near the town.
"Too bad, but their fortunes declined. They moved away. And the house was taken over by the Sisters of St. Joseph, an international missionary order. They ran it as a nursing home for many years, with the chapel right here.
"Of course, the sisters grew old and had to stop. And we wondered what would happen to this building. We are so pleased that Mr. Bonner and Agora had the vision to take up this project. I see so many young, dynamic people in the room. It means so much to our small town to have new people and new jobs coming in."
Next up was the regional director of the Irish Development Authority, the Irish government agency tasked with attracting foreign direct investment.
Then came the mayor of Portlaw, a 22-year-old man wearing a chain of medals bespeaking his rank.
He took over the post after his father, the previous mayor, died. Then the young man got reelected.
Paudie Coffey and Mayor Wyse
Sandblasted and Cleaned
Over the course of these speeches and the many conversations that followed, we got the message: It was not every day that someone set up shop in the village.
Locals regarded it either as an act of God or a great folly on the part of the person responsible for it.
Still, they were all grateful, gracious, and – we suspect – a little awed by the grandeur of the building.
We are no strangers to recycling grand old buildings for modern uses. We have done it many times.
But when we entered Woodlock House on Friday, after not having seen the place for six months, it took our breath away.
The floors had been sandblasted and cleaned. The walls had been plastered. All of the awful accretions had been stripped away so that the great mansion, as it should be and always should have been, was revealed… in its glory.
Stone columns… 16-foot ceilings… a huge granite staircase sweeping up to a cantilevered mezzanine… tall windows looking out onto the terraced lawn.
The granite staircase at Woodlock House
And the decorations and furnishings were superb. Elizabeth, Mr. Bonner's wife, had come over several times and spent days in auction houses and antique stores, looking for things that would be appropriate for a 19th-century mansion.
She had worked with the architect, a local decorator, and the project manager to give the ceremonial spaces the dignity and comfort they deserved.
"Thank God you bought this place," said the architect. "If you hadn't, it probably would have been ruined. The roof was leaking already. It doesn't take long. Once nature gets ahold of a building in Ireland, it goes fast."
He mentioned a few other big houses that have been lost.
These grand houses are much too big and expensive for private homes. There are few businesses that would find them practical places to work.
Once the current owners give up, or go broke, they are sometimes turned into hotels or golf resorts, but more often simply left to die.
Full Disclosure
In his speech, Mr. Bonner had only five minutes to make his feelings known.
Had he more time, he might have mentioned – modestly – that he had not had very much to do with it.
And he might have let it be known – frankly – that he was not motivated by a desire to perform a public service.  (He just needed a place to put his growing business.)
He might have done the math for them – revealing that the cost of the space per employee, even with the magnificent renovations, was only half what he paid for a so-so modern office space in Baltimore…
He might even have added for full disclosure that, when first shown the building, he had no vision of what the building might become… but only doubts about what it seemed to be.
Paudie Coffey and Mayor Wyse listening to Bill's speech
If you want to keep your spirits up on a cold, rainy day in Ireland, do not visit a recently-abandoned and nearly derelict nursing home. The place was as grim as a tinker's tomb, with beds still standing and adult diapers strewn on the floor.
The roof leaked. The walls were stained and damp. And the various "improvements" made to the building over 150 years had made it hideous.
"Are we sure we want to do this?" he asked his colleagues. "The building is cheap enough, but it is going to cost a fortune to renovate it."
Best Ideas
But a Grand Opening is no place for honesty, modesty, or accounting.
It is a place for celebration: You may have done something incredibly foolish, but you survived!
After thanking the people responsible, including Elizabeth, he tried to make sense of what he had done:
"We publish ideas. And the best ideas are never really new. That's why we call our business 'The Agora.' It's a nod to ancient Greece, where almost all good ideas come from.
"In the ancient Greek city states, the agora was the central meeting place – both a marketplace and forum for ideas.
"The best ideas are old ideas that have stood the test of time and now can be rediscovered, updated, and recycled. That is what we've tried to do with this building, too."
Bill and Elizabeth
That rather highfalutin explanation seemed to be what the occasion called for.
He ended it with his best rendition of go raibh maith agat ("Thank you" in Irish, pronounced – we think – "gurev moh-a-gut").
Even the Irish speakers in the crowd hesitated. They knew Mr. Bonner was trying to say something in their native tongue. But it took a moment to figure out what.
Then, the speeches over, the party could begin.
Regards,
Bill
The original article can be read here
STAY INFORMED! Receive our Weekly Recap of thought provoking articles, podcasts, and radio delivered to your inbox for FREE! Sign up here for the HoweStreet.com Weekly Recap.