October 12, 2016 | Finally, some heat directed at Central Banks!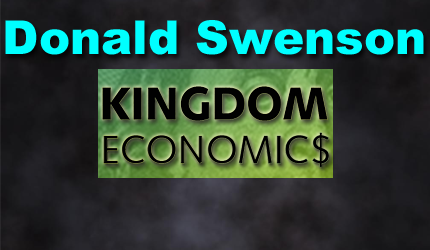 Donald B. Swenson: Born January 24, 1943, Roseau, Minnesota. Graduated H.S. 1961, Moorhead High, Minnesota. Graduated College 1968, Moorhead State University, Minnesota. Designated member of Appraisal Institute (MAI), 1974. Employed with Western Life Insurance Company, 1968 – 71; Iowa Securities Company, 1971 – 73; American Appraisal Company, 1974 – 81. Part-time teacher/valuation consultant/bartender, 1979 – 2008 (taught workshops at Waukesha County Technical Institute, Wi. and Madison Area Technical College, Wi.). Retired 2008 (part time teacher/blogger), AZ. Self educated economist/philosopher/theologian: http://kingdomecon.wordpress.com.
The Donald and Theresa May are starting to put some heat on Central Bankers!
Today's WSJ described the views of Donald Trump and Theresa May with respect to our Central Banks. Both of these politicians are critical of these entities – about time! The article is entitled "A Trans-Atlantic Revolt Against Central Bankers". The general view is that both the Central Bank of England and the Central Bank of America (the Fed) are pursuing policies which distort our markets, favor the 1%, suppress interest rates unfairly, and use their polices to promote dubious trends for our economies. I have been waiting for some awareness on this issue for years. Could this awareness finally create some change?
My sense is that nothing will change until after the November election and probably not until later in January 2017. If the Donald wins in November the general psychology will change dramatically IMO. If Hillary wins then we could witness a growing set of manipulative polices which will further distort all global markets. So serious change is coming soon and all this is positive for those of us who witness all the current corruptions within Central Banking. Our entire global economy is now subservient to the 'closed door' policies of a few Central Bankers who have been given leeway to centralize all their global activities.
The American and British people's need to become informed on the underlying issues of monetary policy and the inter-connected network of world monetary manipulations. Our entire monetary system has changed in just the past 8 years from a policy of rules to a policy of no rules. Select elites (Bernanke, Carney, Yellen, etc.) have created policies which favor the 1% and suppress the general welfare of the 99%. None of this will change unless these corrupt entities are exposed so that awareness of their policies becomes open to everyone. Few understand monetary policy and nearly everyone assumes that America and Britain have policies which favor the general public. This is not so!
Who understands this concept called QE? Who understands the concept of Negative interest rates? Who understands the money creation policies – now a computer entry process? Who understands the history of legal tender money? And who understands the nature of our cyber currencies now being promoted for the entire planet? All these issues have not been given any public awareness for years. Our Central Banks hide their actions as they promote what is beneficial for their select clients. Thanks to the Wall Street Journal for publishing this article and for both the Donald and Theresa May for openly bringing this issue to the public. Our Central Banks now rule over all finance and their policies will eventually filter down to everyone.
The other article of note was the WSJ article entitled "The Unconstitutional Mr. Cordray". This person has developed an organization which is un-American at the core. The issue is the Consumer Financial Protection Bureau (CFPB) which started after the 2008 financial crisis and was made part of the Dodd-Frank legislation. Mr. Cordray is creating a self-directed dictatorship over many consumer policies. I was unaware of this entity but I am not surprised at what has developed since 2008. There are a host of financial issues which we need to become knowledge about. In addition to the CFPB we have the International Monetary Fund (IMF) which is a corrupt organization. Then we have the secret banking entity called the Bank for International Settlements (BIS). This entity is totally secretive!
Overall, the issues of monetary policy and banking need to be given much more publication so that awareness grows about these entities. The WSJ is doing a great job and the Financial Times is doing likewise. Many pundits are starting to wake-up to all the hidden corruptions within economics. All this is positive and I hope this trend continues in coming weeks and months. Read this blog for continuing information on all these issues. Economics is a difficult subject to comprehend as it is not taught fully in our institutions of higher learning. Who understands the Keynesian economic model? Who understands the evolution of banking and money? Few! Anyway, more will follow within this blog going forward. Enjoy! I am: https://kingdomecon.wordpress.com.
STAY INFORMED! Receive our Weekly Recap of thought provoking articles, podcasts, and radio delivered to your inbox for FREE! Sign up here for the HoweStreet.com Weekly Recap.