October 13, 2016 | Even Now, Twitter Is Still Being Hustled to the Rubes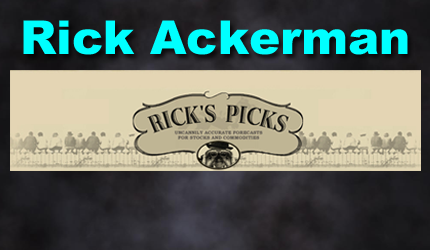 Rick Ackerman is the editor of Rick's Picks, an online service geared to traders of stocks, options, index futures and commodities. His detailed trading strategies have appeared since the early 1990s in Black Box Forecasts, a newsletter he founded that originally was geared to professional option traders. Barron's once labeled him an "intrepid trader" in a headline that alluded to his key role in solving a notorious pill-tampering case. He received a $200,000 reward when a conviction resulted, and the story was retold on TV's FBI: The Untold Story. His professional background includes 12 years as a market maker in the pits of the Pacific Coast Exchange, three as an investigator with renowned San Francisco private eye Hal Lipset, seven as a reporter and newspaper editor, three as a columnist for the Sunday San Francisco Examiner, and two decades as a contributor to publications ranging from Barron's to The Antiquarian Bookman to Fleet Street Letter and Utne Reader.
['Twitter Sinks as Suitors Flee' proclaimed a headline two days ago in The Wall Street Journal. Those of you who have followed Rick's Picks for a while will know that I've been dissing the stock regularly ever since it went public near the end of 2013.  To me, Twitter's chart tells a story of greed, hubris and stupidity in the investment world, and of the news media's shameless complicity in all of it. Wall Street is just a big-time carnival midway as far as I'm concerned, and the way DaBoyz and the financial press hustled Twitter to a gullible public epitomizes the way the game works. The commentary below was first published nearly three years ago — on November 11, 2013, about seven weeks before TWTR topped for good at four times its current price. The chart, which speaks for itself, is a very recent one. The hysterical rallies that have punctuated TWTR's bear market in recent months are evidence that the same sleazeballs who hyped the stock earlier are still on the grift, albeit with a different story. This time, they've been floating takeover rumors every few weeks in order to unload shares on rubes who, incredibly, still don't get it. RA]
Are these guys out of their minds?!  Last week, the latest, lascivious round of IPO-mania pushed Twitter's capitalization to an intraday peak of $35 billion, putting it in the same league as John Deere, News Corp., Halliburton, Biogen and Prudential Financial.  This, despite the fact that the Internet messaging service, with hundreds of millions of followers, has yet to earn a dime of profit — or even to figure out how to earn one.  "Investors" seemed not to care, however. In the opening minutes of Thursday's session, their orgiastic buying spree pumped the stock to an intraday high of $50 that was nearly double the $26 offering price.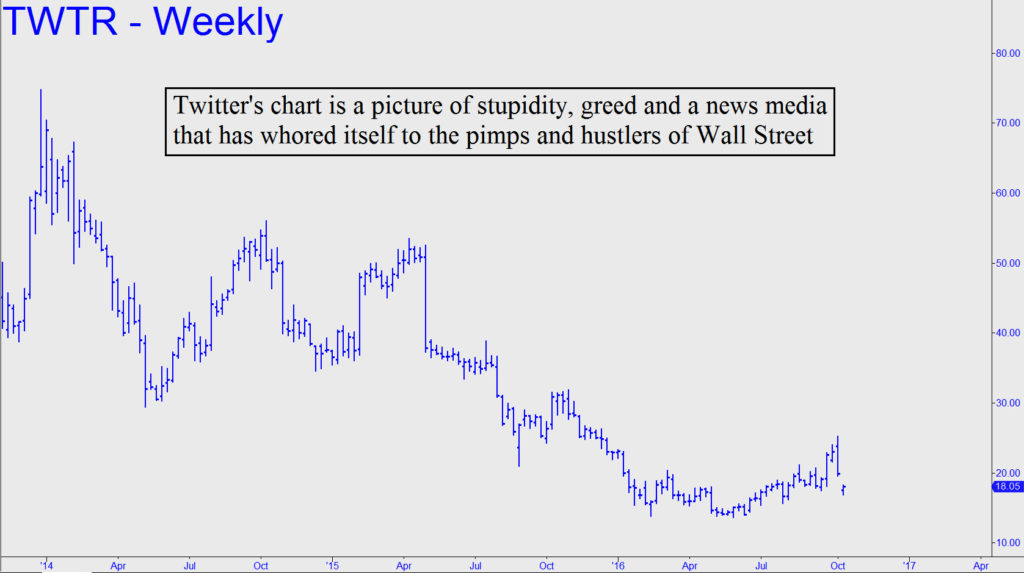 For those of you not familiar with Twitter, it is an online social networking and microblogging service that enables users to send and read text messages limited to 140 characters called "tweets".  Although tweets undoubtedly have theoretical value as a marketing tool, they have been used mainly by celebrities to share their personal thoughts and reflections with millions of fans at all hours of the day and night. The tweet-happy Justin Bieber, for one, probably has more online followers than Coca-Cola, Doritos, Ralph Lauren et al. could attract in a lifetime.  If you're wondering, then, who can benefit from Twitter, let alone get rich from it, you're not alone, especially since the service has yet to come up with a viable business model. One answer soon to be tried involves adding graphic marketing images to tweets. However, this would force Twitter to compete more directly with Facebook. It would also risk driving away users who were attracted to the service in the first place because of its simplicity and ad-free format.
Street's 'Community of Thieves'
In the meantime, Twitter, having become one of America's 100 most valuable companies literally overnight, will presumably continue to add nothing, zilch, zero to the economy. At best – and this is only in theory – it could help a company raise its market share at the expense of competitors.  So where's the money?  Even bank robber Willy Sutton would have trouble figuring that one out. One need look no further than Wall Street, however. The Street is by far the biggest winner every time its insider gang of thieves has an opportunity to hype the IPO of some company whose business is inscrutable to most of us — inscrutable, no doubt, to most of the halfwits who were clamoring for IPO shares last week at $50 per. If they wind up making any money at all, it will only be because even greater fools have come along to bail them out. Our hunch is that the epic stupidity, hubris and greed that made Twitter's IPO such a success will mark the top of the second, and presumably last, dot-com boom.  Readers?
STAY INFORMED! Receive our Weekly Recap of thought provoking articles, podcasts, and radio delivered to your inbox for FREE! Sign up here for the HoweStreet.com Weekly Recap.