October 14, 2016 | Crooked 'Hillary' vs. Narcissistic 'Trump'! What 'I' have learned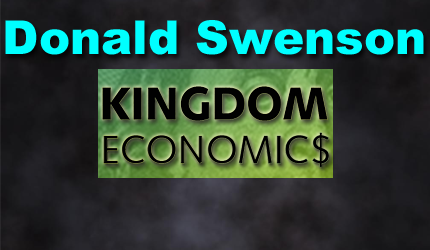 Donald B. Swenson: Born January 24, 1943, Roseau, Minnesota. Graduated H.S. 1961, Moorhead High, Minnesota. Graduated College 1968, Moorhead State University, Minnesota. Designated member of Appraisal Institute (MAI), 1974. Employed with Western Life Insurance Company, 1968 – 71; Iowa Securities Company, 1971 – 73; American Appraisal Company, 1974 – 81. Part-time teacher/valuation consultant/bartender, 1979 – 2008 (taught workshops at Waukesha County Technical Institute, Wi. and Madison Area Technical College, Wi.). Retired 2008 (part time teacher/blogger), AZ. Self educated economist/philosopher/theologian: http://kingdomecon.wordpress.com.
Our two candidates for the highest office on our planet (America is still the main Superpower) are both seriously flawed. Hillary is lacking any real 'self-reflection' (a form of narcissism and lack of self-awareness) and the Donald is lacking in humility, modesty, and an understanding of the serious global issues! These candidates can teach us much about 'human nature' and the perils of giving 'power' to individuals who lack sound qualities of character.
The above view is perceived from those who can not support this confused personality!
The Donald reveals much of his dual 'human nature' when talking publicly!
What I have learned these past 12 months is that 'human nature' includes both a 'dark' and a 'light' side. The 'dark' side of one's personality is generally covered up with jargon and diversion tactics. The 'light' side is amplified so that everyone assumes that ALL is basically good, right, positive, and progressive. Don't look at my 'dark' side personality (of past experiences) only look at my 'light' (positive) side. This is human nature at the core. As human beings we ALL have 'two sides' to our ego, personality, and behavior.
As human beings we ALL experience TWO sides to our nature! Dark and Light! To embrace these two sides equally may NOT be a good idea!
As a prior bartender for some 20 years I have experienced the 'human nature' of countless individuals (elites, educators, religious folks, business persons, public officials, and the general public). All this experience with people has taught me much about 'human nature' (including myself). We all live within our inner consciousness as we experience our daily lives. This 'inner' world of the spirit reveals my/your character and personality. Especially, when in 'private' situations. What happens 'behind closed doors' can be much different from what happens in the open.
The public sees one vision of reality and the other vision is usually 'hidden'!
Has Bill and Hillary spent much of their careers 'behind closed doors'? I would suggest, yes. Often this experience 'behind closed doors' can be an amplification of the 'dark' side of one's ego, personality, and nature. I have witnessed this reality countless times during my bartending experiences. Public officials will 'talk' one tune at the bar with all the public around, and then 'talk' a completely different tune when 'behind closed doors'. After emerging from 'behind closed doors', I often got revelations of what transpired 'behind closed doors'.
Bartenders often become psychologists after events happen 'behind closed doors'! Why?
Bartenders tend to get information from prior customers which many in the general public never experience or discern. Why is this so? I would suggest that bartenders (like myself) who served customers from all walks of life are viewed as good 'sound boards' for ongoing 'soap operas' which people live within. Yes, I have listened to hundreds of 'soap operas' which 'nice' public figures experience often 'behind closed doors'. This allows me to have a fresh perspective on issues like 'human nature'.
The conversation changes 'behind closed doors' and this reveals our TWO 'natures!
It is obvious, to me, that both Hillary and the Donald live within TWO realms of reality. We can label these realms in various manners, but I will use this term called the 'dark' side and the 'light' side. My/Your 'dark' side is generally covered up with jargon and positive sounding words. Lies and deceit are not revealed to most and this 'dark side within public officials is usually 'denied' with amplification. Words are what we all live with and if I can get you to accept all my 'light' side words, then you may THINK that my 'dark' side has been conquered (totally)!
All may be kosher and/or it may not be kosher (what happens 'behind closed doors' is only known by the bartender)! That has been my experience after some 20 years serving customers in this environment!
In reality, however, I/You (including Hillary and the Donald) all have BOTH a 'dark' and a 'light' side to our inner consciousness. Hillary is called 'crooked' Hillary by Trump supporters because she does have this tendency (to distort reality, exaggerate, and misrepresent her history) as she meets with high-ranking officials (privately). While in the public arena, however,  she will smile, laugh, and talk about all her 'light' side experiences. Words confuse the electorate and 'positive'/'progressive' words can totally 'fool' those who lack discernment and understanding on issues of 'human nature'.
All is 'positive' and 'light' after public events which are within the public realm. Change happens later! Again, this reveals the dual nature of 'human nature'!
As a bartender I gradually learned about these TWO natures within all human beings. The Donald has similar flaws within his character as he also has a 'dark' side and a 'light' side. His narcissism is revealed as he espouses words from his prior experiences (about business relationships). As a prior business person, I have recognized that much within this business world is based upon issues of 'money' and 'manipulations' within finance and the lending industry. I was offered many proposals (while a lender/broker/appraiser) to mislead others via deceptive 'words'. This I plead guilty to while in my early years of finance and valuation work.
What has not been revealed to the public? The inner world is 'secret' until it becomes open conversation! Will the above reveal some new details about 911?
I am not exempt from these TWO realms of reality which we all experience as human beings on planet Earth. I also have a 'dark' side and a 'light' side. Internal reflections reveals these TWO inward realms within one's consciousness. Everyone should be a bartender for (say) six months, working wedding parties, conference parties, and general parties for the elected officials. Much could be learned about this concept called 'human nature'. Yes, we ALL do have TWO sides to our nature. Think on this for a few minutes and reflect on your own prior experiences 'behind closed doors'. Enjoy this experience which reveals much about Hillary and the Donald! I am: https://kingdomecon.wordpress.com.
The yin and the yang represents the TWO sides of human nature!
P.S. Watch the coming debate on Wednesday, October 19 between Hillary and the Donald. It will reveal much on the issues above IMO. Think about serving (working) as a bartender for a few months and I think you will learn much about these two candidates for public office and yourself! Personalities change when under the influence and also when one leaves the public arena and enters a venue 'behind closed doors'. Bartenders understand!
Will some new details get revealed about the hidden agendas (dark side agendas) which emerge from venues 'behind closed doors'?
Can either of the above actually GOVERN if elected on November 8, 2016??? Give this some reflection! Our founding Fathers would suggest, NO!
Watch for the TWO sides of human nature as you watch the Oct. 19, 2016, debate! It should be interesting to those with discernment!
Does shaking hands reveal 'acceptance' or temporary appeal for the viewing audience?
Bernie must support Hillary as his agenda is Global Democratic Socialism and hers is the NWO agenda! This means that Mob Rule will emerge after November elections!
Trump should get huge support from many Evangelicals (their worldview is  Constitutionalism, morality, and a return to law/order)!
Who will occupy the White House AFTER the election (for the next 4 – 8 years)? Bill and/or Melania Trump? Can we stomach Bill for another term of years?
Who will be first 'lady' or first 'man'?
This image reminds me of when I was a 'bartender' (some 20 years of psychology training)! Everyone should have this type of experience IMO!
STAY INFORMED! Receive our Weekly Recap of thought provoking articles, podcasts, and radio delivered to your inbox for FREE! Sign up here for the HoweStreet.com Weekly Recap.