September 20, 2016 | Has Trump Ended 'Birther' Issue?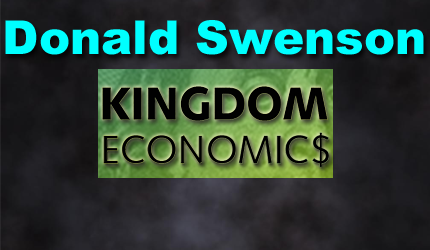 Donald B. Swenson: Born January 24, 1943, Roseau, Minnesota. Graduated H.S. 1961, Moorhead High, Minnesota. Graduated College 1968, Moorhead State University, Minnesota. Designated member of Appraisal Institute (MAI), 1974. Employed with Western Life Insurance Company, 1968 – 71; Iowa Securities Company, 1971 – 73; American Appraisal Company, 1974 – 81. Part-time teacher/valuation consultant/bartender, 1979 – 2008 (taught workshops at Waukesha County Technical Institute, Wi. and Madison Area Technical College, Wi.). Retired 2008 (part time teacher/blogger), AZ. Self educated economist/philosopher/theologian: http://kingdomecon.wordpress.com.
Today's USA Today News says that 41% of republicans do not agree that Obama was born in USA. An additional 31% say they are uncertain. This is rather shocking as this means that some 72% of republicans (based on a NBC News Survey in June/July) have not confirmed the actual birth location of our current President. Why all this confusion and uncertainty? Could it be that our President has not communicated and/or verified his actual physical birth location with real solid evidence? Many reject his 'virtual' birth certificate on the internet which claims he was born in Hawaii on August 4, 1961. Experts claim that this virtual object has been doctored and altered via photo/typing gimmicks, etc. Why all this confusion (does accuracy matter)?
The reported father of Barack H. Obama (but ??? remain)!
Flaw #1 (Kenya was not a country until 1963). Flaw #2 (the Hospital above has a 'name' which did not occur until 1978). This means the 'virtual' birth certificate may be recent.
Could it be possible that Barack (himself) is unsure of where he was born? His mother, Ann Dunham, may have been pregnant via a sperm from an uncertain male in late October, 1960. Barack was born out-of-wedlock and his reported father from Kenya may have married Ann (Barack's mother) on February 2, 1961 via an arranged marriage (say some). Even the son of Barack senior (called Malik Obama) who lives in USA and Kenya is uncertain about whether Barack is his half-brother. What a confused history we witness with our current President. Who is his real biological father and why is this so secretive and impossible to verify with hard evidence? Why do many of our leaders 'seal' the details about their personal history (from public view)? Does secrecy promote 'truth'?
Some say that Frank Marshall Davis and Barack show resemblances?
Birther defined: a person who doubts the legitimacy of Barack Obama's presidency because of a theory that Obama is not a natural-born US citizen.
Ann Dunham and Barack while in Indonesia! Maybe, Barack does not really know with certainty who his biological father really is?
 US President Barack Obama's half-brother, Malik Obama, says he will vote for Donald Trump because he "comes across as a straightforward guy". He told the BBC's Newsday program it was "sort of disappointing, somewhat hypocritical" that no representatives of the Obama family from Kenya were attending the Democratic convention, taking place in Philadelphia. The president, Malik said, had "made a big deal about his heritage… and now it's a complete blackout".
Malik Obama, 58, a longtime Democrat, said his "deep disappointment" in his brother Barack's administration has led him to recently switch allegiance to "the party of Lincoln."
The last straw, he said, came earlier this month when FBI Director James Comey recommended not prosecuting Democratic presidential candidate Hillary Clinton over her use of a private e-mail servers while secretary of state.
"She should have known better as the custodian of classified information," said Malik.
He's also annoyed that Clinton and President Obama killed Libyan leader Muammar Khadafy, whom he called one of his best friends.
Malik Obama dedicated his 2012 biography of his late father to Khadafy and others who were "making this world a better place."
Video expressing viewpoint of Malik:  http://players.brightcove.net/4221396001/60716998-ff67-4298-8bd7-2162e15a858d_default/index.html?videoId=5052751613001
A 2010 billboard displayed in South Gate, California, questioning the validity of Barack Obama's birth certificate and by extension his eligibility to serve as President of the U.S.[1] The billboard was part of an advertising campaign by WorldNetDaily.
Malik Obama told author Joel Gilbert he would be willing to take a DNA test to see if Barack Obama is really his brother.
Via World Net Daily:

MO: That would really prove whether we are related or not. Yes. I would be willing to do that. I don't know how I'd deal with it, if it really came out that he really is a fraud or a con.
Why are people still talking about the birther issue?  Congress and the Supreme Court have said they're not looking into it.  But this issue clearly still has legs.
According to Adam Berinsky, a professor of political science at MIT, the birther issue never really went away.  He's been conducting polls on the birthplace issue, which he compiled in an article called "The Birthers are (Still) Back."  To wit, a lot of Americans continue to have doubts about Obama.
For the last four years, Barack Obama has been plagued by rumors that he is not a natural-born citizen of the United States and, as a result, is not eligible to serve as president. These rumors continue to show surprising resilience.
But what Berlinsky did in his polling was what the progressive defenders of the faith have always done: confused the birthplace question with other questions regarding Obama's eligibility to hold office.  To many, the issue isn't where he was born.  The question is, who is his father?  And is Obama a natural-born citizen, since his father was not a U.S. citizen?
Barack Hussein Obama has spent about two million dollars to keep the American people from taking a peek at his original long-form birth certificate.  Nobody spends that kind of money unless there's something really damning he wants to hide.
In spite of all the posturing, courtroom drama, political maneuvers, endless obfuscation, and the frenzied production of yet another highly questionable birth certificate, fully half of the American people have doubts about President Obama's birth certificate and his eligibility to hold office.  This is astonishing. Read more: http://www.americanthinker.com/2012/10/obama_whos_your_daddy.html#ixzz4KpOEP5Dt
Hillary appears to desire to keep this issue going to create new controversy for 2016 election! Will this issue be mentioned in the coming debate?
The soap opera continues (words mean mostly nothing today)! Think for yourself! Watch the coming debate for more controversy, September 26. https://kingdomecon.wordpress.com.
STAY INFORMED! Receive our Weekly Recap of thought provoking articles, podcasts, and radio delivered to your inbox for FREE! Sign up here for the HoweStreet.com Weekly Recap.