September 29, 2016 | Commander-in-Chief – 'Qualifications' Needed!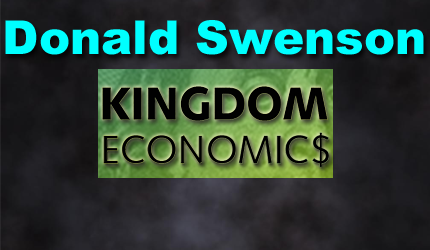 Donald B. Swenson: Born January 24, 1943, Roseau, Minnesota. Graduated H.S. 1961, Moorhead High, Minnesota. Graduated College 1968, Moorhead State University, Minnesota. Designated member of Appraisal Institute (MAI), 1974. Employed with Western Life Insurance Company, 1968 – 71; Iowa Securities Company, 1971 – 73; American Appraisal Company, 1974 – 81. Part-time teacher/valuation consultant/bartender, 1979 – 2008 (taught workshops at Waukesha County Technical Institute, Wi. and Madison Area Technical College, Wi.). Retired 2008 (part time teacher/blogger), AZ. Self educated economist/philosopher/theologian: http://kingdomecon.wordpress.com.

We have now had 44 President's who have served us as our Commander-in-Chief and who have represented us on the international stage. Personally, I find only three (3) of these forty-four (44) which I would view as sound thinkers about military affairs (based upon hindsight) and which had the character and experience to execute this important role. These three were George Washington, Abraham Lincoln, and Dwight D. Eisenhower. These three had prior experience (prior to serving) and their service demonstrated that they had the character to serve us with distinction. Today, and in the recent past we have had President's with weak military character and with zero military experience which have served us. I would view these leaders as unqualified to serve us as our Commander-in-Chief. Let's review why this important 'title' must prevail (unblemished) in 2016!
George Washington (1789 – 1797), President and Commander-in-Chief!
George Washington would be my first example of a Commander-in-Chief with the character and experience to represent all of us with distinction. His example during the Revolutionary War for Independence is available for everyone to examine. George had the character to represent Americans with distinction. The other Commander-in-Chief who served American's with distinction was Abraham Lincoln. His service during our Civil War revealed his character and experience. I would rate his service #2 as he received the confidence of most Americans during and after this difficult period. The third Commander-in-Chief who served us with distinction was Dwight D. Eisenhower. His service during the Second World War revealed his sound character and his experience to handle military affairs for our Nation. I would honor all the above three Commander's.
Dwight D. Eisenhower (1953 – 1961), President and Commander-in-Chief!
Would this Commander approve of drone killings? I doubt it! This policy is a war crime IMO! Are American's aware of this corrupt/secret policy?
Today, we have leaders who I would not recommend for our Commander-in-Chief. Bill Clinton had no prior military service and his character was not representative of someone who I would view as an experienced military person. His behavior while in office revealed his weak character and his military decisions were also mostly unsound IMO. This would also go for his wife, Hillary Clinton, who also has had no previous military service and whose character is less than stout for this important role. I could not recommend her for this leadership role…called our Commander-in-Chief. Donald J. Trump is another person who I could not recommend for Commander-in-Chief. He also has had no prior military service and his reason for avoiding the Vietnam War was a 'bone spur' in his foot. Not a good reason IMO. This person is also unqualified to be our Commander-in-Chief in today's volatile world of chaos and confusion.
Abraham Lincoln (1861 – 1865), President and Commander-in-Chief!
Abraham Lincoln (1861 – 1865), President and Commander-in-Chief!
In today's chaotic troubled world we need leaders with character and substantial philosophical experience. Sound judgement and sound character are not easy to find. But my sense is that our two candidates for Commander-in-Chief (Hillary and the Donald) should not be given this position and should not be given our confidence. This means that I could not vote for either of these leaders for President and/or Commander-in-Chief. We need leaders with demonstrable character and judgment and with general acceptance within the global community. Our current President/Commander-in-Chief, Barack H. Obama, also had no prior military experience and his judgment and character reveal that this important role has not been handled properly. His drone strikes (done in secret) reveal his lack of sound judgement and character. His decisions are also not fully supported by prior military leaders (we have many examples from our 'retired' Generals)! Some of his policies I view as 'War Crimes'!
Donald J. Trump (2016 candidate for President and Commander-in-Chief)!
Hillary Clinton (candidate for President and Commander-in-Chief)!
Donald J. Trump (can he lead the world given his character and prior experience)?
Can she lead as our Commander-in-Chief (if elected)? Not likely, IMO!
One of the most important roles of the coming American President is our role within the community of Nations. The situation over in the Middle East is a chaotic situation. The situation in parts of Africa is chaotic and difficult to handle. All over our planet we have difficult and chaotic situations which require leaders with sound judgment and sound character to resolve. America needs to think seriously about the two now desiring our confidence. Both Hillary and the Donald lack the important character qualities which we need today. I could not vote for either of these leaders on November 8, 2016. The reasons are clear to me. Each of the readers of this missive need to think about this important role called our Commander-in-Chief. What is needed to serve in this role are sound 'judgment' and demonstrable 'character'? Think on this! You now know my view! I am: https://kingdomecon.wordpress.com.
Commander-in-Chief must deal with these issues and more!
The Middle East (now in chaos due partly to decisions made by our current Commander-in-Chief)!
Millions are homeless and seeking asylum in many Western countries! Is America partly responsible?
Hate of America has skyrocketed since 2008! Where does this lead going forward?
A map which our Commander-in-Chief will need to reference daily!
Killing via drones is a new American military policy which I can not support! This, to me, is a 'War Crime' which American's must evaluate!
Who knows how many innocents have been killed by the Obama drone program! Probably, thousands! The record is secret!
Syria's Civil War is partly the responsibility of decisions made by Hillary Clinton and Barack Obama!
Who will set off the domino which pushes America into WWIII? It seems to be on the horizon!
Our World is now recognized as GLOBAL. Global networks, global communication, global warfare, and global social networks! A New System must be created to reflect today's realities! Our planet spins and rotates. Who, ultimately, is responsible for this planet? Give this some reflection!
STAY INFORMED! Receive our Weekly Recap of thought provoking articles, podcasts, and radio delivered to your inbox for FREE! Sign up here for the HoweStreet.com Weekly Recap.