August 7, 2016 | Will the Fed Sink Donald Trump?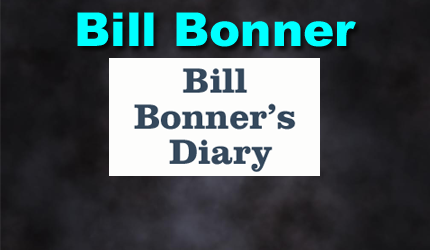 Is an American author of books and articles on economic and financial subjects. He is the founder and president of Agora Publishing, and author of the daily financial column, Diary of a Rogue Economist.
PARIS – "We've never seen Paris so dead," said the bookstore clerk.
"The tourists don't come because they think it is dangerous. And the locals have left for the month of August. There's no one left. It feels kind of eerie."
You can see how dead the city is by looking at this photo:
Quiet Paris streets
That lonesome figure on the left is your editor, alone in the Café Vavin (usually packed with people) as he writes this Diary.
City of the Dead
It felt like everyone else knew something we didn't.
Were there missiles on the way to destroy the city? Was an army of zombies marching down the Champs-Élysées? Was there something in the water?
We didn't know. But let's leave the City of the Dead for a few minutes and return to the world of money…
U.S. stocks were flat yesterday. The press reports that investors are "braced" for today's jobs report.
But what difference will it make?
Good jobs numbers are supposed to encourage the Fed to "tighten" – that is, raise interest rates.
This would further strengthen the dollar… and push Treasury yields higher.
It would also dampen investors' appetites for stocks – which would, at least according to theory, become relatively less attractive compared with higher-yielding bonds.
Disappointing jobs numbers would set the dominoes falling in the opposite direction. Central banks all over the world would be forced to redouble their efforts to push stock prices higher.
Or is it the other way around?
Desperate Efforts
Yesterday, the Bank of England got in on the game.
Worried about the effects of Britain's decision to leave the European Union, it announced a major new "stimulus" program.
It cut its target lending rate from 0.5% to 0.25%…
…announced a £100 billion ($131 billion) "bazooka" to force banks to pass on lower rates to their customers…
…and promised to up its QE program by £60 billion ($79 billion) over the next six months.
In the U.S., stocks are off their all-time highs, but not by much. And in the event of a serious sell-off, investors are confident that the Bank of Yellen will come to their rescue.
We don't know what will happen. But we know what won't happen: There will be no voluntary return to a "normal" economy with a normal interest rate policy.
Most of the world now depends on abnormal policies – including the reputations of its policymakers… the fortunes of its Establishment Elite… and the fate of its rogue Republican presidential candidate.
A return to a "normal" financial world – with real money, real savings, and a 4% real "risk free" rate on the 10-year Treasury note would be very good news for the common man.
But it would be very bad news for the insiders.
The insiders are supported by cheap credit; fake money makes it possible to shift trillions of dollars to the cronies and to buy off the zombies with spare change.
So, the authorities continue their desperate efforts to keep the music playing and the liquor flowing.
Investors continue to speculate about what they will do next… and what it will mean for asset prices.
And most everybody talks about the aforementioned Republican candidate.
Crook or Clown?
Donald Trump is as "yuge" here in Europe as he is in the U.S.
People don't know what to make of him. Some wonder how such a man could exist, let alone be a few votes away from the most powerful position in the world.
"The whole world is rattled by this guy," says former Republican congressman from Minnesota Vin Weber.
Trump fascinates people. He divides opinions. Nobody gets more searches on the Internet. Nobody sells more TV ad space.
"You either love him or you hate him," say the papers.
You believe he will make America great again… or that he will ruin it completely.
Here at the Diary, we are undecided. Dear readers seem to heavily favor Mr. Trump, but if forced to vote, we don't know which way we'd go.
The crook or the clown? The hack or the huckster? The fool or the knave?
It's a tough choice.
Someone Else Did It First
We came up to Paris to meet friends. While we were there, we stepped into our bookstore.
Many years ago, we bought a tiny publishing company in Paris. The idea was to use it as a foundation stone for our expanding empire.
We must not have been thinking clearly. There was no real connection between publishing books in Latin and Greek, on the one hand, and publishing financial analyses and recommendations on the other. The two hands were not on the same animal.
Nevertheless, we developed an affection for the misshapen beast. And today, we can't enter the bookshop on Boulevard Raspail – where it has been for almost a century – without leaving with a book or two.
Yesterday, we walked away with a history of the barbarian invasion of Europe in the 4th and 5th centuries.
The classics are a valuable source of perspective. They show us that there is no program so goofy and preposterous that someone 2,000 years ago didn't give it a whirl.
Fake money?
The Romans tried it.
Manipulate prices?
That too.
Stir up the people against the "barbarians" and "outsiders"?
Check.
Invade foreign countries.
Uh. Huh.
Build a wall?
Yep…
No matter what Monsieur Trump or Madame Clinton come up with, you can be sure there was some ambitious demagogue or addled emperor who thought of it first!
Regards,
Bill
The original article can be read here
STAY INFORMED! Receive our Weekly Recap of thought provoking articles, podcasts, and radio delivered to your inbox for FREE! Sign up here for the HoweStreet.com Weekly Recap.