August 3, 2016 | US Dollar Analysis and New Trading Opportunity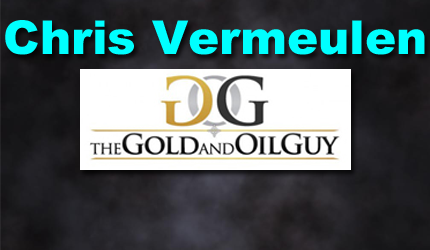 Chris Vermeulen has been involved in the markets since 1997 and is the founder of Technical Traders Ltd. He is an internationally recognized technical analyst, trader, and author of the book: 7 Steps to Win With Logic
Investor optimism in stocks is becoming more widespread. Last week's NAAIM Exposure Index rose to 101, which is the highest level since December of 2013. The trading sentiment composite has moved to a "Sell Signal" and last week saw an 11 on the VIX.  Excessive optimism is universal.
We are entering an interesting time of the year for investors.  Is this stock market going to break out to the upside and rally to further new highs, or will this latest lull be followed by a painful reversal of fortune?   Historically, the August/September timeframe is the "Danger Zone" for the stock market.
Audio Interview: This pattern suggest markets are getting very close to a significant top, but the momentum has still not shifted to the downside.
Investors are driven by two emotions: FEAR and GREED. Too much fear can sink stocks well below where they should be, whereas when investors become greedy, they can bid up stock prices too high.

"Goldman Turns Outright Bearish: Says to "Sell" Stocks Over Next 3 Months" – source: ZeroHedge.com
Mr. Stan Druckenmiller recommended that investors sell their equity holdings, "The bull market is exhausting itself. A major factor has been the Federal Reserve's easy money policy which has resulted in reckless corporate behavior."
"The corporate sector today is stuck in a vicious cycle of earnings management, questionable allocation of capital, low productivity, declining margins and growing indebtedness," Druckenmiller added.
The US stock market has skyrocketed towards record highs after encountering troubles earlier this year.  Chinese markets have stabilized. I still remain skeptical of the Chinese economy, which has crashed.  The fallout from any unwinding of Chinese investments will most likely have global implications.
Is The Rally In The US Dollar Over?
The release of the weak GDP number last Friday, July 29th, 2016, caused a significant drop in the dollar.  I do not believe investors will look at the dollar as a safe haven any longer. They flocked to the dollar because they thought that the FED would raise interest rates later this year, thus producing a stronger dollar. After seeing Friday's numbers, the chance of that happening is near zero.
As I had stated last week, the FED would not raise interest rates before the U.S. presidential election.  Instead, the FED would do everything possible to be accommodating so as to make sure that the economy and stock markets exhibit signs of strength while entering into the election. The FED announcement last week reflected precisely that. There would be no change, nor increase, in short-term interest rates.  On that news, the dollar fell hard, and we were short the dollar with an inverse ETF, UDN, and, consequently, made a very quick profit for the sharp drop in the dollar.
My longer-term chart for the dollar is very bearish.  With the dollar near 97 Right now, there is a long-term pattern that projects a move down to the 75 level sometime next year.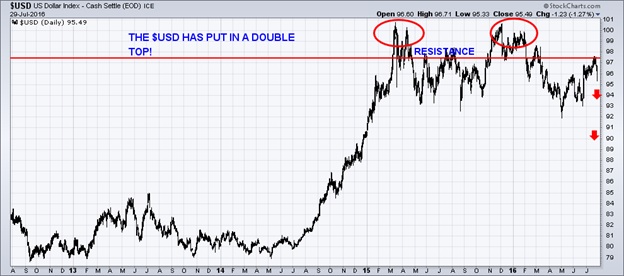 A big decline for the dollar does not bode well for interest rates or the economy.  So, with the dollar about to begin a major decline, gold and silver will be a very nice place to be invested.
Friday's trading action was all about the GDP numbers.  They were horrible!  The data showed that the US economy only grew at a disappointing rate of 1.2% within the second quarter. This combined with a downward revision to the first three months of the year to produce an average growth rate of just 1 percent.
Wall Street expected a 2.6% increase. Therefore, you have to wonder about what the FED was saying earlier in the week when they expressed confidence in the economy. The economy continues to contract and is not growing as the government would have you believe. With interest rates near zero, we should be growing, but we are NOT.  The economic numbers have failed miserably.  While the GDP growth remains "anemic", there will be no wage increases or many new jobs created.
In Japan, the BOJ added some measures but did not satisfy the markets' hunger.
Concluding Thoughts
I figure the SPX is due for a retracement/correction to start within the next 10 trading days. Many things like sentiment, put/call ratio, volatility index and recent strength in safe-haven assets like the price of gold, indicate smart money is rotating out of stocks and into defensive positions as of this writing. Meanwhile, the average market participant is becoming overly bullish on stocks and buying at new all-time highs.
We have a couple new ETF trades that should trigger this week, which might post explosive moves that could last five weeks in length.
Follow my analysis and trades at: www.TheGoldAndOilGuy.com
STAY INFORMED! Receive our Weekly Recap of thought provoking articles, podcasts, and radio delivered to your inbox for FREE! Sign up here for the HoweStreet.com Weekly Recap.