August 16, 2016 | The Five 'Kingpins' Who Prevent a Market Crash!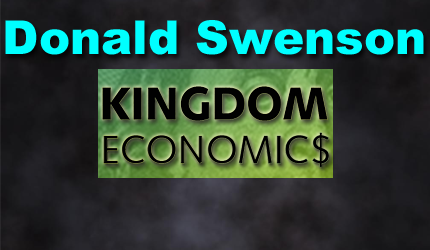 Donald B. Swenson: Born January 24, 1943, Roseau, Minnesota. Graduated H.S. 1961, Moorhead High, Minnesota. Graduated College 1968, Moorhead State University, Minnesota. Designated member of Appraisal Institute (MAI), 1974. Employed with Western Life Insurance Company, 1968 – 71; Iowa Securities Company, 1971 – 73; American Appraisal Company, 1974 – 81. Part-time teacher/valuation consultant/bartender, 1979 – 2008 (taught workshops at Waukesha County Technical Institute, Wi. and Madison Area Technical College, Wi.). Retired 2008 (part time teacher/blogger), AZ. Self educated economist/philosopher/theologian: http://kingdomecon.wordpress.com.
The five key 'kingpins' who have prevented our global cyber markets from collapsing can be identified. All we have on this planet (as decision-makers) are people and key leaders. The leaders who control our markets are few and many understand that it is our Central Bankers which rig all our markets and prevent these markets from collapsing. Central Bankers can create all the cyber money that they wish via the 'click' of a computer mouse. Money today is within cyberspace and these 'digits' (called official currencies) can control, rig, and manipulate ALL our markets for a season. Confidence within the trading community is the key to this continual situation (a melt-up without any major correction or collapse). Who are these FIVE key 'kingpins' on the global stage of monetary policy? I would suggest that they are:  Mark Carney, Janet Yellen, Mario Draghi, Zhou Xiaochuan, and Haruhiko Kuroda! What a world we live in today! The FEW (in power positions) can manipulate and control all of us!
Central bankers triggered wild swings in markets in 2015 and 2016. From left, People's Bank of China Gov. Zhou Xiaochuan, ECB President Mario Draghi, Fed Chairwoman Janet Yellen and Bank of Japan Gov. Haruhiko Kuroda. Now add the name of Mark Carney, Bank of England.
These decision-makers (working as a 'network') can manipulate all of us with their corrupt centralized policies! Today, it is all done electronically and within this 'netherworld' called cyberspace! 'Cyber money' is the key word!
Mark Carney, Janet Yellen, and Mario Draghi rule over most of Western finance! All this is done mostly BEHIND closed doors! This is why few investors, traders, or the public can discern what is happening! Computers and 'keystrokes' create/destroy/control/manipulate/rig our markets!
This permanent member of the FOMC is also a key decision-maker who works BEHIND closed doors! He can assist with the manipulations and rigging of our markets from his perch at the New York Federal Reserve building! He has some 500 traders to help him with his manipulations! Why do Central Banks have trading rooms?
This Treasury Secretary (Jack Lew) also has serious input into policy decisions which rig all our markets! He operates behind closed doors in Washington D.C.! Some say that his Exchange Stabilization Fund is directly involved in the rigging of our silver/gold markets! Why rig 'prices' of silver and gold? Think on this!
Why can not anyone discern what is happening within our markets today? Are you aware that all the above work surreptitiously BEHIND closed doors? Most everyone is aware that our Central Banks are behind all the manipulations and rigging, yet we can not KNOW with certainty because ALL happens behind closed doors. There is a reason for all this 'darkness'. These few desire to continue the game of playing God over all our finances and capital markets. It must be satisfying to watch the markets from their 'kingpin' perch (knowing that no-one can interfere with their actions and manipulations).
A partial revelation (photo) from the computer trading room at the New York Federal Reserve Building, 33 Liberty Street, New York. This room and others like it are at the core of all rigging and manipulations! Some 500 traders serve this corrupt operation (operating behind closed doors)!
Also, we now have markets which operate as a 'network' globally. All the key indices (DOW, NASDAQ, Nikkei, DAX, FTSE 100, Shanghai)  can be controlled electronically with 'algorithms' and computer software. High Frequency Trading (at near the speed of light) allows for these global networks and the global rigging of all our markets. Traders do not desire to change this situation (as yet) as a continual 'melt-up' in all the key indices creates cyber profits for all these traders. Money rules over our planet and all the undiscerning people (now over 7 billion). This will continue until 'confidence' collapses within the greater marketplace. I expect this to happen soon (but an exact date is impossible to predict). Watch our markets as this entire HOUSE OF CARDS will come tumbling down eventually! Enjoy for now! I am: https://kingdomecon.wordpress.com.
QUESTION: Do any of the above policy makers stand for election from the general public? Do any report to the public or the producers of all our 'wealth'? Do any desire to create a decentralized marketplace where everyone can participate? Can you discern why this edifice is a corrupt hierarchy? All private property (on the entire planet Earth) could be expropriated by this corrupt edifice, operating behind closed doors. How can any of this continue? Thomas Jefferson warned us about this eventual possibility. We are NOW there!
STAY INFORMED! Receive our Weekly Recap of thought provoking articles, podcasts, and radio delivered to your inbox for FREE! Sign up here for the HoweStreet.com Weekly Recap.