August 26, 2016 | Technical Analysis mostly 'Invalid' today!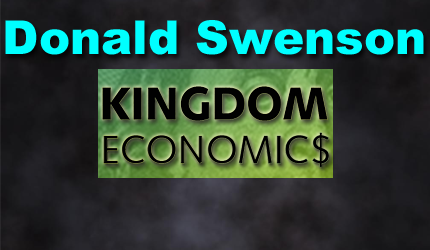 Donald B. Swenson: Born January 24, 1943, Roseau, Minnesota. Graduated H.S. 1961, Moorhead High, Minnesota. Graduated College 1968, Moorhead State University, Minnesota. Designated member of Appraisal Institute (MAI), 1974. Employed with Western Life Insurance Company, 1968 – 71; Iowa Securities Company, 1971 – 73; American Appraisal Company, 1974 – 81. Part-time teacher/valuation consultant/bartender, 1979 – 2008 (taught workshops at Waukesha County Technical Institute, Wi. and Madison Area Technical College, Wi.). Retired 2008 (part time teacher/blogger), AZ. Self educated economist/philosopher/theologian: http://kingdomecon.wordpress.com.
Charting prices overtime with the belief that future trends can be discerned is mostly a myth given today's manipulated markets. Yesterday's Financial Times revealed that traders in China who trade on the Dalian Futures Market have been purchasing electronic contracts to pump up the prices of iron ore and steel rebar so as to enhance their trading profits. Meanwhile the supply of iron ore and steel rebar exceeds demand by large margins. So what is happening within these manipulated markets? What happens is that traders with funds from the Chinese banksters can purchase these futures contracts on the Dalian electronic exchange merely to enhance their trading profits as no actual delivery of the metals takes place.
Stocks can increase while real material wealth is stagnant. This is not Capitalism!
Charting and/or technical analysis is mostly worthless and meaningless today! All our markets are being manipulated with 'algorithms' and the counterparty is another 'algorithm'. What does this reveal? The 'past' has no relevance upon the 'future'! Wake-up traders! The old Open Outcry markets are history…all is electronic and within cyberspace! Think on the word…ALGORITHM! Think…MANIPULATED PRICES!
The long-awaited spike in gold prices (based on demand) does not happen when 'algorithms' bracket the spot price on the electronic futures exchanges! Who does this? Think of our corrupt Central Banks who trade on the electronic Globex, Nymex, London, Hong Kong exchanges!
Traders, today, can trade on our electronic futures markets merely to pump up and/or down the prices of a commodity for their personal trading desires. The commodity does not change hands as the trade involves merely virtual/electronic contracts within the trading system. This type of trading, however, does affect the 'prices' of the commodity in real-time within our computer screens. This same strategy is used by traders to manipulate the electronic prices of silver, gold, oil, and any commodity or asset which trades on our electronic futures exchanges. I, personally, watch as traders 'slam' the price of silver and gold daily on the Globex, Nymex, London, and Hong Kong exchanges. All these exchanges now allow futures trading where delivery (settlement) is rarely done.
Traders push UP and DOWN the cyber 'prices' on the electronic Dalian exchange! This is done with computer trading and coded  'algorithms'. The counterparty is usually another coded 'algorithm'! Trades 'enter' and 'exit' the trading markets without any physical commodity being exchanged!
Algorithms, operating at the speed of light, with computers that trade in micro-seconds can enter and exit trades merely to manipulate our 'prices'. All our 'prices' are now determined (not by the shake of a hand) but by 'algorithms' which trade with counterparty 'algorithms'. High Frequency Trading (using coded algorithms) is the new technology which accomplishes most trades today. Actual human beings who trade with another human counterparty is rarely done in today's electronic markets. Computers drive our markets and algorithms are the tool for accomplishing the trade. This means that all our 'prices' can be manipulated by this type of electronic trading. Historical analysis may not reveal future trends and/or prices as all is done within our consciousness (subjectively)!
Trading today is electronic and algorithms do most of the trading! Human beings are out to lunch!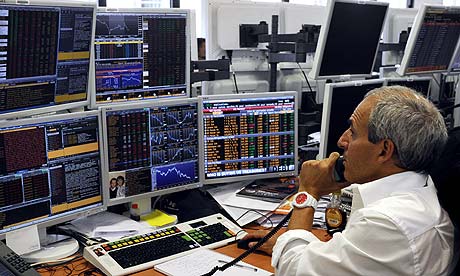 A trader who uses coded 'algorithms to execute trades within micro-seconds where no exchange of a physical commodity occurs! Is this manipulation of 'prices'? I think so!
Historical technical analysis which uses the 'past' to project a 'future' is mostly meaningless in today's electronic/cyber markets. I have watched as all these 'technical' analysts project what the 'price' of oil, silver, gold, iron ore, steel rebar, etc. SHOULD be based on their charts and invariably these 'analysts' are wrong and inaccurate with most ALL their projections. All this happens because trading on our 'futures' markets can involve 'contracts' (actually virtual contracts) where the trade involves 'concepts' but NO actual exchange of a real product (silver bars, gold bars, barrels of oil, tons of steel or iron ore, etc.). All our markets are now manipulated with 'algorithms' and 'electronic' trading where NOTHING is exchanged that is physical or real.
Steel rebar is a material commodity…but the 'price' established is 'metaphysical' (virtual)!
Notice that steel rebar inventories (and exports) have declined while 'prices' on the Dalian exchange 'skyrocket'! China creates 'excess' supply…with diminishing demand, yet 'electronic' prices increase substantially. This is accomplished with trading strategies on the Dalian electronic exchange and where physical delivery of the trade is generally avoided! This happens within our Globex electronic exchange for silver/gold 'prices' also! All these trading strategies manipulate our 'prices' and deceive traders as to real supply/demand! Virtual trading deceives many as to what is REAL!
We live within our 'consciousness' with our trades today and the psychology of deception and illusion governs all our financial transactions. Who is aware of what is happening today? Few to none! Why? because human nature 'assumes' that what is within my/your 'consciousness is real and physical. In reality, this is pure myth and deception. Virtual contracts within the computer screen are 'metaphysical'. All our cyber currencies are 'metaphysical'. All our stocks, ETF's, bonds, mortgages, derivatives are 'metaphysical'. Traders and the general public are so deceived that they are unable to differentiate between a physical silver coin and a virtual silver coin (in the computer screen). This goes for all trading where virtual reality governs the trade. Wake-up people! You are living a delusion!
Where is our 'money' today? It's within Cyberspace (revealed within our consciousness as we look at our computer screens). Who is aware of all this illusion/deception/manipulation?
Where is our 'money' today? Can you discern that all our 'money' is now mostly within the computer screen? What is this space called? It is called Cyberspace. What is Cyberspace? It is a virtual space that gets revealed within our 'consciousness'. It's metaphysical/spiritual and does not 'exist' within our physical/material universe. Reality is always NOW! Look (right now) out your window or within your computer room. Where are these cyber currencies called 'dollar', 'yen', 'pound', etc.? Can you 'find' just one of these currencies within observable space/time? If not, then you are living a delusion/illusion when you trade these imaginary currencies. The 'prices' revealed within cyberspace are really 'immaterial' units of one's consciousness! Think on this! Enjoy! I am:
https://kingdomecon.wordpress.com
.
Some Definitions to ponder:
1. Delusion: an idiosyncratic belief or impression that is firmly maintained despite being contradicted by what is generally accepted as reality or rational argument, typically a symptom of mental disorder.
2. Illusion: a thing that is or is likely to be wrongly perceived or interpreted by the senses.
3. Deception: the act of making someone believe something that is not true : the act of deceiving someone.
4. Manipulation: control or influence (a person or situation) cleverly, unfairly, or unscrupulously.
STAY INFORMED! Receive our Weekly Recap of thought provoking articles, podcasts, and radio delivered to your inbox for FREE! Sign up here for the HoweStreet.com Weekly Recap.