August 7, 2016 | Ramblings From The Rockies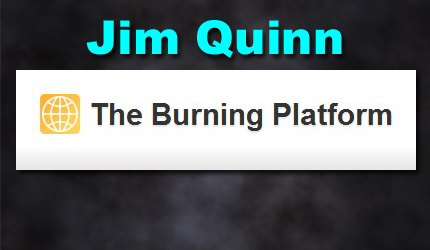 James Quinn has held financial positions with a retailer, homebuilder and university in his 30 year career. Those positions included treasurer, controller, and head of strategic planning. He earned a BS in accounting from Drexel University and an MBA from Villanova University. He is a certified public accountant and a certified cash manager.
"Climb the mountains and get their good tidings. Nature's peace will flow into you as sunshine flows into trees. The winds will blow their own freshness into you, and the storms their energy, while cares will drop away from you like the leaves of Autumn." ― John Muir
We just got back from a family vacation in Colorado visiting my oldest son, who graduated college last year and immediately moved to Colorado to start his life. The trip was fun, enlightening, exhausting, and a lesson in how the easy money policies of the Fed result in mal-investment and the impoverishment of the middle class.
I don't want to be a downer, as our week in Colorado was a fantastic journey where we witnessed some of the most stunning panoramas and beautiful awe inspiring vistas of our lives. My son is in the perfect place, as he loves mountain biking, hiking, snow boarding, camping, and hockey. After a week in Colorado, you realize why it is the least obese state in the union. It's a perfect setting for those who enjoy the outdoors, as Colorado has 300 days of sunshine per year, along with the most snow per year.
I've only flown twice in the last eight years, so I wasn't looking forward to getting molested by some obese low IQ TSA thug. Our flight was early on Wednesday morning and to my surprise the TSA line was non-existent. Getting a body scan still creeps me out. I hope my body scan grossed them out. This massive over-reaction to terrorism has stopped no attacks and cost citizens hundreds of billions and the loss of freedoms and liberties.
We flew Southwest Airlines and they were on time and appeared to be efficient. Of course, our flight was packed with families with babies. The four hour flight was a non-stop crying-fest. It wasn't easy to read a book with the constant screeching, but at least we got free peanuts and pretzels. What happened to getting meals on four hour flights? Flying is an ordeal to survive, rather than a pleasant experience.
The stressful part of the trip wasn't over when we landed. After getting our luggage, we had to catch the Budget bus to pick up our rental car. After waiting in line for 30 minutes we jammed ourselves (me, wife, two teenage sons) and our luggage into a luxurious Chevy Cruze. We couldn't figure out the air conditioner for ten minutes, couldn't adjust the seats, and didn't realize the mirrors were inclined until we were on the road. But we finally got underway.
Kevin lives in Loveland, 50 miles north of Denver. Since he was working, we decided to checkout downtown Denver. We scanned the internet to find something interesting and the 16th Street Mall came up 1st. As we got off the highway an electronic sign warned us to lock up our valuables and be careful. Not exactly a good sign. The downtown area was singularly unimpressive and seemed like it would be dangerous after dark.
As we walked to 16th Street and then along this outdoor mall, I was shocked by the enormous number of homeless, beggars and mentally unstable. The stores along 16th street were just your standard national chains, with a sprinkling of restaurants. There were plenty of vacant storefronts. At least the beggars had a sense of humor. One held a cardboard sign that said: Will Kidnap Trump Until After Election if you give me money. Another said: My Girlfriend Needs Breast Implants.
The beggars were all young men. They had no disabilities. They could be working at low level jobs. The narrative in the media says Denver is supposedly one of the booming markets. The visuals don't seem to match the storyline. We ate some lunch and got on our way to Loveland to check into our week long residence at the Comfort Inn.
It was a straight shot up I-25. We noticed a number of weed dispensaries along the highway with witty names like Rocky Mountain High. We could glimpse the Rocky Mountains in the distance, but there was an ozone warning and the smog blocked our view. My initial reaction on the trip up north was the vast amount of open space, farmland, and surprisingly operating oil wells on the farmland. Despite all this open land, developments of McMansions were jammed together on postage stamp sized lots along the way. Profits take precedence over everything in today's society.
I've kept hearing Colorado's economy is booming, as home prices have soared higher than the 2005 bubble highs. But then I stumbled across this chart showing Colorado in recession. The downturn in the oil industry surely has been a major factor in this economic contraction.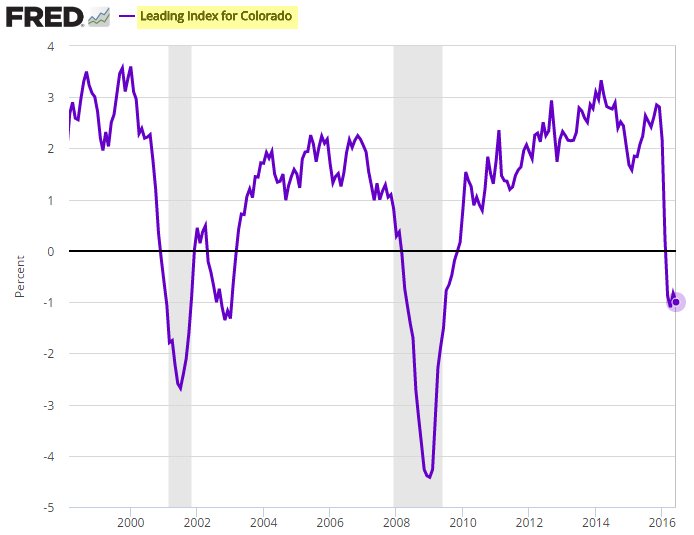 From a distance everything looks great. I grabbed a local paper and read about bidding wars in Loveland for homes that are on the market for less than a week. As you drive around the vast expanse of Colorado you see Pulte, Lennar and dozens of other home builders frantically building new developments to capitalize on the housing boom part deux. Twenty year old modest ranchers go for over $300,000. It's pretty clear the Fed's suppression of interest rates is creating another mal-investment boom in real estate.
We decided to checkout the Loveland Outlets and I was shocked to observe they had about a 70% vacancy rate in this 15 year old retail center. The adjacent retail areas seemed to be doing better, but just down the road were signs announcing another retail center. When developers can get extremely low interest loans, the ROI in their spreadsheet models always looks awesome.
Again, it's faux prosperity, as the Fed's easy money policies allows for the appearance of economic growth when it is just promoting the creation of debt financed bubbles. When the country hasn't added any net new goods producing jobs in the last two years, while adding 500,000 waiter/bartender jobs, you know the debt based housing and auto boom will eventually bust.
An economy can not survive on low interest rates and low paying service jobs. The rubber meets the road when the budgeted sales tax revenues needed to maintain the town come in significantly below budget. People making low wages and getting crushed by Obamacare premiums and high dollar deductibles don't have money to spend. Therefore, sales taxes decrease and towns must scramble to raise more tax revenue. That's why weed dispensaries will be on the ballot in November. Government bureaucrats don't cut spending. They gouge their constituents with more taxes.
As you drive down the main drag in Loveland, Eisenhower Boulevard (Rt 34), it resembles most suburban enclaves across the land – Wal-Marts, Lowes, K-Marts, McDonalds, KFCs, Jiffy Lubes, Targets, Chick-Fil-As, Safeways, Starbucks and every other mega-chain outlet in the country. The degradation of Colorado is far less progressed than in Pennsylvania, and specifically Philadelphia. The roads and overall infrastructure are still in good shape.
You can judge the decay of a municipality by the little things. Philadelphia's streets are filled with garbage, sewer and water pipes explode regularly, gaping potholes swallow vehicles, crime is rampant, they are drowning in debt, and they can't even time their green lights for smooth traffic flow. The streets of Loveland are clean, with no potholes, and the traffic lights are perfectly timed to keep traffic flowing. It was a pleasure navigating their roads.
The declining tax receipts, vast number of homeless and beggars in every locality, and proliferation of space available signs reveals why Colorado is already in recession. But, the real pain will not be felt until the Fed induced real estate bubble collapses again. Anyone buying an overpriced house in the last two years will be 20% to 30% underwater and foreclosures will skyrocket. We've seen this show already and the rerun will be just as bad. The retail development and new home communities will stop dead in their tracks, with the resultant surge in unemployment.
But that's in the future. We were in Colorado for a week to enjoy the sights, food, and breweries. Kevin had to work on Friday so we decided to drive up to Fort Collins, home of Colorado State University. It was a delightful little college town, with quaint shops, nice restaurants, breweries, and ice cream shops. It had a laid back peaceful vibe. Everyone was polite. The streets were clean. And I noticed for the first time Colorado's friendliness towards dogs. Dogs were welcome in bars, stores, and restaurants.
As we walked toward the campus of Colorado State, I was surprised to see a little restaurant called Taste of Philly. Evidently two Philly transplants brought Philly cheese steaks and soft pretzels to Colorado. The campus is spacious, well kept, green, and growing. They are building a new football stadium for the Rams. There are 32,000 students enrolled and the facilities were top notch. After buying a couple hats and shirts as mementos, we headed back to town. After five miles of walking we needed a beer.
As we trekked towards the renowned New Belgium Brewery, we saw our first weed dispensary up close and personal. It was aptly named Organic. We were curious to see what it looked like inside, but we had two teenage sons with us, and they weren't allowed in the store. So, we kept going. No brownies for us.
As we passed some railroad tracks we noticed a large number of men sitting and laying on blankets under some trees. We assumed they were just enjoying the sunshine. But, we quickly put the sight out of our minds as we arrived at the New Belgium Brewery. They ship their products around the country and my wife is well acquainted with their beer, since she works at a bar that serves their beer. It was a very funky place, with a hippie vibe. We sat outside listening to music, tasting their beers, and enjoying the atmosphere. Everyone was happy. No worries. Waitresses brought bowls of water out for the numerous dogs.
As we walked back towards our car, we realized the people on the blankets weren't enjoying the sunshine – they were homeless and waiting for the Fort Collins Rescue Mission to open for dinner. There was a huge line of men waiting for the doors to open. Even in upscale artsy college towns there are people starving on the streets. I'm sure drugs are a major factor in most of their spiral into homelessness and poverty. The mission was on the edge of town, away from the nice restaurants and quaint shops.
Little did we know the five miles we slogged on Friday was going to be a walk in the park compared to what Kevin had in store for us on Saturday. He was going to lead us on scenic back roads into the heart of the Rockies for an eight mile round trip hike straight up a mountain. We were completely unprepared for some of the most stunningly beautiful views we had ever witnessed with our own eyes. It was difficult to keep my eyes focused on the road, as we were awed by our winding 5,000 foot ascent through the Roosevelt National Forest up to Kevin's favorite hiking trail called Peaceful Valley – and the name fit.
After the breathtakingly beautiful drive ascending to the 10,000 foot elevation in the Rockies, we pulled into the camping site. There were dozens of families relishing the great outdoors in campers, RVs, and tents. They seemed to be enjoying themselves greatly. Some people don't need fancy hotels, five star restaurants and credit card financed vacations to exotic locations to enjoy themselves.  We exited our vehicles and began an upward trek from 10,000 feet to 11,000 feet. The hike proceeded along the most scenic route I've ever had the privilege to witness.
They don't call them the Rocky Mountains for nothing. The entire four mile trek to the top of the trail required non-stop hopping from rock to rock. Virtually the entire trail was rock. There were few dirt interludes. The temperature was about 85, but the trail had periodic shade, so the conditions were fairly nice. The trail sloped gradually upward, so it wasn't too exhausting, even for an out of shape 53 year old like me. My 147 pound son could hike 10 miles without blinking an eye.
The trail wound along next to a beautiful stream/creek/river. I was surprised by the complete lack of wildlife along the entire route. My son had seen a moose in his previous hike on this trail, but we saw no moose, deer, or even a squirrel. One small snake slithered past me on the eight mile round trip. We took dozens of pictures. I've included a few below so you can see the majesty of the Rocky Mountains, but they don't do justice to the vast beauty all around you. The lower half of the trail had many picturesque views of the stream.
As we continued the climb Kevin kept urging us on saying there wasn't much farther to go and the we were on the home stretch. Of course, once we made it to the top we then had to hike back down four miles to where we started. But as we went higher the views became even more remarkable. I started to realize why he loves living out there. Even at the end of July, there was still snow in the mountain passes.
Besides the stunning beauty, the other thing that struck me was the peace and quiet. If you just stopped, stood still, and listened, you experienced absolute solitude. The hustle, bustle, noise, and filth of city life was a thousand miles away. We were experiencing nature in all its silent untouched glory. The hikers on this trail care about the land. I didn't see one piece of garbage or strewn water bottle during the entire eight mile journey. You can't walk five feet in West Philly without stepping on garbage or debris.
Kevin promised us a stunning view when we reached the crest. And he wasn't lying.
And here's the picture to prove we made it to the top. Suck in that gut Jimbo.
Kevin said the four miles back down the mountain would be a piece of cake. He lied. Dani and I significantly lagged the youngsters on the way back. Being 30 years older and far from in shape, I was exhausted by the time we finally reached the car. We had hiked for over four hours. It was around 5:00 pm and Kevin's next stop was Estes Park, another quaint town nestled in the Rockies, for dinner. The drive down winding mountain roads with steep cliffs and no guardrails was a bit of a white knuckler. I can't imagine driving on them during a snowstorm. Estes Park was bustling with tourists, and many with European accents.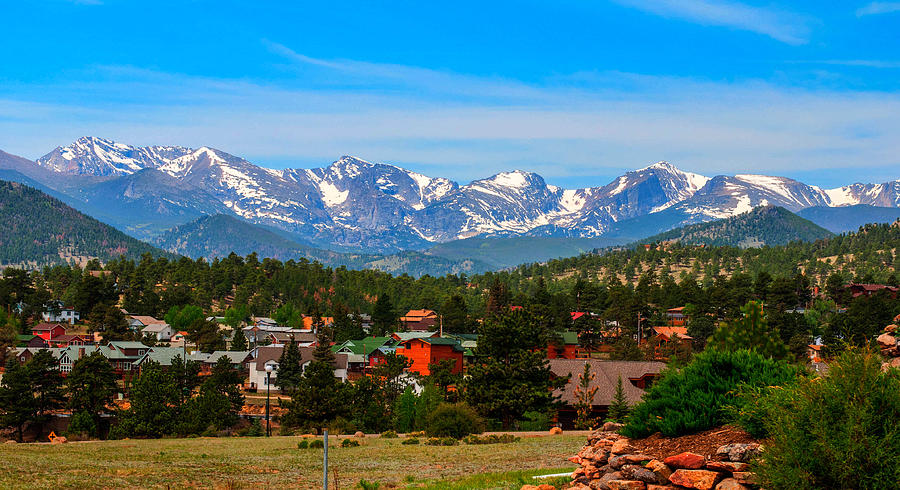 After some grub at an Irish pub we got some scooped ice cream at a local shop and headed back to Loveland on Route 34. The road wound along the scenic Big Thompson River, which periodically floods and wipes out the road and anything adjacent to the road. It was cloudy, but we saw the sunset over the Rocky Mountains in our rear view mirror.
I've never slept so good in my life. Kevin decided to be kind to us the next day. The plan was to drive to Boulder and rub shoulders with the beautiful people. I was underwhelmed by Boulder. You can see there is much wealth pulsating throughout the area, but it is fairly understated. The shopping/restaurant area on Pearl Street was bustling with residents and tourists. Jugglers and contortionists performed for money.
Every restaurant we tried to enter had a 30 minute wait. We eventually settled on the Cheesecake Factory. I hadn't been in one since eating at the original in Redondo Beach in the early 1990s – before they became a national chain. The service and food were good. And it just happened to be National Cheesecake Day, so the cheesecakes were half off. Kevin, his girlfriend and myself shared a huge hunk. Hey, I was entitled to a reward for hiking eight miles at 11,000 feet.
As you walk around the towns and hike along the trails, it becomes clearly evident that most people in Colorado are in good shape. The active lifestyle of the population, along with 300 days of sunshine, appears to keep their obesity levels at a minimum. The other thing you notice is how lily white the residents are. Colorado is 83% white, with a less than 4% black population. I'm sure that has nothing to do with Colorado having one of the lowest violent crime rates in the country.
The most fascinating aspect of Boulder was their extravagant homeless shelter. As we passed by, a bus was dropping off homeless at the shelter. The homeless get a freaking bus. No wonder they're headed to Colorado. It's almost as if the Haves are feeling a little guilty regarding their extreme wealth, so they built a Shangri La Shelter to ameliorate their guilt. This is what the Fed's warped monetary machinations have created.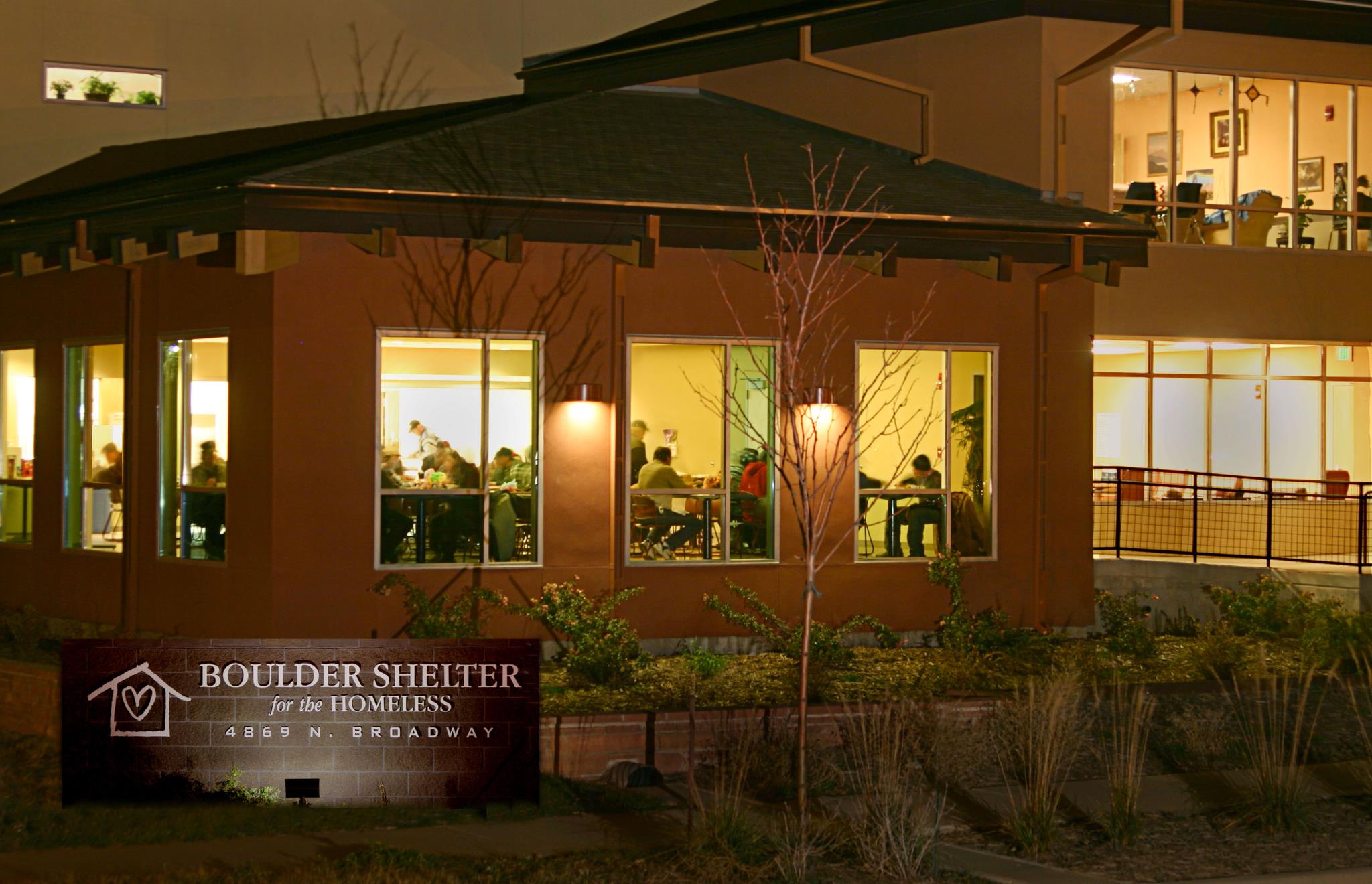 The next day we were back to long hard trail hiking. Kevin told us it was only four miles. He downplayed how steep the hike up would be. We arrived at the Horsetooth Reservoir late in the morning to begin our hike.
We began our long hard slog in search of the Horsetooth Falls. Once we reached the falls, it became evident the drought like conditions had dried up the falls to a trickle. See if you can find the falls. Dani is standing where there should be a pool of water.
The temperatures were above 90 and the two mile upward path was brutal. But we trundled on.
A nice fellow hiker offered to take a picture of our entire clan. I'm the fat one in the middle.
The trek down the mountain was much easier and the incentive of going to another micro-brewery kept me going. We reached the Fort Collins Brewery just in time. Not being a beer connoisseur, I ordered a paddle to try different varieties. It seems I'm partial to a red ale.
It's amazing how many micro-breweries are located in such a small area. You also have the Coors and Budweiser brewery operations close by. Kevin has acquired a taste for these micro-brewery craft beers. I pondered why they are so predominant in Colorado. Is it the water? Is it the altitude? Is it the lifestyle? Or something else? All I know is they make some tasty beers. Over the next couple days we visited the Grimm Brothers Brewery, the Verbotin Brewery, and the Loveland Aleworks. They provided board games, shuffle board and of course beer. Dani was partial to a dark beer called Killer Boots. I liked the sour beers.
The breweries had a laid back vibe. The staff were jovial and helpful. Some patrons were with friends. Others were drinking while working on their computers. And everyone had a sense of humor.
As you may have noticed, we jammed a lot into our six day stay. But we weren't done. One last hike on one of Kevin's favorite mountain biking trails was on tap for the next day. It was another scorcher, which was fitting, because we were headed to the aptly named Devil's Backbone Trail. This park was within the city limits of Loveland. They also have a massive lake. I think Kevin's picked the perfect place for his preferred lifestyle. And he has a 10 minute commute to work. I'm jealous.
The trail wasn't steep, but it was long and hot. Not much greenery around Devil's Backbone. But there are million dollar homes on the ridges overlooking the park.
Their views are pretty spectacular. After all that heat we grabbed some lunch and decided to bowl at The Summit, a sports supercenter, also in Loveland.
After spending a week in this stunning paradise, it's tougher than you know to go back to my two and half hour daily round trip commute into the slums of West Philly. John Muir's words were right 100 years ago and they are right today. I am losing precious days and my days are spent trying to make money. I've got responsibilities. I've got bills to pay. I've got kids to get through college. We've got aging parents to help. I work because I have to.
I'm not learning anything in this trivial world of distractions and iGadgets. I don't fit into this materialistic society. I don't do small talk. I have no patience for fools. I prefer solitude. If I can survive this despicable rat race for seven more years, I'll be joining Kevin in Colorado and living the life I'd like to live. The sun is setting and time is slipping away. Those mountains are calling me home.
"I am losing precious days. I am degenerating into a machine for making money. I am learning nothing in this trivial world of men. I must break away and get out into the mountains to learn the news" ― John Muir
STAY INFORMED! Receive our Weekly Recap of thought provoking articles, podcasts, and radio delivered to your inbox for FREE! Sign up here for the HoweStreet.com Weekly Recap.