August 10, 2016 | Numbers Don't Lie, Markets Do. Gold to Glow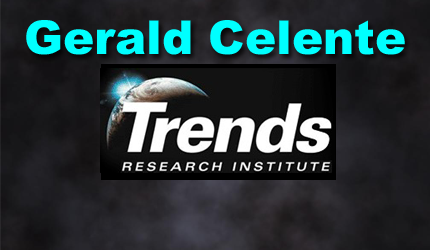 Gerald Celente, who developed the Globalnomic® methodology to identify, track, forecast and manage trends, is a political atheist. Unencumbered by political dogma, rigid ideology or conventional wisdom, Celente, whose motto is "think for yourself," observes and analyzes the current events forming future trends for what they are — not for the way he wants them to be. And while Celente holds a U.S. passport, he considers himself a citizen of the world.
KINGSTON, NY, 10 August 2016—With the exception of last week's strong jobs report from the United States, which has been discounted by many economists, the hard economic numbers ringing up around the world range between soft and lousy.
On the lousy side, China, the world's second-largest economy, reported worse-than-expected declines in exports and imports for July, falling 4.4 percent and 12.5 percent respectively.
As for the world's No. 1 economy, yesterday the US Labor Department reported productivity declined for the third straight quarter. Earlier this month, the Commerce Department reported that Gross Domestic Product slogged along at an annualized 1 percent for the first two quarters. Indeed, US economic growth since the recession ended is tracking at its weakest pace of any expansion since 1949.
And, according to FactSet, with almost 90 percent of S&P 500 companies having reported second-quarter results, aggregate earnings per share are down 3.5 percent from last year. This will be the fifth straight quarter of year-over-year declines… the worst since the depths of the Great Recession.
Yet, despite the negative data and with the New York Stock Exchange ringing in the New Year with its worst start in its history, the Dow, S&P and NASDAQ keep hitting new highs.
Even emerging markets, which were slammed in the first quarter, are back in the black and keep spiking higher. The Vanguard FTSE Emerging Markets ETF and the iShares MSCI Emerging Markets ETF are up an average of 15.9 percent year to date. Leading the 165-country index MSCI track is Brazil, with its stock index up 60 percent this year… despite being in the depths of its worst recession in nearly 100 years.
Why? It has nothing to do with true price discovery or basic economic fundamentals. Simply, in a world of historic low and never in the history of the world negative-interest-rate policy, plus massive central bank corporate/government bond-buying schemes, the planet's flooded with cheap money.
Thus, with ultra-cheap cash to borrow and confident that central banks will not raise rates – particularly the US Federal Reserve, which, despite signaling four rate hikes for 2016 following its 25-basis-point hike last December, has not raised them nor is expected to – investors are turning back to the developing world for higher yields while also betting heavily on US markets as the global safe-haven equity capital.
Indeed, the buzzword is TINA… "there is no alternative." With interest rates and bond yields at or near historic lows, from high-stake speculators to average savers, pensioners, pension funds, insurance companies… investors looking for meaningful returns are betting big on equities.
Trend Forecast: Investors, not interested in buying negative-yielding bonds (guaranteed losses if held to maturity) and fearful of speculating in equity markets, have pushed gold prices up over 25 percent this year while pushing gold coin sales for the second quarter up 72 percent year to date. Thus, we maintain our forecast that when gold breaks strongly above $1,400 per ounce, it will spike toward $2,000.
STAY INFORMED! Receive our Weekly Recap of thought provoking articles, podcasts, and radio delivered to your inbox for FREE! Sign up here for the HoweStreet.com Weekly Recap.