August 17, 2016 | Market Boom? Market Bust? What's the Future?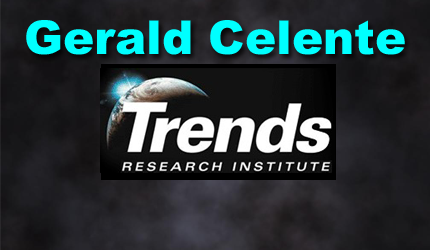 Gerald Celente, who developed the Globalnomic® methodology to identify, track, forecast and manage trends, is a political atheist. Unencumbered by political dogma, rigid ideology or conventional wisdom, Celente, whose motto is "think for yourself," observes and analyzes the current events forming future trends for what they are — not for the way he wants them to be. And while Celente holds a U.S. passport, he considers himself a citizen of the world.
KINGSTON, NY, 17 August 2016—Global equity markets are spiking. Records are being broken.
Why? Is it strong Gross Domestic Product increases among the world's leading economies… the United States, China, Japan and eurozone nations that are driving the frenzy?
Is it accelerating commerce that's sending products and services far and wide across the globe that's increasing corporate profitability — boosting trade, productivity and personal income that's driving stock markets higher?
Go back to January. The equity markets were in a terrible slump. The Dow rang in the New Year on the lowest down note in its history. By late January, the Russell 2000, a broad measure of US equity markets, was down some 23 percent from its peak.
Around the world, it was more of the same but worse. Some $6 trillion of global share value was wiped from the face of the world's equity markets. The Shanghai Composite Index fell over 20 percent from a high in late December, and Japan's Nikkei Index was trapped in bear-market territory.
By month's end, oil prices collapsed some 21 percent and commodity prices were slumping to multi-year lows.
What a difference a few months make
That was then. A new day has dawned. From sinking equity markets to crashing currencies, from slumping commodity prices to failing economies… happy days are here again.
Why? What specific economic fundamentals have boosted down markets to new highs and lifted sagging ones from their new-year lows?
Was it the terribly weak GDP numbers in the United States, Japan and Europe of 1 percent, 0.2 percent and 0.4 percent respectively for the first half of the year? Was it trade-dependent China's exports that fell 4.4 percent year over year in July? Or was it their imports that slumped 12.5 percent for the 21st straight month of decline?
As evidenced by the factual data, it is not economic fundamentals driving equity and commodity markets higher. It is high expectations for continued central banksters' manipulation: The People's Bank of China, the European Central Bank, the Bank of England, the Federal Reserve, the Reserve Bank of Australia, etc., which have driven interest rates to record-low negative or zero levels and/or initiated new rounds of stimulus programs that, while boosting equity markets, have by all quantitative measures failed to generate true economic growth. In fact, despite massive Federal Reserve intervention, US economic growth since the recession ended is tracking at its weakest pace of any expansion since 1949.
Trend Forecast: What's next? Follow the money. A Bank of America Merrill Lynch survey found that cash levels in portfolios were at the highest levels since 2001, while Wealth-X Billionaire Census reports billionaires are holding $1.7 trillion in cash. According to regulatory filings, gambler George Soros, holding put options on some 4 million shares in exchange-traded funds, is betting heavily against the S&P 500.
Again, in this climate void of true price discovery and central bank manipulation, we maintain our forecast that when gold breaks strongly above $1,400 per ounce, it will spike toward $2,000.
STAY INFORMED! Receive our Weekly Recap of thought provoking articles, podcasts, and radio delivered to your inbox for FREE! Sign up here for the HoweStreet.com Weekly Recap.