July 27, 2016 | Could It Get Any Worse for Hillary?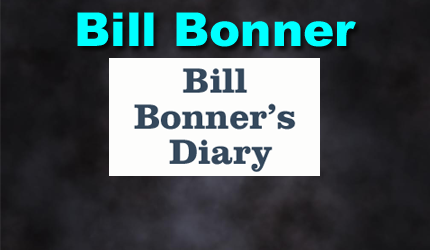 Is an American author of books and articles on economic and financial subjects. He is the founder and president of Agora Publishing, and author of the daily financial column, Diary of a Rogue Economist.
Problems, problems, problems all day long…

– The Everly Brothers

---

PARIS – We were sitting in the restaurant at a chic hotel in Paris on Sunday morning.

Next to us was a German family – a man about our age with his daughter and his two grandsons, about 9 and 10 years old. The man spoke to his daughter in German, but to the boys in English.

"It's terrible… now they're shooting people all over Germany,†said the woman.

"Were they shooting guns?†asked the older boy.

"Yes… and they killed nine people†came the reply.

"Why did they do that?†the boy asked.

"I don't know,†she replied. Then the boy turned to his grandfather.

"Why do people kill other people?†he wanted to know.

There was no answer.

Moment of Triumph?

Meanwhile… it's the Democrats' turn to make a public spectacle of themselves.

And what a spectacle it is!

The Big Nurse was planning on a cool, trouble-free convention. She brought in the big money, manipulated the primaries, and sedated Bernie.

She got Wall Street, the hack press, and the Parasitocracy solidly behind her.

This should be Hillary's big moment of triumph. She should be crowned the Democrats' champion… regally accepting the highest honor ever bestowed by the Democrats on a woman.

Alas, instead of adoring fans and grateful zombies, she may face an angry mob, chanting "Lock her up!â€

Philadelphia is sweltering. Tempers are boiling. Bernie supporters and other malcontents are up in arms.

If you can believe it, the Russians hacked Democratic National Committee emails, revealing how the DNC was aiding and abetting Hillary against Bernie in the primaries when it was supposed to be neutral.

Stay tuned…

Violence at the Ranch

On Sunday, we received an update on our problems in Argentina.

You will recall that the ranch was invaded by originarios – locals who claim to be descended from the original inhabitants of the area.

They believe they have a claim to the land that transcends settled principles of property law.

Our man on the scene reported in:

Good fortune! As soon as the trouble started, we called the police. They prevented any real violence (but one of our men got a little too aggressive with the originarios).

Then we took the ringleaders to court. We charged them with criminal trespass. Last week, the court issued its verdict – an injunction against them.

The originarios are prohibited from interfering in any way with our operation of the farm. They can't block our roads or use our fields. If they give us any trouble now, the court will come down on them hard.

And the best thing is that now that the government has changed [Argentina voted in a new president last year] their funding is getting cut off. They were getting money to promote "indigenous rights.â€

At least, that was the idea. But an audit found that they were stealing the money. Millions of dollars went missing from their accounts. We don't really know, but I'm hoping they are out of money.

Meanwhile, our cattle are starving. In context, the fight with the originarios seems irrelevant.

The economics of farming in the area have changed. The ranch isn't sustainable for any of us – neither your editor nor the people trying to take it away from him.

Consumers in Northwest Argentina used to buy our tough, lean beef. Now, they get meat shipped up in refrigerated trucks from the Pampas.

And now, with a drought in the area, our cattle can barely survive, let alone put on tender weight.

We asked our former ranch manager, Jorge, to check out the neighboring ranch. It is for sale at about $40 an acre.

The idea was that we could drive our cattle through the pass, and keep them there during the winter, to get them through the dry season.

But Jorge reported in last week, too. He said that there were only about 140 acres with access to water… and the water dried up in the wintertime.

"It's not worth fooling with,†he advised.

"Hay un problema. Pero no hay una solución,†said Jorge, smiling.

It's not the only problem without a solution…

More to come…

Regards,

Bill

The original article can be read here
STAY INFORMED! Receive our Weekly Recap of thought provoking articles, podcasts, and radio delivered to your inbox for FREE! Sign up here for the HoweStreet.com Weekly Recap.