June 22, 2016 | Is Trump a Kick-Butt Winner for the Working Class?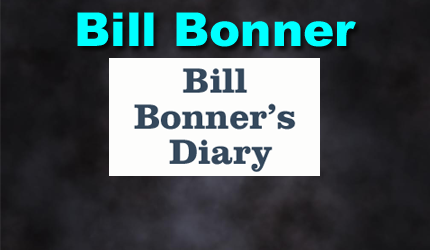 Is an American author of books and articles on economic and financial subjects. He is the founder and president of Agora Publishing, and author of the daily financial column, Diary of a Rogue Economist.

BALTIMORE – Yesterday, the sky turned a dark greenish color, and a thunderstorm ripped through town.
A torrent of water splashed against the windows, as people in the park ran for cover.
It is summer, officially.
Sell in May?
"Sell in May and go away" is old advice on Wall Street.
According to the old-timers, summer was always a dangerous time to be in the stock market. "Along with autumn, winter, and spring," they would add with a grin.
Most likely, it will prove to be a bad time this year, too. If you haven't beat it to cover yet, you may want to get your running shoes on.
"Brexit vote keeps investors on edge," says a Reuters headline.
Most likely, a vote in Britain to leave the European Union (EU) will bring on a market selloff. A vote to remain part of the EU will prompt a relief rally.
Either way, it probably won't change much. But we are always wondering here at the Diary… connecting one dot to another and trying to see the shape of things.
This week, we draw a line from Brexit… to Donald Trump… to the economic funk that prevents Janet Yellen from raising rates.
We've mentioned the yellow machines more than once. Those are the machines that do the digging and hauling. If you are going to build something, you're going to need a yellow machine to dig the foundation.
So, the slack sales of yellow machines tell us something about how much building is underway or planned for the future.
"Not much" is the verdict.
Yesterday, we learned that Caterpillar sales fell again, for the 42nd month in a row. That makes three and a half years of falling demand for the yellow machines.
That, combined with low shipping rates and cargo volumes, signals the world economy continues to slow down.
Not Participating
Most of the world's stock markets have already responded appropriately.
Since this time last year, Chinese stocks are down 37%… Japanese stocks are down 22%… Germany is down 12%… British stocks are down 8%… French stocks are down 12%… and Italy stocks are down 26%.
But the U.S., thanks perhaps to its "safe haven" status, resists. The S&P 500 is down 2% over the same period.
Still, the weakness is revealed in many different ways. One of them came to light yesterday. The Financial Times has the story:
Labor-force participation among men of prime working age has dropped by more in the U.S. than in any other OECD country apart from Italy in the past quarter century.

The decline has been driven in part by weaker employer demand for people with lower skills, according to a report from President Barack Obama's Council of Economic Advisers.
Want to know how Donald Trump became the presumptive Republican for president? Wonder why white men without college degrees overwhelmingly favor "The Donald"?
Among so-called prime-aged men between the ages of 25 and 54, the participation rate fell more steeply than in all but one other country in the OECD from 1990 to 2014, the report found. It is now the third-lowest among 34 OECD nations.
Out of every 100 men of prime working age, 12 of them toil not.
Why? Are they lazy? Are they paid not to work? Can they not find jobs?
The answers are many.
Minimum wage laws and other employment regulations push the least productive workers out of the job market altogether. They are just not worth the cost of hiring them.
Many have served time in jail. The U.S. puts more people in jail than any other country – about 15 times as many per capita as in Europe. And it's hard for the ex-cons to get jobs.
And the U.S. economy is very soft, with few new jobs… even for those who have never robbed a bank once in their entire lives.
Kick-Butt Winner
But let it not be said that here at the Diary we don't offer helpful solutions.
This "problem," for example, could be solved overnight. Just abolish all the wage rigging rules and eliminate all labor regulation. Let the supply of workers adjust to the demand for them.
None of the presidential candidates will propose such a thing, of course.
That leaves it to us to do so…
…and leaves millions of men unemployed… and underemployed… and generally out of sorts.
They haven't had a real wage increase in 40 years. They have lost status. And they are pretty sure there is some rich guy or gal somewhere whose fault it is.
Along comes a real kick-butt winner – a man who claims to be a "billionaire" with a pretty wife and hotels with his name on them – and they swoon.
We are still enchanted by the Donald Trump phenomenon. Not because we see him as a great statesman manqué or because we think he holds the solutions to our national problems.
We appreciate him like we appreciate any clever mountebank.
Hillary is easily understood, and dismissed: a conniving, mendacious, power-grabbing, and war-mongering Deep State functionary. And those are her best qualities!
We know what she thinks. We know what she will do. And we are suitably appalled.
But "The Donald?"
He makes us wonder…
And what's the connection to Brexit? Stay tuned.
Regards,
Bill
The original article can be read here
STAY INFORMED! Receive our Weekly Recap of thought provoking articles, podcasts, and radio delivered to your inbox for FREE! Sign up here for the HoweStreet.com Weekly Recap.