May 5, 2016 | You Won't Catch Us Voting for Trump or Clinton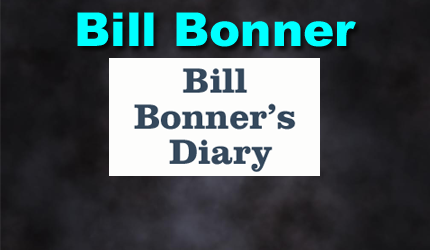 Is an American author of books and articles on economic and financial subjects. He is the founder and president of Agora Publishing, and author of the daily financial column, Diary of a Rogue Economist.

PARIS – Too bad about Ted Cruz.
His tax plan was pretty good. A flat tax of 10% on anything over $36,000. And a 16% "business transfer tax" to replace the corporate income tax and all payroll taxes.
Not perfect. But a step in the right direction.
But now, Ted is out… and so is the hope of major tax reform.
Curiously, Ted Cruz emerged as a possible "Manchurian candidate" when Donald Trump claimed Cruz's father, Rafael, had been an acquaintance of Lee Harvey Oswald.
If that were true, you would only have to connect a few dots to see that he came from the deepest part of the Deep State – the shady part that includes CIA, NSA, Mafia, and Cuban fixers.
Not that we know anything about it. We're just reading the headlines along with everyone else. Still, it is a remarkable claim by a remarkable candidate in a remarkable election.
Misinformation and Delusions
We are back in the land of the Financial Times and the Wall Street Journal, catching up on the latest misinformation and delusions.
In politics, we find that Mr. Trump has defied and astonished his critics, his naysayers, and his grade-school teachers.
The latter told him that "in America, anyone can become president." Still, they must be amazed to find The Donald in line to become the Republican candidate.
There is a lot to like about Trump. He is not a politician. He has had to make a living in the real world, pay real world wages, run a real world business, host a reality TV show, and find really beautiful women from Central Europe who were willing to put up with him.
None of that could have been easy. That he has survived in business, investment, real estate, casinos, hotels, Miss America pageants, and primetime TV is a remarkable achievement.
That he has succeeded at these things – and even prospered – is the kind of miracle usually reserved for Charlton Heston or the Red Woman.
Trump's Biggest Test
But now Trump faces his biggest test: Can he knock Madame Clinton out of the top spot in the polls?
Our friends think so. The media, generally, does not.
Sometimes, we believe Trump is as surprised as we are at his success in the primaries.
At first, there was speculation that he had only entered the race at the suggestion of his friend, Bill Clinton, to make a mess of the Republican Party.
His role was to throw manure all over the place. He was brash, disrespectful, course, and uncouth.
But the manure stuck. And one by one, his opponents gave up, so laden with dung that they could barely move.
According to Trump, the last of them, "Lyin' Ted" Cruz, had a father who was part of the Cuban-Mafia-CIA cabal that killed John Kennedy.
What can you believe? What do we know?
We watch Trump on TV and try to draw the measure of the man. In a way, that is easier for Trump than for the other candidates. He seems to say whatever is on his mind, which is another charming feature.
On the other hand, if the picture this reveals is accurate, no thinking person could look at it and still believe in democracy.
No matter how many voters pull the lever for the billionaire, we still see no qualification in him that suggests he is fit to tell the rest of us what to do.
Nor is Ms. Clinton, of course. Or Ted Cruz. Or anyone else.
But ours is a minority view. And now, back in civilization, we tune in again to the U.S. presidential elections. And laugh along with everyone else.
Regards,
Bill
The original article can be read here
STAY INFORMED! Receive our Weekly Recap of thought provoking articles, podcasts, and radio delivered to your inbox for FREE! Sign up here for the HoweStreet.com Weekly Recap.