May 7, 2016 | Kaiser Calls For Revamping The TSX Venture Exchange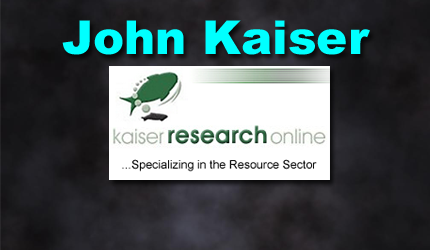 John Kaiser is an independent analyst based in the San Francisco area who has covered the junior resource sector since 1983. After a decade working as a research director in Vancouver he left the brokerage industry in 1994 to launch Kaiser Research Online and create the "rational speculation model" as a tool to evaluate the speculative value of exploration projects. Kaiser Research Online is a subscription service that publishes his analysis, provides searchable information on over 1500 Canadian listed mining and exploration companies, and tracks trends within the junior sector and their relationship to macro trends.
By Ellsworth Dickson
Reprinted courtesy of  Resource World Magazine.
The TSX Venture Exchange is more than a platform to buy and sell stocks. Heavily weighted with junior mineral exploration companies, the exchange is the final result of the efforts of thousands of talented people that play an important role in not only Canada's mining industry, but also in the development of the mining industry in many other countries.
The Exchange is based on a solid foundation of prospectors, geologists, geophysicists, mining engineers, accountants, corporate lawyers, auditors, consultants, drilling companies, assayers, camp managers and others that come together to create a publically-trading junior exploration company. However, the spark for all this effort is generated by entrepreneurs.
I see out my office window the skyscrapers of downtown Vancouver where I am surrounded by the offices of hundreds of junior explorers guided by men and women who are willing to raise funds to explore for economic mineral deposits. It is a fact that finding an economically viable mineral deposit is a long shot; that's just the way it is.
There are numerous mineral properties with good showings worth exploring but they just do not have the grade, tonnage or some other requirement necessary to become mines. Nevertheless, historically speaking, it is the juniors that have made most of the big discoveries that have turned Canada into a major mineral producer and resulted in Vancouver and Toronto hosting the world's major talent base for the mining sector – in itself a precious commodity.
For all this effort to come to fruition, the TSX Venture Exchange needs regulations that both prepares a fair playing field for investors as well as provides a suitable venue for junior explorers to trade their shares enabling exploration funds to be raised for their mineral projects.
For the last few years, the downturn in commodity prices and negative investor sentiment has hammered the share prices of many junior explorers. Exploration funding is hard to find – especially if your shares are trading for pennies – all the more reason for the Venture Exchange to facilitate private placements for high-risk/high reward projects as well as develop regulations that help, not hinder, junior explorers.
John Kaiser, a respected mining sector analyst and publisher (www.kaiserresearch.com) who commands standing-room only audiences at many North American investor conferences, has taken issue with some of regulations and structural changes on the Venture Exchange that appear to hinder junior explorers.
One of his concerns is the regulations that determine who is eligible to participate in private placement financings. Ostensibly designed to protect investors, "accredited" or "sophisticated" investors may buy private placements if he/she has a net worth in excess of $1 million not including equity in their primary residence, or $200,000 earned income during the past two years.
"This badly shrinks the Canadian pool of eligible placees," says Kaiser. "The situation is aggravated by the CRM [Client Relationship Model] whose 'suitability' hammer discourages financial advisors from steering their accredited investor clients into resource junior private placements. Regulators, led by the Ontario Securities Commission, have escalated their war on the Canadian resource junior eco-system by imposing a requirement that investors accurately complete and submit to the public company an invasive questionnaire about household finances."
Yet, anyone interested in high-risk/high reward odds can blow $40,000 in Las Vegas or their local casino. Yes, buying a private placement in a junior explorer may be considered gambling, even though the placee actually owns part of a real company. A loser in Vegas walks away with nothing. A junior miner with a sliding share price can usually be sold before all is lost. People that want to buy junior mining private placements already know it is high risk – they don't need to be protected.
This leads to another related concern for Kaiser – the Client Relationship Model. "The first structural change to hurt the resource juniors is the Client Relationship Model which requires every full service broker to profile his/her client and judge the suitability of each investment for that client," explains Kaiser. "What this amounts to is a war on single company security ownership in favour of structural products where risk is diversified across a large number of securities. These can be mutual funds, index fund and ETFs. The key is to avoid the catastrophic risk associated with each corporation."
Kaiser notes that the financial establishment treats resource juniors as not suitable for clients over 55, although these are the people that actually understand the junior resource sector best.
Despite the risks and challenges beyond company control – commodity prices, hostile environments, civil unrest – it is these very junior explorers that provide the spark that has built Canada's mining industry and has brought untold employment and generated wealth for under-developed countries. It is like the sports industry in that only a few athletes are successful in making it to the big time. Thousands of young men would love to play pro; however, only a small number make it to the big leagues; yet the big leagues generate huge revenues.
The US Small Business Administration has stated that half of all new business establishments survive five years or less and about one-third survive 10 years or longer. The success rate is even lower for venture-backed start-ups with three out of four failing to return investors' money. Obviously, there is risk in starting any kind of business.
"The suitability bludgeon of the client relationship model is destroying the smaller brokerage firms that specialized in venture capital," explains Kaiser, "which is wiping out the financial sector as a gateway for capital. Then bigger brokerage firms will still be able to finance juniors, but only through their institutional clients for whom juniors need to have a certain minimum market capitalization and an advanced project."
Kaiser says one might speculate that since we are in a multi-year downturn in junior miners, perhaps the brokerage industry will rediscover the juniors when the bull market returns. "But that argument overlooks the bigger trend which is the emergence of robo-advisory accounts where a computer algorithm manages a client portfolio based on the client profile and a pool of pre-approved and risk classified investment products, many of them created by the financial establishment which collects a royalty or fee on those products."
The way buy and sell orders are handled by the Venture Exchange is also a concern for Kaiser. "By routing an order through a thicket of competing platforms based on obscure and arbitrary processing costs, the brokerage firm cannot serve the 'first come-first serve' principle," says Kaiser. "This undermines the market as a price discovery mechanism."
Yet another concern for Kaiser is the abandonment of the uptick rule for short-selling. This rule dictated that if you wanted to sell stock short, it had to be at a price higher than the last different price. "A short seller who leans into the order book, selling stock he does not own, triggers similar selling behaviors by 'longs' who see the value of their position vanishing," says Kaiser. "When somebody can sell stock they do not own on an unlimited basis at whatever bid proffers itself, the structure becomes asymmetrical, thereby creating a downward bias."
And there is more. "In practical terms, the resource juniors are burdened by a monstrous load of regulatory paperwork that seems exclusively designed to prevent litigation on the basis of failure to follow a endless maze of disclosure rules that do little to edify the public about what has happened and what might still happen," says Kaiser.
The TSX Venture Exchange recognizes that its exchange has problems. That's why on December 15, 2015, the TMX Group released a white paper that detailed three basic objectives: reduce administrative and compliance costs for listed companies; expand investor participation and boost liquidity; and grow and diversify its listings base. Some ideas are now in effect and some will take longer to implement.
However, Kaiser sees some of these 'improvements' as ineffective. For example, the Venture Exchange's idea "to create more positive awareness of Canada's public venture market and to showcase TSXV-listed companies to fund managers, retail investors, investment advisors, investment bankers and research analysts." Kaiser retorts, "This is a really bad idea because it reflects the TMX Group's ambition to get into the investor relations business."
Kaiser has various other concerns related to the TMX Group's new plans that are too lengthy and detailed for this article. They can be viewed on John Kaiser's website under the heading TSXV Town Hall Cheat Sheet – January 20, 2016.
Looking at the junior mining sector long term, Kaiser is worried that if the sector is not healthy, young people will not want to work in the earth sciences and related employment. Since young people and their education form the basis for the future, what can be done to develop a healthy junior mining sector that can generate jobs now and in the future?
Dr. Kurt Kyser at the Department of Geological Sciences and Geological Engineering at Queen's University, said, "When the junior mining sector has had serious survival issues similar to those of the present, the negative impact on the training of highly qualified personnel in the Earth sciences was substantial, and there were serious ripple effects on other industries as well." He said there becomes an almost instantaneous dearth of positions for young people in junior companies. "This then eventually impacts major companies who often recruit experienced people from the juniors for senior positions," said Kyser. "In addition, about half of students who earn degrees in Earth Science capitalize on their training and experience for employment into subsidiary fields such as investment banking, business and law. As a result, these fields are also negatively affected by the loss of the junior mining sector because young people are no longer attracted to the Earth sciences."
Kyser remarked that the negative effects of this feed-back cycle are devastating to the Canadian economy in ways that are not initially obvious, but are nevertheless imminent.
Bearing in mind that some 375,000 people across Canada work in the mining and mineral processing industries, it is crucial to have a junior stock trading platform that is helpful to both listed companies and investors. After all, mining contributed $57 billion to Canada's Gross Domestic Product in 2014. And that doesn't include employment benefits and revenue generated by Canadian companies in other countries.
STAY INFORMED! Receive our Weekly Recap of thought provoking articles, podcasts, and radio delivered to your inbox for FREE! Sign up here for the HoweStreet.com Weekly Recap.