May 14, 2016 | J.C. Penney Still On Bankruptcy Path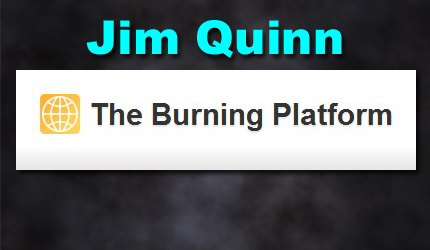 James Quinn has held financial positions with a retailer, homebuilder and university in his 30 year career. Those positions included treasurer, controller, and head of strategic planning. He earned a BS in accounting from Drexel University and an MBA from Villanova University. He is a certified public accountant and a certified cash manager.
I find J.C. Penney to be a sick joke. The executives of this company think they can put out positive press releases and have their financial statements not properly show in the earnings press release to cover up the fact their financial results are deteriorating – not improving. CNBC will dutifully report the corporate lies. Checkout the press release where, for some reason, the financial results don't format. Must be a glitch. Right?
http://www.marketwatch.com/story/jcpenney-reports-a-63-percent-increase-in-ebitda-to-176-million-and-reaffirms-full-year-ebitda-guidance-of-1-billion-2016-05-13
The press release heading makes you think business is booming. Whenever a corporation crows about EBITDA, you know they are covering up their true results. Of course, a company with $4.7 billion of debt wouldn't want to include interest expense in the results they announce.
These rocket scientists owe their ongoing existence to Bernanke and Yellen. A company with this much debt and billions in losses over the last five years should be paying 20% interest on their debt. Instead they can finance themselves at 8% rates. This bloated pig should have gone belly up by now. That's how creative destruction works in a free market. Their existence as a dead retailer walking brings down the results of other retailers, creating the current zombie retail environment. These retailers just plod along, losing money, buying back stock, and never dying. The Fed has created this Walking Dead Economy with their warped QE and ZIRP "solutions".
If you go to JC Penney's website, you can actually see their income statement, balance sheet and cash flow statement.
http://ir.jcpenney.com/phoenix.zhtml?c=70528&p=irol-newsArticle&ID=2168214
It seems the actual results are in complete opposition to the feel good press release put out by the feckless management of this carcass of a company. Here is a little truthiness about J.C. Penney's real results:
Sales declined by 1.6% and comp store sales declined by 0.4%. Last year comp store sales rose by 3.4%. Does that sound like improvement?
Gross margin declined by $23 million, but they fired thousands of people, reducing operating expenses by $93 million. Slashing prices and firing employees really sounds like a turnaround.
It seems their crowing about EBITDA might be a little overdone. They continue to lose gobs of dough. Their loss for the quarter was $68 million.
The real disaster will not be discussed by the brain surgeons running this poor excuse for a retailer. They burned through $394 million of cash in the first quarter, 74% higher than last year's burn. They only have $415 million of cash left.
Good management does not increase inventory by 4% when sales are falling by almost 2%.
Another $525 million of equity was evaporated in the last year.
I bet they wish they hadn't bought back those hundreds of millions in shares at prices 3 or 4 times higher than the current price. Other retail CEO's should take note, but they won't. Their golden parachutes will protect them. Screw the shareholders.
To give you some perspective on how great J.C. Penney is performing, let's compare their first quarter results to their 2007 first quarter results.
2007 1st Qtr Sales – $4.4 billion
2016 1st Qtr Sales – $2.8 billion
2007 1st Qtr Income – $238 million
2016 1st Qtr Income – ($68 million)
J.C. Penney sales have fallen by 36% since 2007. They have lost billions over this time frame. They have four times as much debt as they do equity. They have $2.5 billion of current liabilities and only $400 million of cash to pay off those liabilities. But, the bozo management thinks going into the low margin appliance business is going to save this sinking ship. Sorry bozo. You are going bankrupt. It's just a matter of time.
STAY INFORMED! Receive our Weekly Recap of thought provoking articles, podcasts, and radio delivered to your inbox for FREE! Sign up here for the HoweStreet.com Weekly Recap.