April 16, 2016 | One Ounce Gold (Au) currently converts to Y8,000! Set by an Algorithm!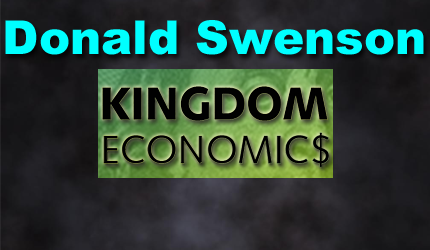 Donald B. Swenson: Born January 24, 1943, Roseau, Minnesota. Graduated H.S. 1961, Moorhead High, Minnesota. Graduated College 1968, Moorhead State University, Minnesota. Designated member of Appraisal Institute (MAI), 1974. Employed with Western Life Insurance Company, 1968 – 71; Iowa Securities Company, 1971 – 73; American Appraisal Company, 1974 – 81. Part-time teacher/valuation consultant/bartender, 1979 – 2008 (taught workshops at Waukesha County Technical Institute, Wi. and Madison Area Technical College, Wi.). Retired 2008 (part time teacher/blogger), AZ. Self educated economist/philosopher/theologian: http://kingdomecon.wordpress.com.
As of right now (real-time) the digital price of gold in dollars is $1234. With the exchange rate of the Dollar/Yuan at 6.48 this converts to approximately Y8,000 for one ounce of Au (gold). All global currencies (such as the Yuan) are currently subject to the dollar 'algorithm' when gold prices are converted via an exchange rate for an alternative currency (in real-time). This means that the U.S. Dollar is the official 'price discovery currency' for all global currencies with respect to the price of gold in real-time. The currency exchange rate right now for Yuan in Dollars is 6.48. One dollar = 6.48 yuans on our currency exchange markets. This means a Yuan price for gold at Y7996 ($1234 x 6.48 = 7996 Yuan). What could happen after April 19 at the Shanghai Gold Exchange if real market demand prevails over the CME Comex/Nymex price discovery mechanism (set within our electronic markets)?
Prior to computer trading, price discovery was via the Open OutCry system! Today's prices, however, are determined via electronic trading strategies! Who is aware?
If price discovery for the physical metal (Au) is set by supply/demand at the Shanghai Gold Exchange starting April 19, we could witness the price of one ounce Au increase. If the price were to increase to say Y10,000 (say via real supply/demand), then this would convert to $1543/ounce for Au (a new price discovery number). Would the CME Comex/Nymex electronic exchange continue to use their 'paper' market to set another price for gold via this digital derivative market? If so, then we could witness two digital 'prices' for gold and eventually also silver. We could witness one price set in Shanghai (set by supply/demand) for the physical metal and another price set at the CME Comex/Nymex electronic exchange. We could witness a competition between Shanghai and New York for the price discovery of gold/silver in real-time. Will the CME Group which creates the current gold price continue to have relevance? I don't think so!
Will the Shanghai Gold Exchange create a price discovery mechanism based upon real Supply/Demand?
What currently happens is that the digital price of gold and silver are created within our electronic Futures Markets. This means that algorithms and robots (via HFT and trading strategies) can influence the digital price for both gold and silver in real-time. All is determined within our computer screens via computer trading strategies. These computer trading strategies have 'suppressed' the prices of our precious metals for some 5.5 years. There has not been any real price discovery mechanism for trading physical gold in real-time these past 5.5 years. Computers, algorithms, robots, and uncovered futures contracts (naked shorts) have been the mechanisms for creating price discovery. This has been a rigged and manipulated price discovery mechanism for our precious metals. Will this change on April 19th and after? I hope so! Watch the markets after April 19, 2016, and see what happens at the Shanghai Gold Exchange! I am: https://kingdomecon.wordpress.com.
STAY INFORMED! Receive our Weekly Recap of thought provoking articles, podcasts, and radio delivered to your inbox for FREE! Sign up here for the HoweStreet.com Weekly Recap.