March 17, 2016 | Breaking UP our Big Banks – Very Easy Today!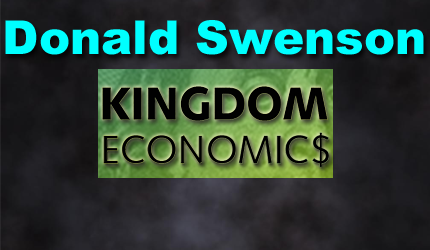 Donald B. Swenson: Born January 24, 1943, Roseau, Minnesota. Graduated H.S. 1961, Moorhead High, Minnesota. Graduated College 1968, Moorhead State University, Minnesota. Designated member of Appraisal Institute (MAI), 1974. Employed with Western Life Insurance Company, 1968 – 71; Iowa Securities Company, 1971 – 73; American Appraisal Company, 1974 – 81. Part-time teacher/valuation consultant/bartender, 1979 – 2008 (taught workshops at Waukesha County Technical Institute, Wi. and Madison Area Technical College, Wi.). Retired 2008 (part time teacher/blogger), AZ. Self educated economist/philosopher/theologian: http://kingdomecon.wordpress.com.
CNBC and the New York Times (today) are expressing the view that breaking up the big banks is needed. The Charlotte Observer is also expressing this view. The Observer reports:  "More than seven years after the financial crisis, big banks can't seem to escape criticism that their huge size poses a risk to the U.S. economy. Take Bank of America shareholder Bartlett Naylor, financial policy advocate for Washington, D.C.,based consumer advocacy group Public Citizen. Naylor, who believes Bank of America remains too large since the financial crisis, is asking the lender to let shareholders vote on his proposal calling for the bank to consider splitting itself up. Read more here: http://www.charlotteobserver.com/news/business/banking/bank-watch-blog/article60508006.html#storylink=cpy."
Bank of America shareholder Bartlett Naylor says he favors breaking up this BIG BANK now!
Bank of America headquarters in Charlotte, North Carolina! The huge building houses a mere computer machine which then stores all its trillion of digits! Breaking up this entity would be EASY!
Then we have Bernie Sanders and his bill to break up our big banks. WASHINGTON, May 6, 2015 – Sen. Bernie Sanders (I-Vt.) today introduced legislation to break up the nation's biggest banks in order to safeguard the economy and prevent another costly taxpayer bailout. Rep. Brad Sherman (D-Calif.) proposed a companion bill in the House. "No single financial institution should have holdings so extensive that its failure could send the world economy into crisis," Sanders said. "If an institution is too big to fail, it is too big to exist." The biggest banks in the United States are now 80 percent bigger than they were one year before the financial crisis in 2008 when the Federal Reserve provided $16 trillion in near zero-interest loans and Congress approved a $700 billion taxpayer bailout.
Bernie Sanders has a bill now to break up the BIG BANKS. This would be EASY given the nature of our money today! All bank assets are mere 'digits' within the computer screen!
Many other experts are also expressing this view. There are some six huge American banks which need to be downsized. These banks are J. P. Morgan Chase, Wells Fargo, Bank of America, Citi Bank, Goldman Sachs, Morgan Stanley. Let's ask the question what is a bank (in reality) today? In reality, a bank is now merely a COMPUTER with stored virtual assets and stored cyber digits (called dollars). Essentially, a big bank is nothing but a master computer in a room within the BIG BANK building. There are no real storage rooms with silver or gold anymore. There are not even big storage rooms with paper notes. All the paper dollars are now mostly 'digits' with the computer screen (stored in cyberspace as 'virtual' images). Breaking up a bank is a simple process today due to these realities!
JP Morgan Chase is administered by mostly ONE policymaker! Jamie Dimon controls some $2.35 trillion of virtual assets in his computer machine in New York! Why not break up these virtual assets now?
This huge bank building has NO silver or gold (only virtual digits within a computer machine)! We could break up this bank by merely downloading virtual digits from Jamie Dimon's computer machine to a group of new computer machines! We could then assign NEW 'names' for new computer machines in new locations!
All we need to do is create a group of NEW computer rooms (located in various new buildings in new venues). Each NEW room would contain a COMPUTER machine with part of the virtual ASSETS previously stored in the BIG BANK computer (say J. P. Morgan Chase). This would be simple and we could 'name' each NEW bank computer with a NEW name which reflects this downsizing of asset control. Keep in mind that 'virtual' assets are really capable of being transferred from computer to computer with the click of a computer mouse. The big issue is merely one of deciding which assets to transfer and what percentage of assets should remain in each computer machine. Today, all our money (assets) are 'virtual' instruments within our computer screens. Think about this new reality which we now live with. Our BIG BANKS are really nothing but a computer machine located in a computer room!
All the above 'assets' are now stored within cyberspace and these assets are nothing but virtual numbers! It would be easy to break up these TBTF banks!
We could break up J. P. Morgan Chase and their $2.35 trillion of assets in a matter of seconds via a computer transfer (download) from its computer machine in New York to another venue or venues (new computer machines). This would be easy given the 'nature' of today's 'digital' economy which is really 'nothing' but virtual numbers within the computer screen. We could then 'name' these new computer banks with new 'names'. We could have a NEW bank named 'The Sanders Bank', 'The Trump Bank', 'The Clinton Bank', and the 'Cruz Bank'. The $2.35 trillion of virtual assets within the Chase Bank could be downloaded proportionally to each of the above NEW banks (new computer machines located in various new venues around our country). What a deal this would create!
This image could be viewed as a BIG BANK computer. It now stores $trillions of virtual assets and virtual digits (called MONEY)! This is our new world of computer machines, digital money, digital savings/investments/trading!
After breaking up the above six (TBTF) banks we could then break up our Unconstitutional Federal Reserve Bank. The Fed's assets are also nothing but 'virtual' images within their cyber computer called the SOMA computer. This bank in New York has virtual assets of some $4.5 trillion and all these assets could be downloaded into new computer machines (decentralized around our nation) with new 'names'. We could break up the $4.5 trillion of assets into (say) one hundred different computer machines which would be administered by new policymakers elected by the American people. This could be done immediately and become an election issue for this coming November. What a great idea for decentralizing our banking, money, administration, and finance! Think about these ideas now! I would support breaking up all our corrupt financial institutions immediately.
On January 20, 2016 at the World Economic Forum in Davos, during the panel on Transformation of Finance, the International Monetary Fund (IMF) released a paper titled "Virtual Currencies and Beyond: Initial Considerations." The RESET of our international finance system is soon to happen! WATCH out!
We could break up our banks today! Why not make this an election issue now! The process could be immediate!
Nearly all of our financial assets today (bonds, mortgages, stocks, and all the various financial derivatives are now VIRTUAL assets within our computer machines. We now trade virtual assets daily. We invest in virtual assets. We save in virtual assets. We store our imaginary VALUE in virtual assets. Why not IMAGINE a new decentralized structure for administering our VIRTUAL assets? Today, we live within CYBERSPACE with all our money and savings (mostly) and our ASSETS are mere 'digits' within our computer machines. My Social Security check consists of virtual digits. My IRA consists of virtual digits. My investment account consists of virtual digits. Some 96% of all monetary transactions are now done via the COMPUTER. Mobile money within a cashless world is now our reality. Think about breaking up all our BIG BANKS in 2016! Enjoy! I am: https://kingdomecon.wordpress.com.
P.S. For the few who comprehend the above missive, what is the message? Get OUT OF virtual money now and get into some THING with substance (like silver and gold)! Virtual digits (called 'dollars', 'yen', 'euros', 'krone', etc.) are IMAGINARY MONEY!!!
STAY INFORMED! Receive our Weekly Recap of thought provoking articles, podcasts, and radio delivered to your inbox for FREE! Sign up here for the HoweStreet.com Weekly Recap.