February 3, 2016 | Recovery or recession? Facts and fiction. What's next?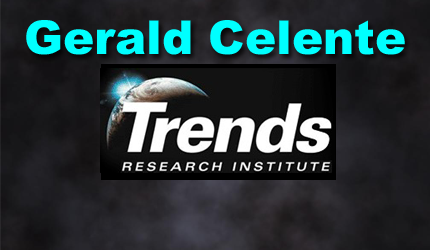 Gerald Celente, who developed the Globalnomic® methodology to identify, track, forecast and manage trends, is a political atheist. Unencumbered by political dogma, rigid ideology or conventional wisdom, Celente, whose motto is "think for yourself," observes and analyzes the current events forming future trends for what they are — not for the way he wants them to be. And while Celente holds a U.S. passport, he considers himself a citizen of the world.
By Gerald Celente
Publisher, Trends Journal
KINGSTON, NY, 3 February 2016 — At his State of the Union address just two weeks ago, President Barack Obama declared that "the United States of America, right now, has the strongest, most durable economy in the world."
Admonishing disbelievers, Obama said, "Anyone claiming that America's economy is in decline is peddling fiction."
Yes, Mr. Obama was correct. America's economy is "the strongest" when compared to the scores of deep-in-debt, resource-rich nations — both developed countries and emerging nations — battered by plunging commodity prices, falling exports, plummeting currencies, skyrocketing inflation and rising unemployment.
And America's economy is indeed the "most durable" when compared by some measurements to China and Japan, the world's second- and third-largest economies respectively.
For example, on the equity-market front, with major US indexes down 7 percent since the start of the year, and as of Tuesday, with all three major indexes off more than 10 percent from 52-week intraday highs, they're treading in correction territory.
On the other hand, with the MSCI China index down 27 percent over one year to January 27 and off 16 percent since the start of 2016, China's equity markets are deep in bear territory. And, as opposed to the strong US dollar, China's yuan, officially devalued last August, is under increasing downward pressure as its equity markets tank, gross-domestic-product growth falls to 25-year lows and the government mounts desperate measures to stop currency outflows.
As for Japan, after two rounds of failed "Abenomics" quantitative-easing programs that temporarily boosted equity markets but did little to spur economic growth, the Nikkei Index has fallen into bear-market territory.
Desperate to inject life into its sluggish economy and reinvigorate sagging equity markets, last week, just days after Bank of Japan President Gov. Haruhiko Kuroda announced he had no plans to adopt negative rates… he initiated a negative interest-rate policy. And like China, with its markets diving, economy slowing and currency devaluing, the Bank of Japan is attempting to stem capital outflows and battle currency speculators intent on shorting its currency.
Obama's wrong
As we forecast in our Top Trends of 2016, and as evidenced by the data above (and documented in our Trends Journalsand Trend Alerts), recession is gripping the world.
From North America to Africa, from Asia to Australia, no continent will escape the ravages of the Global Recession we forecast.
As for the US, after several years of zero interest-rate policy and three rounds of Federal Reserve quantitative-easing initiatives, while Wall Street boomed, Main Street declined. Median household income, adjusted for inflation, is at 1999 levels. With 51 percent of working Americans earning less than $30,000 a year, the middle class is now a minority.
It is President Obama who is "peddling fiction." We have detailed the facts of America's economic decline as documented in our Trends Research Institute reports.
Trend Forecast: From the Cape of Good Hope to Cape Horn, millions of migrants escaping collapsing economies and social unrest will flood into northern nations. "Not welcome here," anti-immigration, nationalistic movements will escalate as the Global Recession deepens.
STAY INFORMED! Receive our Weekly Recap of thought provoking articles, podcasts, and radio delivered to your inbox for FREE! Sign up here for the HoweStreet.com Weekly Recap.