February 17, 2016 | False Faith, Not Hard Data, Boosting Markets. Can It Last?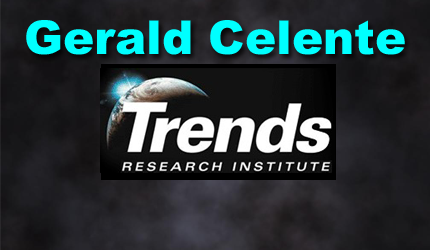 Gerald Celente, who developed the Globalnomic® methodology to identify, track, forecast and manage trends, is a political atheist. Unencumbered by political dogma, rigid ideology or conventional wisdom, Celente, whose motto is "think for yourself," observes and analyzes the current events forming future trends for what they are — not for the way he wants them to be. And while Celente holds a U.S. passport, he considers himself a citizen of the world.
By Gerald Celente
Publisher, Trends Journal
KINGSTON, NY, 17 February 2016 — After equity markets worldwide suffered one of the worst starts of a new year in history, stocks suddenly rebounded.
For example, the Nikkei closed out last week at its lowest level since October 2014. But what economic fundamentals spiked prices higher this week? Was it the dismal news that Japan's economy contracted 1.4 percent in the last quarter?
No. What boosted  stocks prices was the twisted rationale that despite the Bank of Japan firing two rounds of blanks from its "monetary bazooka," the lousy Gross Domestic Product number was cause to launch yet another round of stimulus.
Before Chinese markets opened Monday after being closed for a week, the Shanghai Index had fallen 47 percent since its peak in June. Was it on the rotten news that China's exports fell 11.2 percent in January and imports plunged 18.8 percent that markets rallied?
No. As with Japan, the dismal data was taken as a positive sign that the People's Bank of China would take bold measures to boost sluggish growth.
Over in Europe, it was more of the same but a different story. Last Thursday, the FTSE All-World Index sank into bear-market territory. Europe's Stoxx 600 index was down 14 percent, hitting its lowest level since the Eurozone debt crisis. And European bank stocks had plunged 24 percent since the start of the new year.
But suddenly last Friday, markets spiked and momentum continued this week.  No, the stock bounce was not on the report that the Eurozone grew at an anemic annual rate of 1.1 percent in the last quarter of 2015 and that economic output remained below levels at the onset of the Panic of '08.
Rather, it was on the news that Deutsche Bank would buy back $5.4 billion in bonds and executives at Spain's Santander Bank were buying up their stock in a show of confidence.
And, for the third time in as many weeks, European Central Bank President Mario Draghi again played the stimulus card, announcing the ECB "will not hesitate to act" to overcome the "significant challenges" that have wracked global markets since the start of the new year.
Back in the States, with the Dow down 14.5 percent, the Nasdaq off 18 percent from last year's highs, and the KBW Nasdaq Bank Index off nearly 20 percent since the year began, equity markets on Friday soared on the news retail sales for January were up a paltry 0.2 percent.
But what really drove the market forward was the news that JPMorgan Chase CEO Jamie Dimon would buy $26 million of his bank's shares as a show of confidence.
Trend Analysis: "Confidence," not economic fundamentals, was the rationale for stocks suddenly moving higher. Tuesday's New York Times headline summed it up: "Global Shares Buoyed by Investor Faith." Yes, faith in more failed central-bank stimulus and stock and bond buyback sideshows… not faith in true price discovery and robust Gross Domestic product growth.
STAY INFORMED! Receive our Weekly Recap of thought provoking articles, podcasts, and radio delivered to your inbox for FREE! Sign up here for the HoweStreet.com Weekly Recap.