January 10, 2016 | This Is What Gold Does In A Currency Crisis, China Edition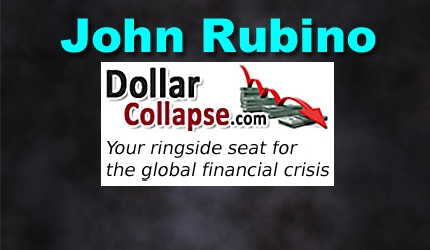 John is author or co-author of five books, including of The Money Bubble, The Collapse of the Dollar and How to Profit From It, Clean Money: Picking Winners in the Green-Tech Boom and How to Profit from the Coming Real Estate Bust. A former Wall Street analyst and featured columnist with TheStreet.com, he currently writes for CFA Magazine.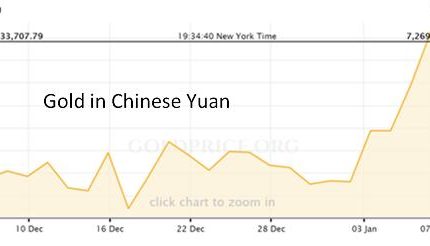 As China's leaders figure out that pegging the yuan to the dollar while quintupling their debt in five years was a colossal mistake, they are, apparently, concluding that the only way out is a sudden, sharp currency devaluation. See Pressure on China central bank for bigger yuan depreciation.
Chinese citizens, meanwhile, are anxiously awaiting tomorrow's market open while mentally repeating the same three lines:
Sure am glad I bought that gold last year.
Wish I'd bought more gold last year.
Wonder what I'll have to pay for gold next week…
Here's what that looks like in graphical form:
If China does spring a 15% devaluation on the already-wound-too-tight leveraged speculating community, the impact should be, well, amusing for sure, but otherwise a little hard to predict. About the only thing that can be said with near-certainty is that the above chart will have to be updated with much higher left and right axes.
STAY INFORMED! Receive our Weekly Recap of thought provoking articles, podcasts, and radio delivered to your inbox for FREE! Sign up here for the HoweStreet.com Weekly Recap.