January 28, 2016 | Market Madness. Gold's up. Why? What's Next?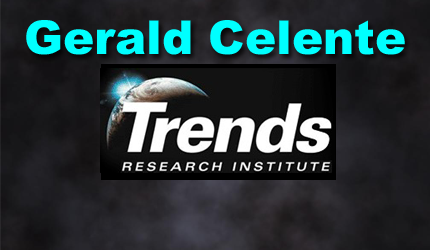 Gerald Celente, who developed the Globalnomic® methodology to identify, track, forecast and manage trends, is a political atheist. Unencumbered by political dogma, rigid ideology or conventional wisdom, Celente, whose motto is "think for yourself," observes and analyzes the current events forming future trends for what they are — not for the way he wants them to be. And while Celente holds a U.S. passport, he considers himself a citizen of the world.
By Gerald Celente
Publisher, Trends Journal
KINGSTON, NY, 27 January 2016—The facts prove it. With just three trading days left in January, in the history of the Dow Jones, there has never been a new year that has rung in on such a down note.
And the wild market ride has spread far beyond Wall Street.
Just one week ago, the global equity rout sent the MSCI All-Country World Index into bear territory. From China to Japan, from the UK to France, stocks were down more than 20 percent from 2015 highs. Among the higher-risk emerging markets, stocks dove to their lowest levels since May 2009. Overall, some $15 trillion in global equity values has been lost since the year began.
Beyond diving equities, commodity prices are down to 1991 levels, according to the Bloomberg Commodity Index. Thus, among many resource-rich nations whose exports have sharply fallen along with the prices of the commodities they sell, their currencies' value also has dramatically declined. The Russian ruble, South African Rand, and Mexican and Colombian peso are just a few that have hit new lows against the dollar, while overall emerging-market currencies are down some 18 percent year to date.
The global market meltdown, emerging-market crisis and plummeting commodity prices were foreseeable, predictable trends – implications of the Global Recession that we had forecast among our Top Trends for 2016. Real numbers tell the true story. From luxury goods to big-box stores, retail sales are weak. Around the world declining manufacturer indexes, dismal GDP numbers, falling wages, dramatic declines in transportation of raw materials and finished goods on both land and sea, declining industrial production and negative purchasing-manager indexes — all leading indicators signaling failing economies and deepening recession.
What a difference a day makes
Then, just one week ago, in an interview on King World News, Art Cashin, quoting Bridgewater Associates hedge fund chief Ray Dalio, who was attending The World Economic Forum in Davos, Switzerland, said, "The Fed should go back to quantitative easing… that the markets are wasting away and this could have drastic consequences."
Presto! US stocks and oil sharply rallied on the word that European Central Bank President Mario Draghi, along with Chinese officials also attending the Davos forum, got Dalio's message. Signaling a new round of quantitative easing to prop up failing markets, Draghi said, "The ECB has the power, the willingness, the determination to act." And, he promised, "there are no limits to our actions."
Trend Forecast: Concurrently, while global equity markets, currencies and commodities fell hard throughout January, gold prices — while well off their 2011 highs — were up $40 or 3.8 percent since the start of the year.
Gold up, while most everything else is down? Why? More quantitative easing is a cheap money-pumping scheme that will, at best, temporarily re-inflate failing equity markets and do nothing to reverse the deepening Global Recession trend. Thus, gold will be treasured as a safe-haven commodity in a climate of central-bank currency destruction and socioeconomic and geopolitical turmoil.
STAY INFORMED! Receive our Weekly Recap of thought provoking articles, podcasts, and radio delivered to your inbox for FREE! Sign up here for the HoweStreet.com Weekly Recap.