January 7, 2016 | As Predicted, Market Panic to Prevail, Global Recession to Worsen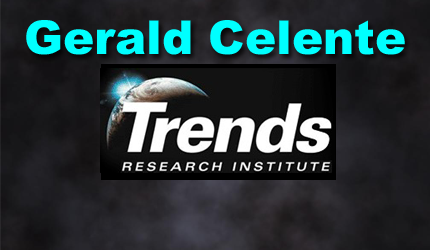 Gerald Celente, who developed the Globalnomic® methodology to identify, track, forecast and manage trends, is a political atheist. Unencumbered by political dogma, rigid ideology or conventional wisdom, Celente, whose motto is "think for yourself," observes and analyzes the current events forming future trends for what they are — not for the way he wants them to be. And while Celente holds a U.S. passport, he considers himself a citizen of the world.
By Gerald Celente
Publisher, Trends Journal
KINGSTON, NY, 7 January 2016—The market meltdown is real. It is more than just a correction. There is no escaping it. There's panic on the Street. Downside risks will intensify and the global economy will swiftly sink into deep recession.
For Trends Journal subscribers, you knew it was coming, why it would happen, who would be hit the hardest and what to expect. And, you were given a range of proactive measures to consider before the equity market crisis and economic storm struck.
In our 6 August 2015 Trends in the News broadcast I said: "We're going to make a forecast. I believe the equity markets will unravel before the end of this year."
Subsequently, we issued a series of Trend Alerts warning of the financial minefield that was ready to explode.
Indeed, extending its downtrend momentum, on the last trading day of 2015, the Dow closed out the old year down 178 points. That capped the Dow's worst yearly performance since the Panic of 2008.
Take a deep breath
Not only was there no Santa Clause rally, the Dow, after sinking 467 points during the first trading day of the New Year, rang in 2016 down 276 points, registering its worst-start-of-the-year performance since 2001.
Yes, 2001! Back then, America was sliding into recession and the markets were badly battered by the Dot.com meltdown that began in March of 2000 when the NASDAQ was flying over 5,000. And now the NASDAQ is trading in the 4,700 range… still below where it was 15 years ago.
On 29 July 2015, we warned in our Trend Alert of "The China Syndrome: Global meltdown," and that "by any measure, the Chinese equity markets are in turmoil," and "despite weeks of unprecedented market-rigging stimulus measures by the Chinese government," the sell off would continue.
It has. Twice this week trading was halted by Chinese regulators when circuit breakers kicked in after stocks plummeted more than 7 percent.
Yet, again, the trend line was in the making and clearly defined.
On 16 September 2015 in our Trend Alert, "Stock market correction or market crash?" we wrote, in anticipation of the Federal Reserve raising interest rates for the first time since 2006 and in response to China's volatile equity market swings, that:
"Despite China's unprecedented money pumping moves to shore up its sinking equity markets that are falling along with its slowing economy, the Shanghai Index is still off some 40 percent from its June peak….Cheap money policies do not cure chronic global economic ills, they relieve the symptoms. Regardless of the Fed's move tomorrow, we forecast an equity crash, not a correction, before year's end."
Yet, the mainstream media repeatedly played down these developments with counter spin propaganda. For example, in late August, with the US benchmark indexes down 10 percent from recent peaks, the front page headline of the New York Times' Business section blared, "This Week's Market Sell-Off May Not Be Such a Bad Thing."
The newspaper advised investors experiencing big losses to "step back just a bit, what has happened in financial markets this week looks less like a catastrophe in the making and more like a much-needed breather." And "the best response for most investors … is to take a deep breath."
Trend Forecast: The motto of the Trends Journal is "Think for yourself." We supply the hard facts, in-depth analysis and trend forecasts. We do not provide financial advice and, unlike the Times and others, we don't tell you how to breathe and what to swallow. Thus, we maintain our long and ongoing forecast that gold, while well off its highs, will emerge as a safe-haven asset.
STAY INFORMED! Receive our Weekly Recap of thought provoking articles, podcasts, and radio delivered to your inbox for FREE! Sign up here for the HoweStreet.com Weekly Recap.