December 4, 2015 | Trade Deficit Widens as US Exports Dip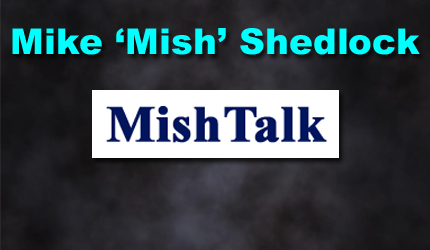 Mike Shedlock / Mish is a registered investment advisor representative for
SitkaPacific Capital Management
. Sitka Pacific is an asset management firm whose goal is strong performance and low volatility, regardless of market direction.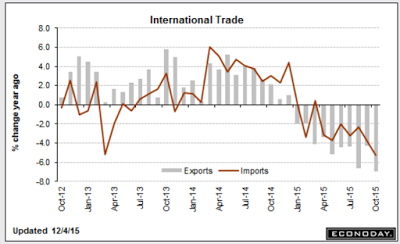 Exports and imports are both down again this month. Exports decreased more so the result is a widening of the trade deficit.
The Bloomberg Econoday Consensus was for a balance of -40.6 billion. The actual number was -43.9 billion, at the top end of the range of expectations.
The nation's trade deficit came in at the high end of expectations in October, at $43.9 billion with details reflecting oil-price effects but also soft foreign demand. Exports fell 1.4 percent in the month while imports, pulled down by oil, fell 0.6 percent. The decline for goods exports, at 2.5 percent, is in line with last week's advance data but not for imports where goods declined 0.6 percent, vs the advance reading of minus 2.1 percent. Exports of services are once again solid at plus 0.7 percent.

Low prices for oil held down imports of both crude and industrial supplies. Imported crude averaged $40.12 per barrel in the month vs $42.72 in September and, in a reminder of the commodity price collapse, vs $88.47 a year ago. Turning to finished goods, however, imports do show gains with capital goods up as well as autos and consumer goods. Country data show a narrowing with China to $33.0 billion, which ends five straight months of widening, and a widening with the EU to $13.4 billion.

This report is mixed, confirming weakness abroad but showing some life at home. But, with exports down, the data do point to a slow start for fourth quarter GDP.
Not Mixed
Given that imports subtract from GDP, the report is not "mixed". Nor does a chart of imports and exports appear to be "mixed". Nor can anyone look at the following and see "signs of life".
Commerce Details
Let's dive into the Commerce Release on U.S. International Trade for October 2015 for additional details.
The U.S. Census Bureau and the U.S. Bureau of Economic Analysis, through the Department of Commerce, announced today that the goods and services deficit was $ 43.9 billion in October, up $ 1.4 billion from $ 42.5 billion in September, revised. October exports were $184.1 billion, $ 2.7 billion less than September exports. October imports were $ 228.0 billion, $1.3 billion less than September imports.

Goods and Services Three-Month Moving Averages

The average goods and services deficit in creased $0.5 billion to $45.1 billion for the three months ending in October.

Average exports of goods and services decreased $1.4 billion to $185.0 billion in October.
Average imports of goods and services decreased $0.9 billion to $230.1 billion in October.

Year-over-year, the average goods and services deficit in creased $2.6 billion from the three months ending in October 2014.

Average exports of goods and services decreased $11.7 billion from October 2014.
Average imports of goods and services decreased $9.1 billion from October 2014.
International Trade Balance October 2013 – October 2015
International Trade Balance Moving Average
Signs of life in a "mixed" report are imaginary.
Mike "Mish" Shedlock
STAY INFORMED! Receive our Weekly Recap of thought provoking articles, podcasts, and radio delivered to your inbox for FREE! Sign up here for the HoweStreet.com Weekly Recap.