December 3, 2015 | The Squeeze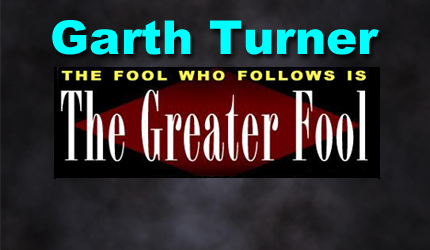 A best-selling Canadian author of 14 books on economic trends, real estate, the financial crisis, personal finance strategies, taxation and politics. Nationally-known speaker and lecturer on macroeconomics, the housing market and investment techniques. He is a licensed Investment Advisor with a fee-based, no-commission Toronto-based practice serving clients across Canada.
Now we know what's coming.
First, that storied interest rate increase is a done deal. This week the Fed did everything but Tweet that lift-off comes on December 16th. The labour report due out Friday morning would have to be an unmitigated disaster (100,000 new jobs or less) to halt this train. But nobody other than the misanthropes who hang out here expect such a thing. So, up she goes.
Second, this means mortgage rates will be rising. Already happening, of course. Fixed-term costs have swelled of late and variables are plumping, too. Although the Bank of Canada can't immediately follow the Fed, since our economy's a swamp, the bond market can. And will. So lock in.
Third, down payments are climbing. Yesterday it was speculation. Today, not so much.
The story first broke on a mortgage industry blog two days ago – that our new finance guy, Bill Morneau, would soon bring in a graduated scale of allowable down payments for CMHC purposes. Buying houses under half a million might require 5%. Up to $700,000 would take 7%. Over that, 10%. The announcement may come in January, and it would be consequential.
This was confirmed by the chief economist for a Big Five Canadian bank several days ago, in Switzerland of all places. One of the clandestine GreaterFool operatives deployed in that country sent this encrypted report about his arranged luncheon with the econoguy:
"We had a long discussion about housing – and the way I got the conversation off to a start was to throw out the comment that "I am convinced that no government of any kind is going to get in the way of this crazy market or put any curbs on the foreign buyers".  His response was interesting . . He mentioned he expected the down payment requirements to increase by some amount fairly soon. The other was that he believed that we would see some type of foreign investment regulation . . and that the data is currently being investigated as to money source / money destination / local housing market impacts and then based on this . make some type of response which addresses this.
Hmmm. And there's more.
We've now learned that hike-the-down movement originated within the Department of Finance, and was presented to the hapless Joe O earlier in the year. Not in possession of balls of steel (and facing an election), Joe nixed the idea as too explosive and unpopular. So when the new guy assumed the same chair, officials again trotted out the plan. At its core is an attempt to cold shower YVR and the GTA without sending Calgary, Montreal and Halifax into a housing depression. After all, real estate now accounts for a very unhealthy 15% of Canada's entire GDP.
Morneau knows well enough that if the T2 government is about to enact something as market-killing as this, herding thousands of recent idiot buyers into a negative equity trap, it must do so early in the four-year mandate. That way, given their gnat-like attention span of most citizens, whose brains have been permanently damaged by HGTV, Mike Holmes and Brad Lamb, they might actually blame this on Stephen Harper.
So it looks like this is the big squeeze. The normalization of interest rates. Higher mortgage costs. Fatter down payments. All likely to foster a surge in market activity as the lemmings dive in to 'beat' the increases and end up buying at the absolute market top. Then, crickets. Meanwhile our oil-drenched economy slumps along, headed for years of fat deficits, higher taxes and bigger government. What else wold you expect from a country that flew 383 people all the way to Paris for a climate change conference? (The US, ten times larger, sent 148, including the president.)
And did you catch the latest realtor stats from our two bubble cities? In Vancouver the local board reports sales were up 40% from last November and the price of a detached home jumped 22% to $1.226 million. In Toronto, the average for a detached is now $1.08 million, up almost 9%, while it was "the best November ever." This should be all the proof Morneau ever needed to take away the booze.
Of course, some people think realtors lie. One of them is former realtor Ross Kay, now a housing analyst. Here is the note he sent me this morning about the November stats:
Vancouver – 72.81% of all listings failed to sell
Calgary –  84.36% of all listings failed to sell
Toronto – 75.1% of all listings failed to sell
How is it possible everyone is claiming there are no homes for sale to meet demand when so many are not selling?  What educated Canadian would pay asking price or higher for a home when 3/4 of the one's they see are not selling? How does TREB claim a record November in 2015 when way back in 2009 it recorded 7445 pending sales but only 7385 pending sales this year?
From all of the above, a reasonable person would conclude this is the time to be dumping, not buying, and that windfall capital gains in one of the bubble markets should be harvested. Fast.
STAY INFORMED! Receive our Weekly Recap of thought provoking articles, podcasts, and radio delivered to your inbox for FREE! Sign up here for the HoweStreet.com Weekly Recap.