December 7, 2015 | The Next Bear Market May Have Already Begun…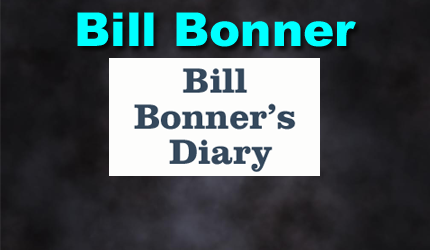 Is an American author of books and articles on economic and financial subjects. He is the founder and president of Agora Publishing, and author of the daily financial column, Diary of a Rogue Economist.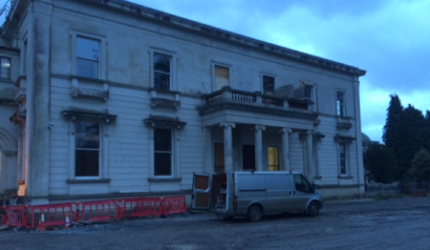 PARIS – We spent a pleasant weekend back in the old country – Ireland.
It rained almost the whole time. But life in the pubs was bright and cheery.
We are renovating a handsome, but derelict, old mansion in County Waterford on the southeast coast. It will be our new European headquarters.
New headquarters in old mansion…
Woodlock House, as it's called, was once the residence of the Malcomson family – a prosperous clan of Irish Quaker cotton merchants.
Alas, the family threw its lot in with the South in the War Between the States. When the South lost, the Malcomsons found themselves with a big stack of Confederate notes… and never recovered.
Draghi's New Promise
But back to more recent developments…
Mario "Whatever It Takes" Draghi came back strong on Friday. After disappointing investors on Thursday with limp and irresolute measures to juice up asset prices, the European Central Bank's head honcho made it clear he would not be held back by common sense, sensible theory, or the cumulative experience of generations of central bankers.
Barron's has the report:
Draghi dismissed speculation that dissent among the ECB's governing council (notably from the Germans) kept him from taking more forceful action.

Dissent is normal at central banks, including the Fed, but he added that lack of unanimity isn't a constraint on his decisions. Neither is the size of the ECB balance sheet, which can be expanded as needed to meet its objectives.

'We have the power to act. We have the determination to act. We have the commitment to act,' the ECB president stated emphatically.
Draghi's goal is to force consumer price inflation levels higher in Europe.
Why losing buying power is a worthy goal for a nation's money has never been fully explained. Nor has it been demonstrated – either in practice or in Ph.D. theses – that buying crummy debts from banks at above-market prices (aka QE) is an effective way to boost consumer prices.
But investors – used to rising stock prices under the Fed's QE – responded to Draghi's words like a fat trout to a wiggly worm.
The Dow rose 370 points on Friday… a more than 2% gain.
Slowing Trade
Our guess is that the worm hides a hook…
It is tied to the real economy, in which things are made, shipped, and sold to people who – sooner or later – must pay for them.
And it doesn't show the kind of strength that would normally justify such high expectations for stock prices.
U.S. trade with the rest of the world is falling. In September and October, for the first time in a decade, imports fell at three of the country's biggest seaports. And in October, exports fell 7% year on year.
Trade within the U.S. is on the skids, too…
In the third quarter, U.S. businesses accumulated about $90 billion of inventories (unsold products). This follows $100 billion inventory buildups in the previous two quarters.
If you can't sell your product, there is no point in making it in the first place. Maybe that's why, last month, the Markit Flash U.S. Manufacturing Purchasing Managers' Index – an indicator of the health of the manufacturing sector – came in at its lowest reading in more than two years.
In the U.S., if you buy something from out of state, odds are it will come to you onboard a heavy truck.
And since June the Cass Freight Index – which measures North American freight volumes – fell all but one month (September).
In fact, the angle of descent has become so steep that if it were traced by a commercial airliner, there would be fire engines and ambulances rushing to the scene.
If you're not selling, and not shipping, you don't need big trucks to move the merchandise. Sales of big rigs fell 40% year-over-year in November.
You don't need railroads either. Union Pacific laments that its shipping volumes are down 6% so far this year.
Depressing Data
The numbers are so depressing you might think it is a miracle that U.S. stocks are not in decline, too.
But maybe they are…
Goldman Sachs reports that just five stocks were responsible for all of the S&P 500 gains in 2015.
Three of the biggest – Amazon, Google, and Facebook – are technology companies that don't make many physical products and, with the exception of Amazon, don't have much to ship either.
Meanwhile, investment bank Oppenheimer & Co. tells us that nearly 60% of the stocks on the New York Stock Exchange are below their 200-day moving averages.
Some analysts believe this momentum indicator is the best way to find a stock's primary trend.
By that measure most stocks are already in a bear market.
Regards,
Bill
The original article can be read here
STAY INFORMED! Receive our Weekly Recap of thought provoking articles, podcasts, and radio delivered to your inbox for FREE! Sign up here for the HoweStreet.com Weekly Recap.